Trump Hires A Woman To Clean Up His Mess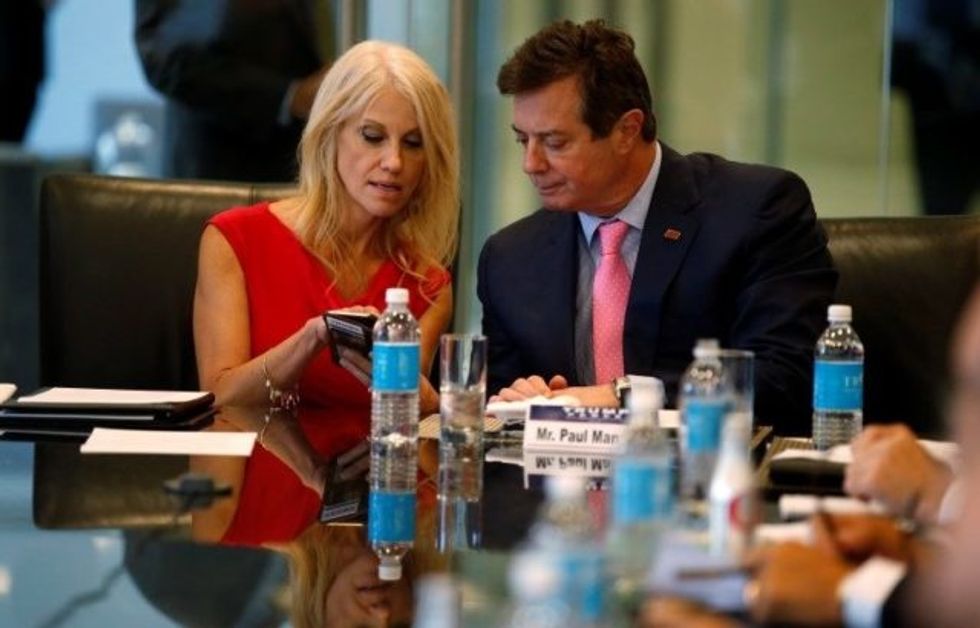 Kellyanne Conway has the hardest job in American politics today, perhaps an impossible one.
She will attempt to temper Donald Trump. Which means reining in his penchant to retaliate for each perceived slight and to escalate any dispute. Trump needs to appear kinder, humbler and more deferential toward a crucial voting bloc — women.
Conway, who replaces Paul Manafort as the honcho of Trump's campaign, already seems to have gotten to work. On Thursday, Trump issued a public mea culpa for all the "personal pain" he has caused with his vitriolic rhetoric. Conway insists the apology was Trump's idea, not hers.
The longtime pollster's new role in Trump's campaign calls to mind a well-worn adage: It falls to a woman to clean up the mess that men have made.
The 2016 campaign season is shaping up to be the most misogynistic political season ever. Contrary to what the supposedly chastened Donald says, we're likely to hear more sexist insults, especially if he continues to slide in the polls. His anger and self-regard are too hard to restrain.
Perhaps it's the price American women have to pay to reach the pinnacle of American politics, but it's outrageous that it should be this way: that the election in which gender equality comes to fruition in American politics is also one distinguished by the regression of one party and candidate to gross contempt for women.
This is the price of female advancement. Some will be made to pay. Some, like Conway, will try to repair the damage.
Ironically, her new position as Trump's campaign manager is yet another first for women. As Gender Watch noted, Conway is the first female campaign manager to serve a GOP presidential contender. She is only the fourth woman to lead any major party's quest for the White House.
Yet this achievement comes with an asterisk. Some observers speculate she is less the boss of the campaign in a traditional sense than she is a high-profile handler with the job of keeping Trump in check.
Conway's decades of pollster experience studying women voters has prepped her well. She's been a regular for years on cable TV. But her resume includes a sorry list of politicians, such as Missouri's Todd Akin. Remember him? His run for the U.S. Senate imploded during an interview when he tried to discuss abortion and wound up making the case that something he termed "legitimate rape" rarely gets a victim pregnant.
She's also worked with Ted Cruz, Newt Gingrich and Dan Quayle.
Whatever Conway manages to do for Trump, who at this point seems destined for defeat, may turn out to be a favor for the Republican National Committee. If she can keep Trump on a leash, she might be able to prevent more damage to the GOP's image among women voters.
About 10 years ago, Conway paired up with a well-known Democratic pollster, Celinda Lake, to write a book, "What Women Really Want: How American Women Are Quietly Erasing Political, Racial, Class and Religious Lines to Change the Way We Live."
The lengthy title aptly sums up the book's thesis. It rejoiced in the many ways that women are forming alliances, arguing that "a newly defined, united power base among women is reshaping the state of our nation much more than the two-sided politics of Left and Right."
It's a lovely vision, one that would please many women voters. Maybe Conway's time saddled up alongside Trump — who is the antithesis of such collaboration — will persuade her to revert to more research for a sequel.
She, like women across America, will survive this campaign season and go on to better days (and candidates) ahead.
Mary Sanchez is an opinion-page columnist for The Kansas City Star. Readers may write to her at: Kansas City Star, 1729 Grand Blvd., Kansas City, Mo. 64108-1413, or via e-mail at msanchez@kcstar.com.
Photo: Campaign Manager Kellyanne Conway (L) and Paul Manafort, staff of Republican presidential nominee Donald Trump, speak during a round table discussion on security at Trump Tower in the Manhattan borough of New York, U.S., August 17, 2016. REUTERS/Carlo Allegri