Trump Holds Election Rally — Four Years Early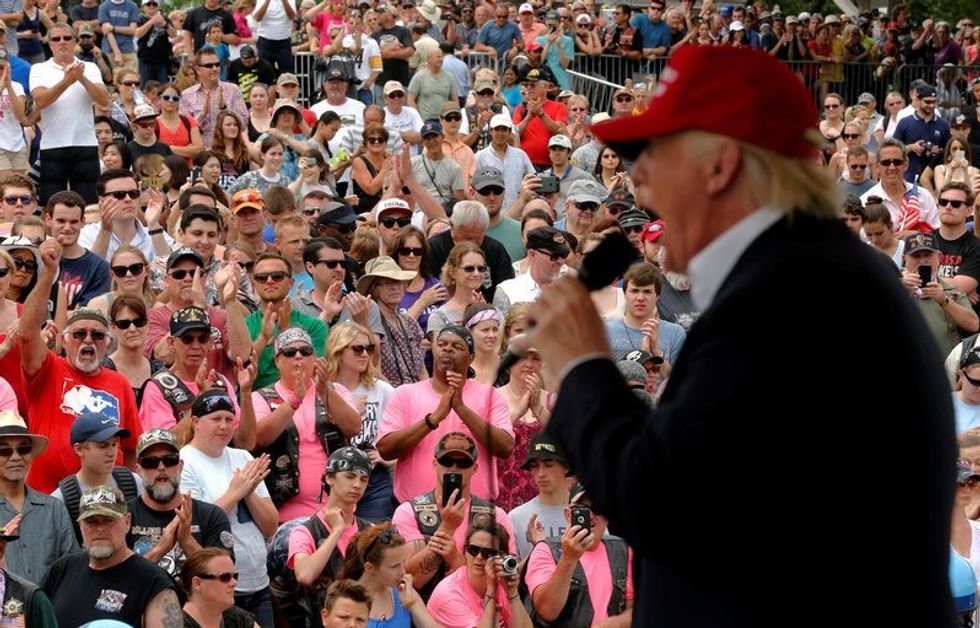 Reprinted with permission from AlterNet.
Donald Trump has been in office almost one month and every single day of it feels like a dress rehearsal for the apocalypse. (Spoiler: He definitely goes to hell.) Instead of focusing on the many problems of his administration, including leaks, scandals, firings. and legislative failures, Trump is trying to relive the glory days of his campaign. As The New York Timesreported in November, Trump "likes the instant gratification and adulation that the cheering crowds provide." That means White House staffer job descriptions include creating useless distraction events where Trump can be adored by his base. That's what's happening this weekend at a rally being staged by team Trump in Melbourne, Florida.
According to White House flak Sean Spicer, Saturday's happening is a "campaign event," presumably meaning it's part of the Trump 2020 reelection effort. Trump filed papers to run for a second term on inauguration day, which no president has done in four decades. At the end of December, Politico reported the Trump campaign had raised $11 million for that presidential bid. Considering Trump reportedly hates his new job, it's possible that this reelection scheme is as much about excuses for pointless campaign rallies as for reinstalling Trump for a second round.
Join me in Florida this Saturday at 5pm for a rally at the Orlando-Melbourne International Airport!
Tickets: https://t.co/9jDy1tYkgE pic.twitter.com/GDhO6GGxwt

— Donald J. Trump (@realDonaldTrump) February 15, 2017
The rally location is roughly two hours from the Mar-A-Lago resort, which Trump has dubbed the "Winter White House" because to call it what it is—a vacation mansion, or "holiday palace," if you prefer—would be to admit how little time he spends working. On weekdays, Trump is reportedly in his bathrobe by 6:30pm, watching TV, or tweeting while President Steve Bannon and Vice Vampire Stephen Miller take turns throwing darts at the Constitution. Then, when the weekend comes, Trump jets down to his vacation mansion to play golf, imperil national security and waste taxpayer money. He's doing it for a third consecutive week, again at an estimated $3 million cost to taxpayers.
ABC News notes that as Obama campaigned in 2011—one year before the election, like a normal person—Trump tweeted an attack that read, "Does @BarackObama ever work? He is constantly campaigning and fundraising—on both the taxpayer's dime and time—not fair!"
It's unclear if the bill for Saturday's rally is being paid for by the Trump 2020 campaign, American taxpayers, or Mexico.
Trump, who lied massively when he repeatedly stated during the campaign he would never leave the White House or take vacations, also tweeted numerous criticisms about Obama's vacation habits. The 44th president spent far less time on vacation than his predecessor, George W. Bush, and Trump is on track to beat his eight-year holiday total in the next few months.
The New Civil Rights Movement rounded up a number of Trump's critical, and hypocritical, messages.
Kali Holloway is a senior writer and the associate editor of media and culture at AlterNet.
IMAGE: Republican U.S. presidential candidate Donald Trump addresses the Rolling Thunder motorcycle rally to highlight POW-MIA issues on Memorial Day weekend in Washington, U.S. May 29, 2016. REUTERS/Jonathan Ernst