Trump: 'I'm Very Glad' That McCain Is Dead And Gone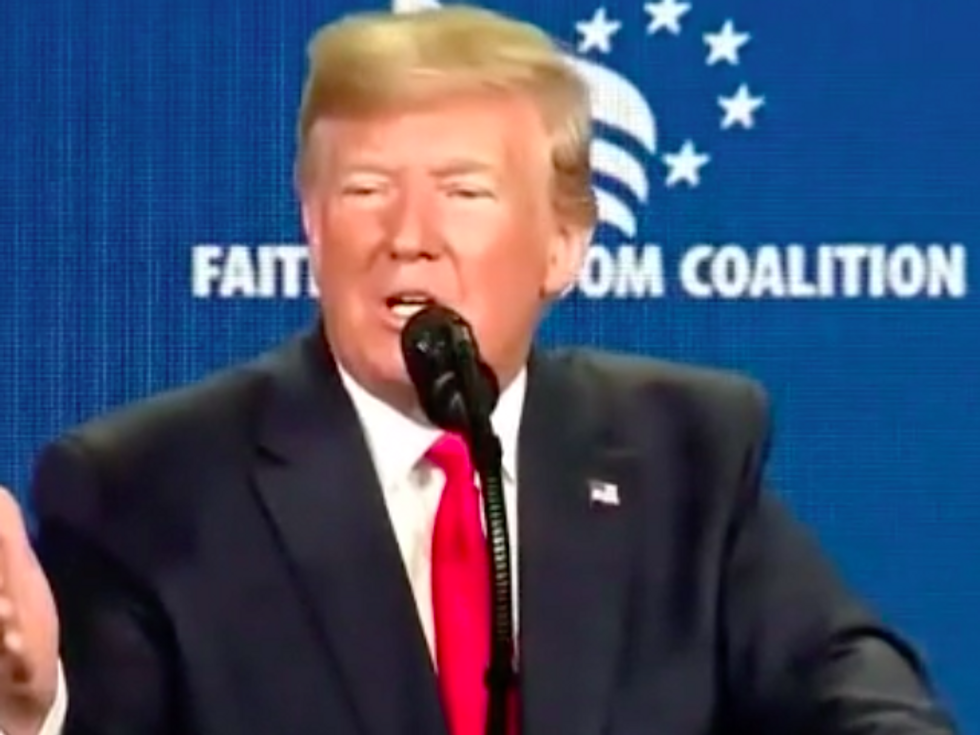 There is truly no bottom for Trump's morally depraved behavior.
While speaking at a conference to religious conservatives on Wednesday, Trump once again disparaged the late Sen. John McCain (R-AZ), this time saying he's glad McCain is dead and suggesting that the Arizonan is in hell.
The comment came during a riff on how Republicans failed to repeal and replace the Affordable Care Act, blaming the failure on McCain's infamous thumbs-down vote against the GOP plan that would have caused millions to lose their health insurance.
"We needed 60 votes. And we had 51 votes. And sometimes, you know, we had a little hard time with a couple of them, right?" Trump said, speaking about the repeal effort that went down in July 2017. "Fortunately, they're gone now. They've gone on to greener pastures. Or perhaps far less green pastures, but they're gone… I'm very happy they're gone."
Trump's hatred of McCain is no secret.
He's repeatedly attacked McCain, in both life and death, suggesting the late Arizona Senator wasn't a war hero because he was "captured" and then tortured for years while serving in Vietnam.
He's also continuously blamed McCain for thwarting Republicans' attempts to repeal the ACA — an effort that likely lost the House for Republicans in 2018 as the public despised the GOP health care repeal attempt and punished them for it at the ballot box.
But this speech at the "Faith and Freedom" conferene is the farthest he's gone to disparage McCain, who died in August 2018 of brain cancer.
The incident proves that as bad as you think Trump's behavior is, it can always, always get worse.
Published with permission of The American Independent.