#EndorseThis: Another Trump Impersonator Crashes The Daily Show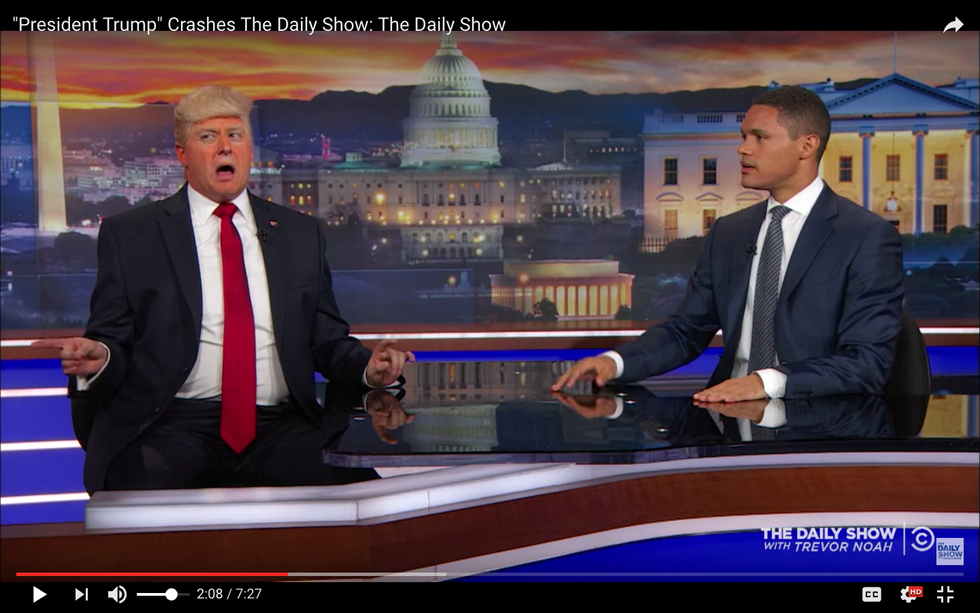 As that hundred-day mark approaches, Trevor Noah begins to analyze the latest White House woes — and is abruptly interrupted by Donald Trump, waddling onto the set in his blue suit and long red tie. This Trump impersonator isn't Alec Baldwin but comic Anthony Atamanuik — and he has a lot to say about Mexico, fake news, and the president's self-serving scheme to cut the corporate tax rate by more than half.
Asked how he will finance the promised border wall, now that the Mexican government and Congress have both refused to pay, he comes up with a response worthy of the flip-flopping president:
"We're gonna bring millions upon millions of Mexicans into the United States and let them do the low-paying jobs Americans won't do, and save so much money!"
When Noah ends the segment, "Trump" peevishly points out to his host that he doesn't need The Daily Show anyway, because he's going to make "failing Comedy Central" great again with his own new broadcast, The President Show — starting on Thursday evening.
We'll check it out. Meanwhile, he's funny, so just click.