Trump Keeps Insulting Deceased McCain — And Lies About Helping Veterans
@FAWFULFAN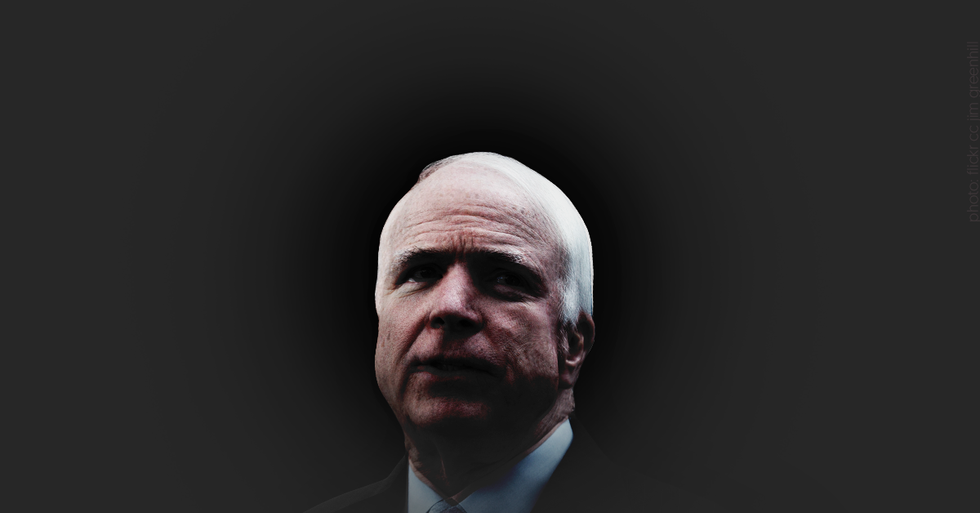 On Wednesday, President Donald Trump continued his bizarre vendetta against Vietnam War hero and former Sen. John McCain (R-AZ), despite the fact that he has been dead for seven months. He even went so far as to complain that McCain — who, again, is deceased — did not thank him for helping him get a proper funeral.
But amazingly, complaining that a dead man didn't thank him might be only Trump's second most ridiculous attack on McCain this week. He also trashed McCain for supposedly failing to deliver for veterans in the Senate — as opposed to Trump, who boasted about his claim that he created the Veterans Choice Program, which allows veterans to use their health benefits at community providers rather than V.A. hospitals.
"McCain didn't get the job done for our great vets and the V.A., and they know it," saidTrump during a visit to an Army tank factory in Lima, Ohio. That's why, when I had my dispute with him, I had such incredible support from the vets and from the military. The vets were on my side because I got the job done. I got Choice … for many decades, they couldn't get it done. It was never done. I got it five months ago. I got it done — Choice. Instead of waiting in line — a vet fought for us, fought in these tanks, fought for us."
This lie, which Trump has told repeatedly, is completely brazen for two reasons. First, Trump did not create the Veterans Choice Program — he just signed a law last year that would streamline the V.A.'s Community Care Program. The Veterans Choice Program itself was created in 2014 as part of the Veterans Access, Choice and Accountability Act, and signed into law by President Barack Obama. And second, the chief Republican sponsor of that bill in the Senate was … John McCain!
So in other words, Trump is falsely taking credit for creating a veterans program that was actually created by John McCain — and then citing his nonexistent role in creating that program as evidence of how much better he is for veterans than John McCain.
Even Daniel Dale of the Toronto Star, who has perhaps covered Trump's speeches and documented his falsehoods more than any other journalist, was gobsmacked at the audacity of Trump's lie:
This is the 60th time Trump has falsely taken credit for creating the Choice program. (He signed a bill that changes the program.) It's the first time he has cited his nonexistent creation of Choice as evidence he's done more for vets than the guy who actually created Choice.

— Daniel Dale (@ddale8) March 20, 2019
Trump and McCain feuded for many years, with Trump claiming that McCain wasn't really a war hero just because he was captured in Vietnam, and McCain criticizing the president's fitness for office and casting a deciding vote against Trump's health care repeal agenda in the Senate.
But any reasonable person would have let these petty grudges go — especially after McCain's passing. The fact that Trump cannot, and even now insists on telling vicious lies about McCain to anyone who will listen, is a national embarrassment.