Trump Lawyers Seek To Block IRS From Releasing His Taxes To Congress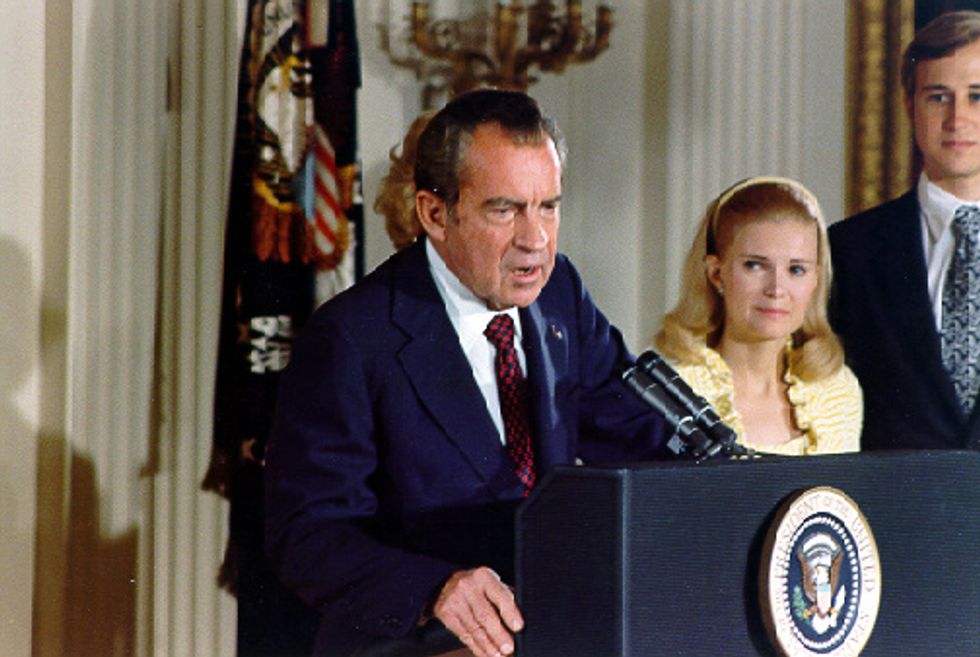 Reprinted with permission from Alternet.
It's April, which means the deadline for all Americans to file their tax returns is fast approaching. President Donald Trump, however, is facing another, much more daunting deadline: The day his taxes must be turned over not to the IRS, but from the IRS to Democrats in Congress.
Rep. Richard Neal (D-MA), the chair of the House Ways and Means Committee, has instructed the IRS to hand over six years of the president's taxes, as well as that of eight of his business entities, by April 10.
And as the deadline approaches, the president is clearly getting desperate.
Initially, he told reporters that he is "not inclined" to hand over his taxes, citing his bogus excuse that he doesn't want to release them while he's under audit. Then, on Friday, an administration official told CNN that the committee's demands will be fought all the way to the Supreme Court, saying, ""This is a hill and people would be willing to die on it." (It's not clear why the official was granted anonymity to defend the president on this matter.)
And then Trump's lawyer sent a letter to the Treasury Department, saying:
If the IRS acquiesces to Chairman Neal's request, it would set a dangerous precedent. As Secretary Mnuchin recently told Congress, he is "not aware that there has ever been a request for an elected official's tax returns." For good reason. It would be a gross abuse of power for the majority party to use tax returns as a weapon to attack, harass, and intimidate their political opponents. Once this Pandora's box is opened, the ensuing tit-for-tat will do lasting damage to our nation.
"Our firm welcomes the opportunity to represent President Trump in his capacity as a taxpayer," said lawyer William Consovoy, who is handling the matter for the president. "The requests for his private tax information are not consistent with governing law, do not advance any proper legislative purpose, and threaten to interfere with the ordinary conduct of audits. We are confident that this misguided attempt to politicize the administration of the tax laws will not succeed."
It was a ridiculous argument on many grounds. First, the chair sent the instructions to the IRS, and the law is clear that that the agency must comply. Second, one of the main reasons this is an unusual step is that, since President Richard Nixon, every president has released their taxes during the campaign. And third, Trump already promised to release his taxes but then he reneged and provided a transparently false excuse. And he compounded this betrayal by keeping stakes in his sprawling business interests, raising a disturbing specter of his conflicts of interest in foreign policy and beyond.
Congress undoubtedly has a legitimate interest in conducting oversight of these matters. But Neal's request was even more specific — he said he wants the returns to as a part of his committee's evaluation of presidential audits.
"There's unconditional black letter law that says the committee can request any tax returns it wants in writing and the Treasury Dept 'shall furnish' them (in closed executive session unless the taxpayer otherwise consents), but hey go off anyway new counsel," noted legal analyst Luppe Luppen.
Former federal prosecutor Joyce Vance noted: "The request went from Congress to the IRS. Trump is not a party to that proceeding & should have no more opportunity to intervene than any other private citizen. But, this does demonstrate the lengths he'll go to to keep you from seeing his taxes."
It's clear Trump is desperate not to have his taxes released. It's not clear if that's because there's something truly damaging in them, something humiliating, or simply that he relishes a fight that can waste his opponents' time and energy. But at some point, we are likely to find out.
IMAGE: Richard Nixon resigning the presidency, August 9, 1974, at the White House. Photo via Wikimedia Commons.