Trump Lawyers Use Faked Quotes To Block Bank Subpoenas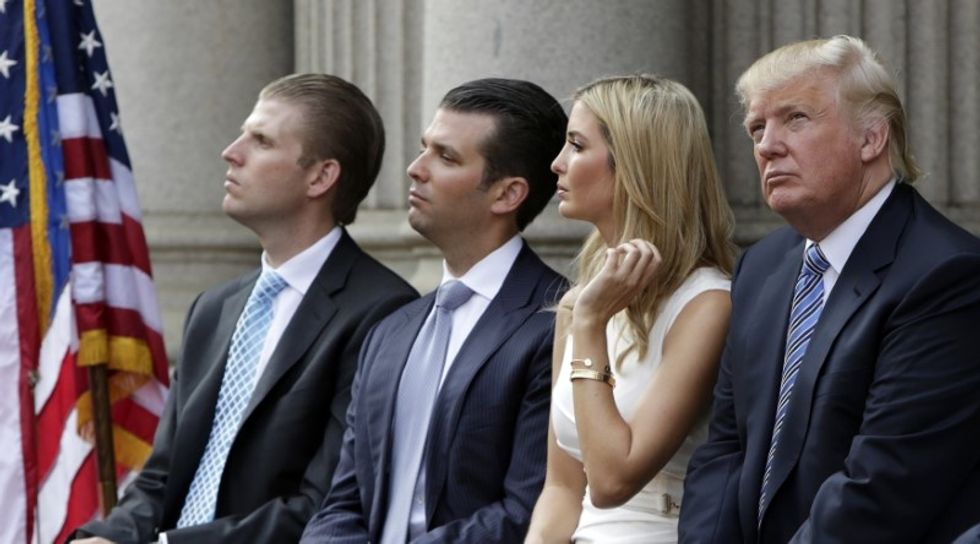 Trump took another shameful step Monday night in his quest to obstruct legitimate congressional oversight, suing both Deutsche Bank and Capital One to try to prevent the two banks from complying with subpoenas for Trump's financial records.
The lawsuit to block subpoenas issued by the House Financial Services Committee and the House Intelligence Committee — filed on behalf of Trump; his adult children Donald Trump Jr., Ivanka Trump, and Eric Trump; and several of his businesses — is whiny and riddled with fake quotes that Trump's lawyers attribute to House Democrats.
Trump's legal team claims the subpoenas were "issued to harass President Donald J. Trump, to rummage through every aspect of his personal finances, his businesses, and the private information of the President and his family, and to ferret about for any material that might be used to cause him political damage."
Trump's lawyers also argue that Congress went too far in subpoenaing records from Trump's adult children, saying it is "intrusive and overbroad."
However, Ivanka Trump works in the White House and both Donald Trump Jr. and Eric Trump are campaign surrogates — making their finances completely relevant for investigations into conflicts of interest. All three of them have also been involved in running the Trump family businesses, which Trump's sons continue to do today.
Politico's Kyle Cheney uncovered multiple instances in which Trump's lawyers use fake quotes from House Democrats to make their case against the subpoenas — which is not only embarrassing for any ethical lawyer, but is a sign that the legal argument is so weak that his legal team had to doctor quotes to try to make their point.
In one instance, the legal team attributes a headline written by Vanity Fair to Democrats, as well as takes another quote from now House Majority Leader Steny Hoyer out of context.
Experts say the suit has little legal merit.
"This isn't a close legal question," David Alan Sklansky, a professor at Stanford Law School, told the Washington Post. "I'm quite confident there has never been a situation where a congressional subpoena has been quashed without a finding that it violates a constitutional right."
However, even if courts rule against Trump, filing the suit is part of a concerted effort to stall and delay oversight that could uncover unethical or even illegal dealings Trump and his family have engaged in over the years.
Trump has already filed a lawsuit against the House Oversight Committee to block his accounting firm from handing over records that could show that Trump defrauded lenders by inflating his net worth. And he's ordered current and former White House aides to defy other congressional subpoenas that are part of a litany of investigations into Trump's tax returns, his attempts to obstruct justice that were outlined in special counsel Robert Mueller's report, and the White House security clearance process.
Trump's obstruction is so bad that Democrats are weighing throwing those who refuse to comply with subpoenas in jail for contempt.
In the end, this latest Trump lawsuit is yet another attack on Congress' legitimate oversight power. That Trump feels he needs to block that oversight shows he is clearly scared about what Democrats might uncover.
Published with permission of The American Independent.
IMAGE: (L-R) Eric Trump, Donald Trump Jr., Ivanka Trump, and Donald Trump attend the ground breaking of the Trump International Hotel at the Old Post Office Building in Washington July 23, 2014. REUTERS/Gary Cameron