Of Course Trump Looked Directly At The Solar Eclipse Without Eye Protection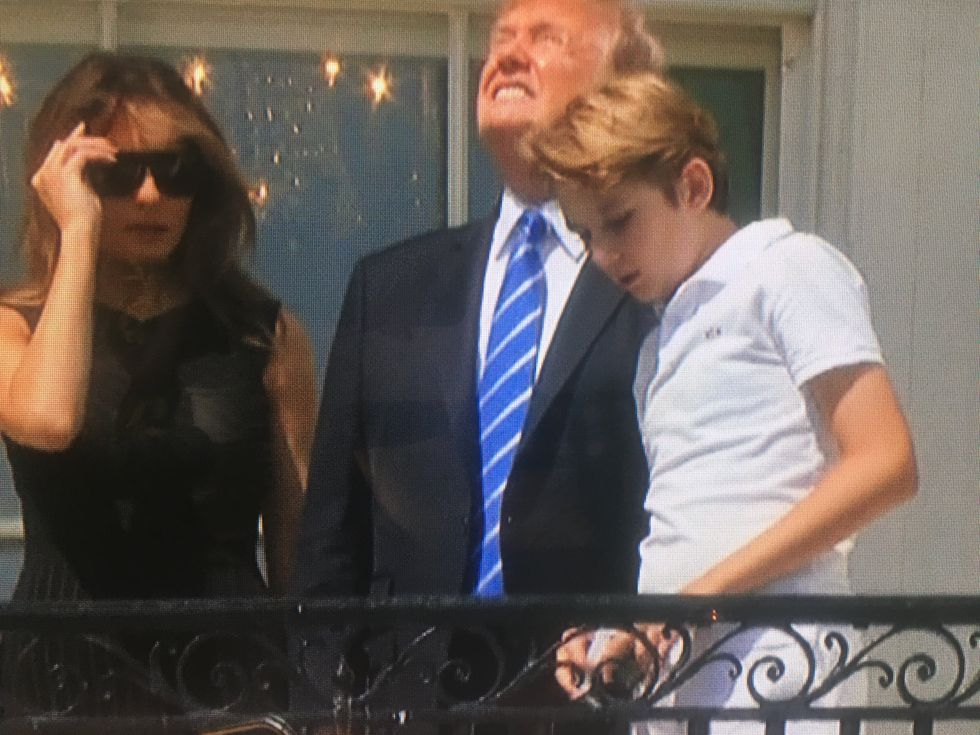 Reprinted with permission from AlterNet.
President Trump, First Lady Melania and their son Barron were standing on a White House balcony to view Monday's eclipse. In a segment of Anderson Cooper's coverage on CNN, the Trumps were shown looking up at the sky in protective sunglasses. Moments later, they took off the glasses. Melania put on her normal sunglasses. And then President Trump looked back up at the eclipse—without any eye protection.
Here's Trump looking at the eclipse while wearing the protective eclipse glasses:
(Screen Capture/CNN)
Then, just seconds later, he looks back up at the eclipse—without the glasses:
(Screen Capture/CNN)
For days, health professionals, public officials and media outlets have been drilling home the warning that looking directly at the sun—even during a solar eclipse—can burn your eyes, even after a quick glance. What's more, your retina doesn't have pain receptors, so they can be scorched without your even realizing it. And the damage can last a lifetime.
"I have one patient in his 60s who looked at the sun through a telescope when he was 9 years old and still has a central block in his vision," says Russell Van Gelder, MD, former president of the American Academy of Ophthalmology and chairman of the ophthalmology department at the University of Washington Medical School.
A group of friends from Portland issued their own warnings, saying they experienced partial blindness and "20 seconds of burning" when they looked up at a solar eclipse more than half a century ago.
"We didn't know right that second that we damaged our eyes," said Roger Duvall, 70, said in a phone interview Sunday with Philly.com. "At that time, we thought we were invincible, as most teenagers do. …We had looked down at the ground and you're still looking at part of the eclipse like it's imprinted in your eye."
Several presidents have had to deal with eye problems. Abraham Lincoln started wearing reading glasses at 47, when he was diagnosed with presbyopia. Teddy Roosevelt's left retina became detached during a boxing match, causing blindness. Woodrow Wilson also went blind in the left eye after his third stroke. Poor eyesight kept Ronald Reagan out of combat duty during World War II. George H.W. Bush was diagnosed with early glaucoma in his left eye.
So if Trump damaged his retinas by looking directly at the solar eclipse, he wouldn't be the first president with a serious eye issue. But he'd be the first in which the diagnosis was sheer stupidity.