Trump NATO Plan Would Be Sharp Break With Decades-Long U.S. Policy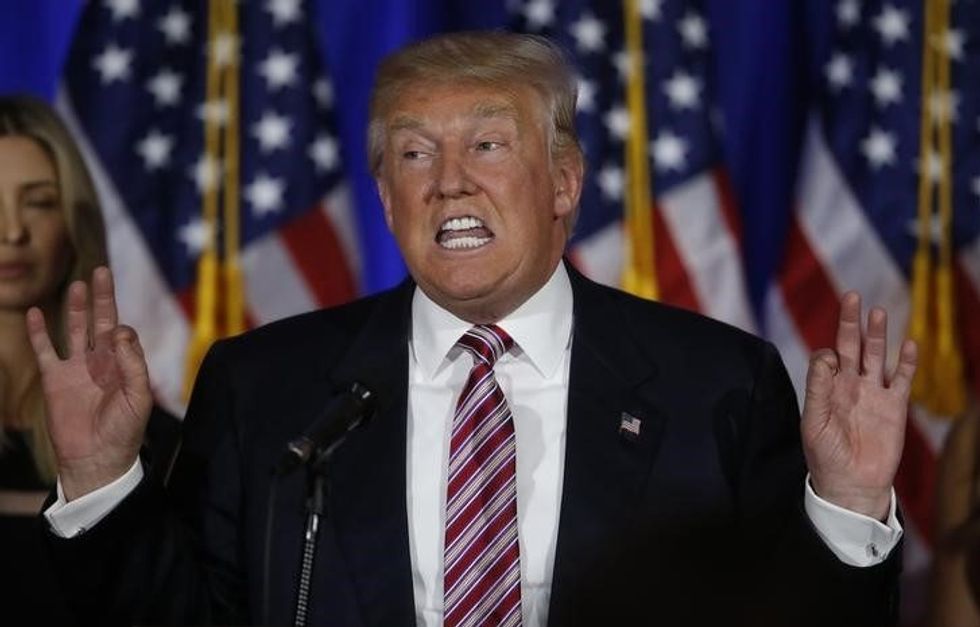 Republican foreign policy veterans and outside experts warned that the suggestion by Republican presidential nominee Donald Trump that he might abandon NATO's pledge to automatically defend all alliance members could destroy an organization that has helped keep the peace for 66 years and could invite Russian aggression.
"Statements like these make the world more dangerous and the United States less safe," Senator Lindsey Graham of South Carolina, a Trump critic who is one of the Republican Party's leading foreign policy voices and a member of the Senate Armed Services Committee, said in a statement on Thursday.
"I can only imagine how our allies in NATO, particularly the Baltic states, must feel after reading these comments from Mr. Trump. I'm 100 percent certain how Russian President Putin feels – he's a very happy man," he said.Trump's comments in a New York Times interview "would seem to put him on the same page with Mr. Putin," Richard Armitage, who was deputy secretary of state in the George W. Bush administration, said in an interview with Reuters.
In the New York Times interview, Trump, in response to a question about potential Russian aggression toward the Baltic states – Latvia, Lithuania and Estonia – said that if Moscow attacked them, he would decide whether to come to their aid only after reviewing whether those nations "have fulfilled their obligations to us." He added, "If they fulfill their obligations to us, the answer is yes."
"It's the end of NATO," Robert Hunter, a former U.S. ambassador to the alliance under President Bill Clinton, told Reuters. "The essence of NATO, more than any other single factor, is the commitment of the United States of America to the security of the other 27 members."
Asked about Trump's comments, European Union foreign policy chief Federica Mogherini said the EU knows it needs to "work more on our defense capabilities," but said the United States needs to keep solidarity with its allies.
"It's very simple to realize that in the world of today, which is quite a complicated one and quite a dangerous one, you need friends," said Mogherini, who spoke in Washington at the Carnegie Endowment for International Peace.
"INFLAMMATORY REMARKS"
A letter signed by a bipartisan group of 39 national security experts said Trump's "inflammatory remarks" do not represent the interests of the United States.
"The strength of our alliances is at the core of those interests," said the group, which includes prominent Republicans such as former Homeland Security Secretary Michael Chertoff and former State Department official Eliot Cohen.
The United States must uphold the North Atlantic Treaty Organization's commitments "to all of our allies, including Poland, Estonia, Latvia and Lithuania," the letter said.
U.S. Senator Bob Corker, chairman of the Senate Foreign Relations Committee, said the mutual defense commitment was the essence of the Atlantic alliance.
But he added that both Republicans and Democrats "are becoming exasperated that most members of the alliance are not honoring their obligations" for military spending, Corker, a Tennessee Republican, said in a statement.
Responding to Trump's suggestion that his decisions would depend in part on whether states that were attacked were meeting their financial commitments to the alliance, former diplomat Richard Haass, president of the Council on Foreign Relations, said it is important not to see NATO or any alliance solely in budget terms.
"More important is the net benefit the U.S. derives from the stability and security of the country and region affected and the price the U.S. would pay if stability were to be lost or its interests undermined," Haass told Reuters.
Article 5 of the Washington Treaty, which created NATO in 1949 and calls an attack on one member an attack on all, has been invoked once – to help defend the United States after the attacks of Sept. 11, 2001.
Following the attacks, NATO sent AWACS planes to patrol over U.S. skies, with more than 800 crew members from 13 NATO countries flying over 360 sorties. As part of the eight measures approved to support the United States, NATO, about three weeks later, sent elements of its Standing Naval Forces to patrol the Eastern Mediterranean and monitor shipping, expanding that to include the entire Mediterranean several months later.
A NATO official, speaking on condition of anonymity, also noted that the alliance "deployed a third of the troops in Afghanistan for over a decade, where over one thousand soldiers from non-U.S. NATO allies and partners gave their lives."
Still, some experts downplayed Trump's comments, even as they criticized them.
Kurt Volker, who was U.S. ambassador to NATO under both Republican President George W. Bush and Democratic President Barack Obama, said it was inadvisable to create doubts in adversaries' minds about the consequences they would face if they invaded a country.
"Putin loves it," Volker said.
But he said the general European attitude was to take Trump's pronouncements with a grain of salt. "Everyone knows it's an election campaign," he said.
(Additional reporting by Jonathan Landay, Yara Bayoumy, Warren Strobel, Roberta Rampton and Doina Chiacu in Washington and Emily Stephenson and Ginger Gibson in Cleveland; Editing by Leslie Adler and Jonathan Oatis)
Photo: Republican U.S. presidential candidate Donald Trump speaks at a campaign event on the day several states held presidential primaries, including California, at the Trump National Golf Club Westchester in Briarcliff Manor, New York, U.S., June 7, 2016  REUTERS/Carlo Allegri