Trump Official Covers Up President's Toxic Anti-Vaccine Rhetoric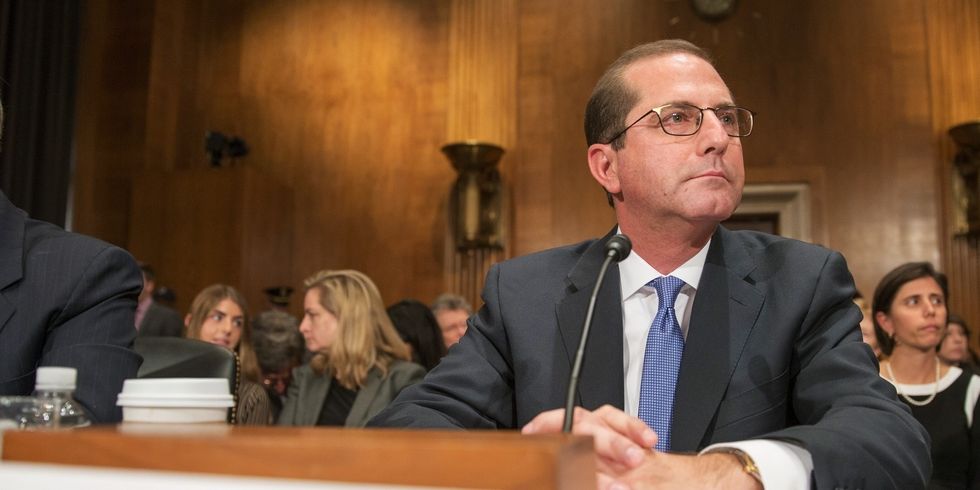 Trump's secretary of health and human services, Alex Azar, is pushing falsehoods about Trump's past advocacy of harmful anti-vaccine conspiracy theories — even as anti-vaccine extremism has helped measles cases reach a 25-year high.
During the 2016 campaign, Trump met with leaders of the discredited anti-vaccine movement, and spread some of their discredited theories about vaccine schedules during a nationally televised GOP primary debate. Before he ran for president, Trump also spent years pushing the lie that vaccinations cause autism.
Yet in a conference call with reporters on Monday, Azar claimed that Trump's alarming record on vaccines was nothing to worry about, and just part of a "debate" about the issue that has now been "settled."
But there was no legitimate "debate" on whether vaccines caused autism by the time Trump was pushing his lies.
In 2015, Centers for Disease Control (CDC) principal deputy director Dr. Anne Schuchat testified before the Senate and discussed vaccines.
She was directly asked by Sen. Elizabeth Warren (D-MA) if there is "any scientific evidence that vaccines cause autism," or if there was any scientific evidence that linked vaccination to allergies or autoimmune disorders. Schuchat said no.
She was also asked if changing the vaccine schedule to give kids smaller doses over a longer period of time — a common unscientific suggestion from anti-vaccine conspiracy theorists, and one that Trump made on the debate stage — is healthier for kids.
"No, it actually increases the risk period for children," Schuchat explained.
That was a widely covered exchange that took place before the 2016 campaign. Before that, as the CDC notes, multiple studies going back to 2013 showed that there is no link between vaccines and autism.
Yet in tweet after tweet, Trump pushed the lie long after he should have known better, using his huge platform to push dangerous misinformation that now threatens American lives.
Lately, Trump has changed his tune and said that the outbreak means "vaccinations are so important" and that people "have to get their shots."
But that cannot erase his many years of infecting the public discourse.
And Trump underlings like Azar are lying to Americans by seeking to absolve Trump of his past sins.
Published with permission of The American Independent.
IMAGE: Health and Human Services Secretary Alex Azar.