Trump Ordered US Officials To Report To Giuliani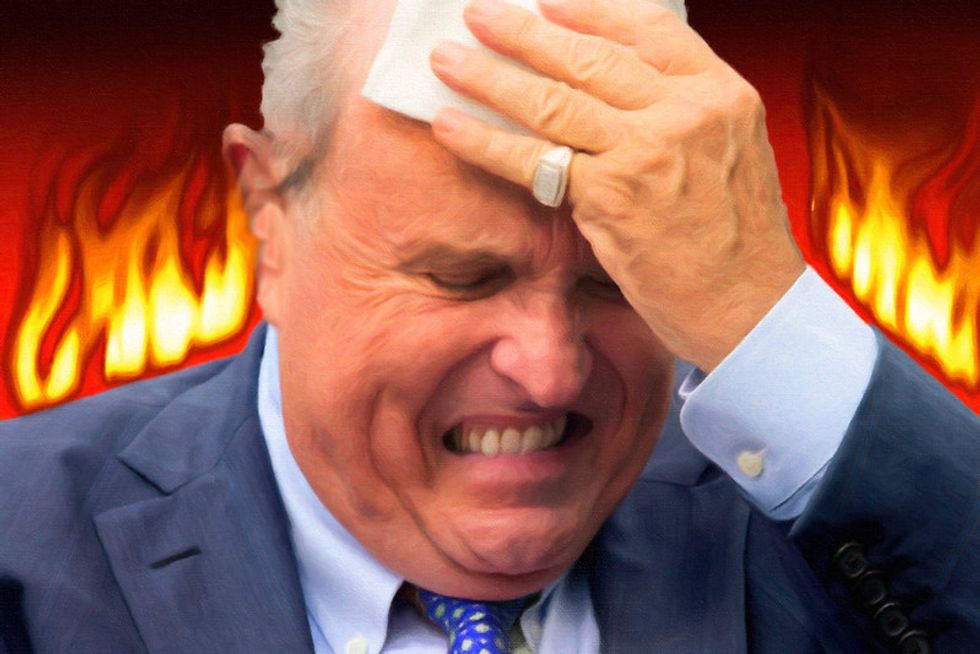 Donald Trump has his personal lawyer and frequent cable news spokesperson Rudy Giuliani operating as something of a shadow secretary of state by instructing a Cabinet secretary and staff at the State Department to report to him.
CNN reported on Trump's actions on Tuesday, revealing how central Giuliani was to the operation attempting to get Ukraine to dig up political dirt on former Vice President Joe Biden, actions that ultimately led the House of Representatives to start an impeachment inquiry of Trump that now has the support of most Americans.
According to the network's sources, Trump tasked Giuliani with determining whether Ukrainian President Volodymyr Zelensky was worthy of a meeting with him. Traditionally, that sort of task would be within the purview of the U.S. secretary of state.
"Trump directed Secretary of Energy Rick Perry and two top State Department officials to deal with his private attorney Rudy Giuliani," CNN reported, calling it "a clear circumvention of official channels."
Perry, U.S. Ambassador to the European Union Gordon Sondland, and then-special envoy to Ukraine Kurt Volker were the officials in question.
In congressional testimony, Volker has provided texts showing administration officials discussing withholding aid to Ukraine in exchange for work on domestic political issues. The White House prevented Sondland from testifying to Congress on Tuesday.
CNN also notes that the incident demonstrates how "significant Giuliani was in brokering access to the President."
A spokesperson with the Energy Department admitted that Perry spoke with Giuliani but wouldn't comment on the substance of the meeting. Giuliani was evasive when CNN questioned him.
Giuliani "said that any information about his possible discussions with Perry would be privileged," CNN reported. "He did not explain why."
Giuliani has repeatedly claimed that his conversations with Trump and other figures are "privileged," but legal experts have said this assertion is dubious.
"Even if a court decided that Giuliani was operating as an attorney, the privilege applies only to communications between a lawyer and a client for the purpose of obtaining legal advice," the Washington Post reported.
The whistleblower complaint that triggered the impeachment inquiry noted that Giuliani was presenting the Ukrainian government with policies different from officially sanctioned American diplomats.
Two months after the meeting, the White House Office of Management and Budget announced that the $400 million aid to Ukraine authorized by Congress was under review.
Giuliani is knee-deep in the scandal, and the details in the latest report appear to show that Trump positioned him while circumventing official American diplomacy.
Published with permission of The American Independent.