Trump Owes At Least $100 Million To Bank That Tried To Skirt Dodd-Frank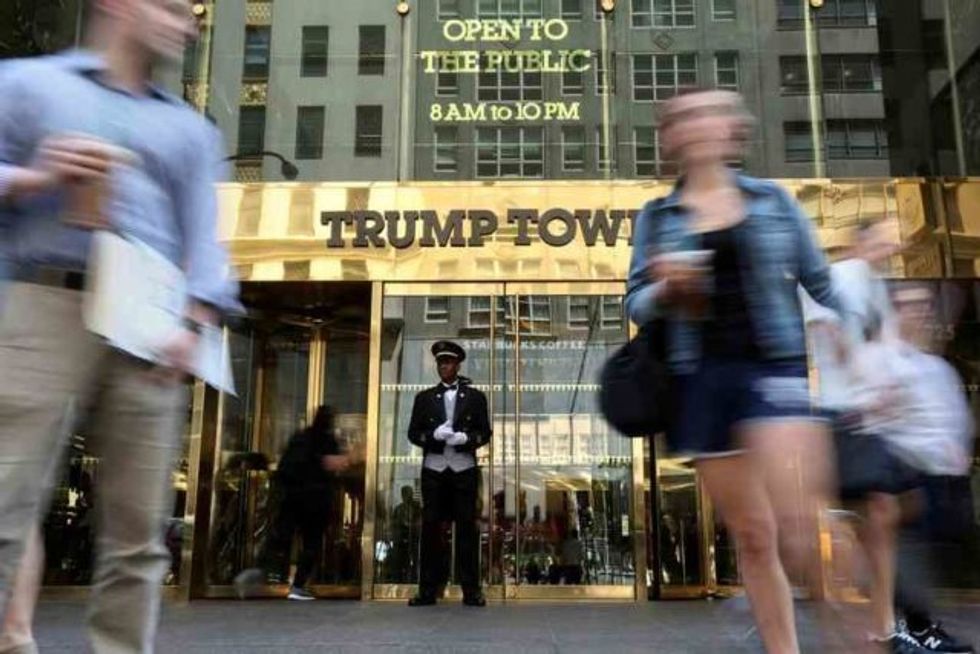 Republican presidential nominee Donald Trump has taken out 16 loans from 11 different lenders, totaling at least $335 million, according to a Mother Jones analysis of Trump's financial disclosure form.
His favorite lender, according to the forms, was Deutsche Bank, a major German institution with American subsidiaries that attempted to dodge new regulations instituted by the Dodd-Frank Act.
Deutsche Bank lent Trump at least $295 million between two major projects of his, Trump National Doral golf course and Trump's hotel on Pennsylvania Avenue in Washington, DC. Trump also has two outstanding loans worth at least $50 million from the German bank.
While this country has had wealthy presidents, none have been so deeply in debt as Trump. How much pressure could an institution like Deutsche Bank, upon which a sizable portion of Trump's wealth is dependent, pile on the Republican nominee should he become president?
"They weren't in a situation where someone could put pressure on them to do what they want," said Richard Painter, who was the chief ethics lawyer for President George W. Bush from 2005 to 2007, to Mother Jones. "Whereas having a president who owes a lot of money to banks, particularly when it's on negotiable terms—it puts them at the mercy of the banks and the banks are at the mercy of regulators."
The industry Trump made his name, and wealth, in further added to the problem. "In real estate, the prevailing business model is to own a lot but also owe a lot, and that is a potentially very troublesome business model for someone in public office," said Painter.
Recall that Trump has also promised to repeal Dodd-Frank, calling it "a very negative force, which has developed a very bad name." But asides from the pantomimed denunciations of legislation reining in the excesses of the very banking practices that led to the 2008 global economic crash, Trump has revealed little of what he would replace Dodd-Frank with, if anything. Nevertheless, his creditors are likely pleased by his proposed anti-legislation.
Following the passage of the Dodd-Frank Act in 2010, Deutsche Bank tried to skirt the new regulations set up by the act. The bank rewrote its corporate structure to make it less American, thus avoiding having to inject up to $20 billion worth of capital, a regulatory requirement to avoid a repeat of the 2008 collapse.
The stricter regulations also placed limits on how easily a subsidiary of a foreign bank could invest and how much risk it could take on. The point of the stricter rules was to avoid another multi-trillion dollar taxpayer-funded bailout. But such regulations would require the raising of billions of dollars and authorizing new shares, which would cut into profits, Wall Street's obsessive pursuit.
Trump's biggest single creditor has already been fined for engaging in illegal activities. Last year, Deutsche Bank was fined $2.5 billion for rigging interest rates in the U.S. and abroad. "Deutsche Bank employees engaged in a widespread effort to manipulate benchmark interest rates for financial gain," said New York State Superintendent Benjamin Lawsky in a statement at the time.
"While a number of the employees involved in misconduct have already left the bank, those that remain are being terminated or banned from the New York banking system. We must remember that markets do not just manipulate themselves: It takes deliberate wrongdoing by individuals."
On top of being ordered to pay a $2.5 billion fine, Deutsche Bank was ordered to fire seven employees who played a role in manipulating interest rates. The bank was judged even more harshly in the UK, where its Financial Conduct Authority determined that 29 Deutsche Bank employees were involved in the misconduct.
"This wasn't limited to a few individuals but, on certain desks, it appeared deeply ingrained," said Georgina Philippou, the agency's acting director of enforcement and market oversight, in a statement. "Deutsche Bank's failings were compounded by them repeatedly misleading us. The bank took far too long to produce vital documents and it moved far too slowly to fix relevant systems and controls."
Given that sort of company, Trump has a clear conflict of interest in any banking "reforms" he says he would pursue.
Photo: A doorman stands as people walk past the Trump Tower in New York, U.S., May 23, 2016.  REUTERS/Carlo Allegri/File Photo