Trump PAC Raising Funds On Facebook Despite His Suspension
@ohhkaygo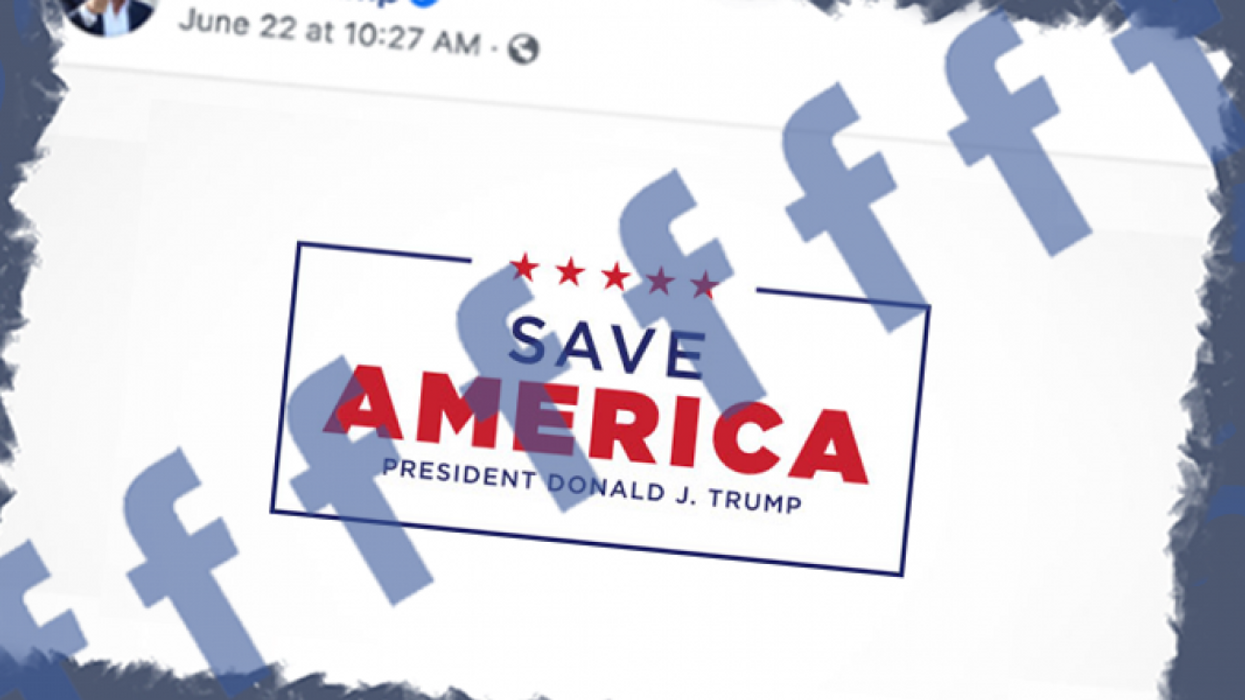 Photo by Media Matters / Andrea Austria
Reprinted with permission from Media Matters
Facebook's latest policy carve-out for former President Donald Trump, which allows Trump's political action committees to run ads as long they are not "in his voice," has permitted Trump to fundraise and promote his events on the platform, even though he is suspended for at least two years. In return, Facebook has earned at least $10,000 in revenue on these ads.
On June 21, Politico reported that Trump's Save America Joint Fundraising Committee, a joint venture between his Make America Great Again PAC and his newer Save America leadership PAC, had started sponsoring Facebook ads on the Team Trump campaign page. The Team Trump page, which hasn't run any ads since the 2020 election, is also now managed by the Save America Joint Fundraising Committee, and it was run by the Trump campaign as recently as May.
Media Matters analyzed data from Facebook's Ad Library and found that Team Trump has run 258 ads since June 16, spending at least $10,200 and earning at least 1.3 million impressions on ads fundraising off Trump's visit to the border, attacking President Joe Biden, supporting Trump and "the MAGA Movement," or promoting his upcoming rally in Ohio. At time of publication, 37 of the ads are active.
Trump's fundraising committee is running these ads even though Facebook has suspended him from the platform for at least two years, citing his "acts of incitement" in order "to be a deterrent to Mr. Trump and others from committing such severe violations in future." (Responding to Politico's initial reporting about the ads, Facebook spokesperson Andy Stone said, "Groups affiliated with the former president are not barred from posting on Facebook so long as they are not posting in his voice.")
In addition to inciting violence, thousands of Trump's Facebook posts also contained misinformation, warranted an additional information label, or contained harmful rhetoric about others. Facebook allowed Trump to abuse the platform for years, with policy exemptions and weak or ineffective attempts to rein in lies from the former president and his campaign. As but one example, the platform's policyof not fact-checking politicians in ads allowed Facebook to profit from thousands of misleading ads spreading smears and misinformation that Trump ran. And in some cases -- such as with the platform's labeling system -- Facebook's policy may have actually backfired, amplifying Trump's misinformation.
Despite Trump's suspension, his Facebook and Instagram pages remain visible and his old content continues to garner new engagement. Now, this latest policy carve-out allowing "affiliated groups" to run pro-Trump ads as long they are not "in his voice" functionally permits Trump to fundraise on Facebook and promote his events through his network of PACs.
Promoting Trump's Ohio Rally
Since June 16, Team Trump has run at least 119 ads promoting Trump's Ohio rally to be held in July, encouraging people to "get your free tickets now." At time of publication, Facebook has removed 86 of them for violating its advertising policies. (It is unclear which policy they violated.) Trump's fundraising committee spent at least $6,500 and earned more than 490,000 impressions on five different versions of these Ohio rally ads:
Fundraising Off Trump's Border Visit
On June 24, Team Trump started running ads fundraising off Trump's visit to the U.S.-Mexico border. At time of publication, there are at least 10 ads, four of which remain active. Trump's fundraising committee spent less than $300 and earned under 6,000 impressions on three different versions of these ads:
Anti-Biden Fundraising
Since June 16, Team Trump has run at least 56 fundraising ads attacking Biden and declaring that "America is in DECLINE." At time of publication, 15 of these ads remain active. Trump's fundraising committee spent at least $900 and earned more than 140,000 impressions on three different versions of these ads:
Pro-Trump Fundraising
Since June 16, Team Trump has run at least 73 fundraising ads in support of Trump and "the America First agenda." At time of publication, 18 of these ads remain active. Trump's fundraising committee spent at least $2,800 and earned more than 745,000 impressions with four different versions of these ads: