Trump Pardons Scooter Libby, Sending Signal To Witnesses In Special Counsel Probe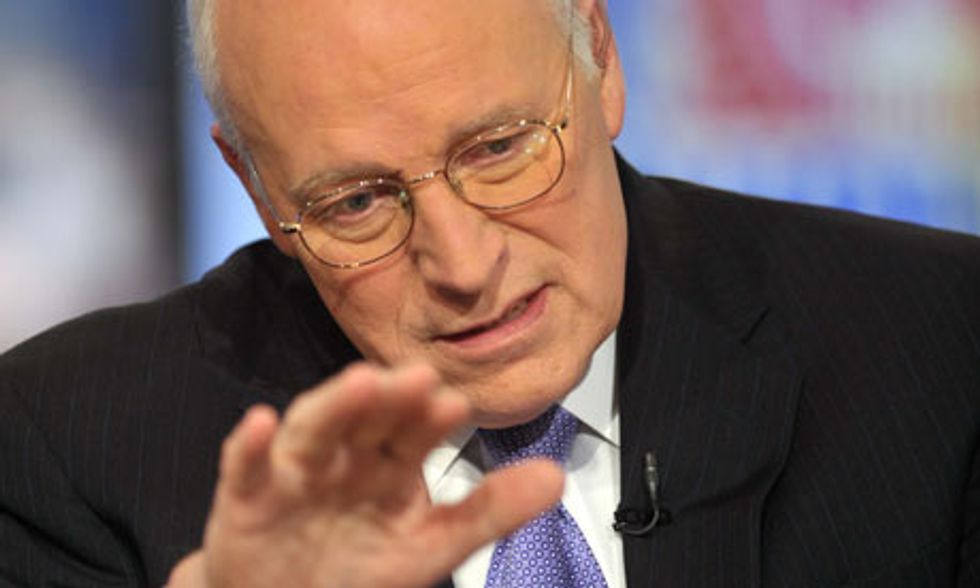 Subtle as ever, Donald Trump sent a clear signal to former aides with his unexpected pardon of Lewis "Scooter" Libby on Friday afternoon: If you cover my ass when the special counsel asks questions, and you too can expect presidential clemency.
"I don't know Mr. Libby, but for years I have heard that he has been treated unfairly," said Trump in a suitably brief, vague statement explaining his sudden action. "Hopefully, this full pardon will help rectify a very sad portion of his life." Whatever Trump does or doesn't know about Libby, however, someone must have told him why the Bush administration's former vice presidential chief of staff ended his career with multiple felony convictions and narrowly escaped prison.
Scooter Libby lied to protect Dick Cheney during a special counsel investigation.
So as Trump frets and fumes over the current special counsel probe of his presidential campaign's alleged collusion with Russia, Libby represents exactly what he wishes all of his associates would do. Sadly for him, a few of them – notably Michael Flynn, Rick Gates, and George Papadopoulos – have already pleaded guilty to lying to special counsel Robert Mueller. But perhaps Trump hopes that former campaign manager Paul Manafort, indicted on multiple counts, and his own personal lawyer Michael Cohen, who appears destined for indictment as well, will clam up.
Indeed, Mueller is reportedly pursuing evidence that Trump or his defense counsel "dangled" presidential pardons before Manafort and others. Misusing the pardon power to encourage silence or deception by targets of the investigation could be aspects of a conspiracy to obstruct justice. This mockery of mercy may simply be the latest phase of that same conspiracy.
For those who may not recall,  a jury of his peers convicted Libby in March 2007 of perjury, obstruction of justice, and lying to federal investigators.  As Cheney's top aide, he had played a central role in a Bush White House campaign to smear Joseph Wilson III, a former U.S. Ambassador and critic of the Iraq invasion, by leaking the identity of his wife Valerie Plame Wilson, a heroic CIA covert operative working to prevent the spread of nuclear weapons. When former federal prosecutor Patrick Fitzgerald was appointed to investigate that unlawful disclosure, he compounded his offense by lying to FBI agents working for the special counsel.
Libby wasn't alone in scheming against the Wilsons, an unpatriotic Bush White House plot that also embroiled political strategist Karl Rove and Richard Armitage, an aide to Colin Powell. But at trial, Fitzgerald presented ample proof that the Cheney confidant had served as the principal perpetrator. The special counsel also found much evidence that behind his prosecutorial target stood the vice president himself — who had ordered the White House press secretary to lie publicly about Libby's role.
Libby refused to cooperate and didn't testify against the vice president. Presumably that was why, during their final days in office,  Cheney brought tremendous pressure on Bush to pardon Libby — a request that Bush ultimately refused (having already commuted his prison sentence). Bush asked the White House counsel whether Libby was guilty and the answer was straightforward: Yes.
No such process appears to have occurred now to persuade Trump to issue a full pardon to "Mr. Libby," whose principal legacy, like that of so many in the Bush administration, was to promote a disastrous war on the basis of sketchy and even falsified claims. Moreover, Libby has never apologized for his acts and continues to proclaim his innocence, not the usual conduct of someone who receives a presidential pardon. But then Trump –who falsely claims to have opposed the Iraq war — scarcely needed any such persuasion to issue the pardon, which plainly has little to do with this "liar and leaker" or his supposed virtues.
No, this is an obvious and desperate gambit, and it won't be his last.