Trump Reads Nonsense Foreign Policy Speech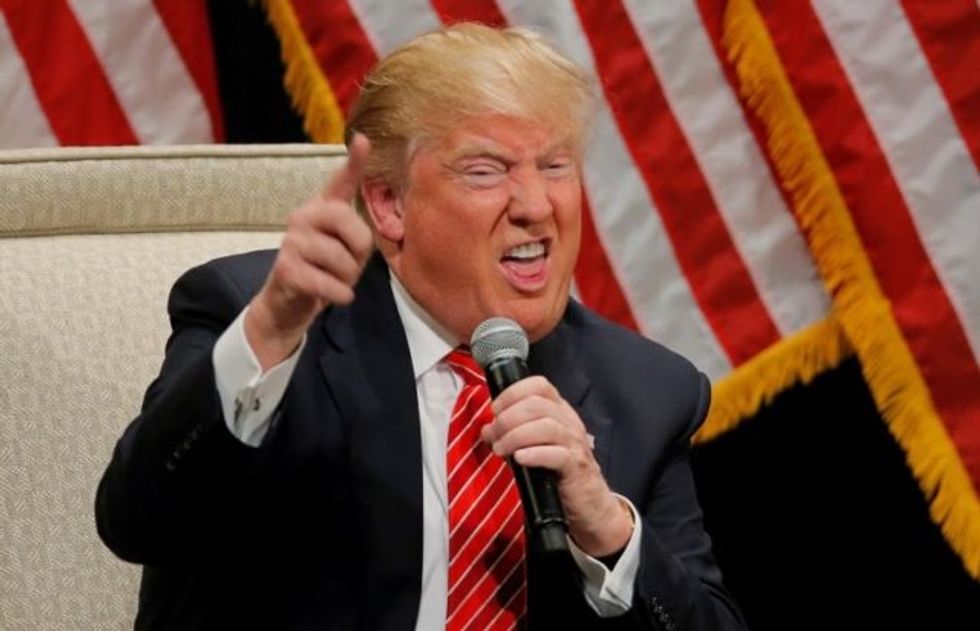 Fresh off his primary sweep of five states last night, Donald Trump gave his second major foreign policy speech of the campaign today in Washington, D.C. — he had previously given a hugely publicized yet ultimately uneventful speech on Israel to AIPAC — outlining his "America first" approach to foreign policy.
The speech came at a critical juncture for the Trump campaign, which just picked up enough delegates to all but assure his winning the Republican nomination for president.
Despite recent revelations that Trump has grown increasingly frustrated with advisor Paul Manafort's advice to be more "presidential," a subdued Donald delivered the speech nearly entirely from a teleprompter, though he seemed at times to wander off on Trumpian tangents before recovering to his prepared remarks.
The speech dealt mostly in sweeping generalizations, though what details Trump did mention seemed to contradict points he had made minutes before in the same speech.
Trump accused the Obama administration of operating internationally with "No vision, no purpose, no direction, no strategy," for example, but later said that "We must as, a nation, be more unpredictable."
He pledged that "We will spend what we need to rebuild our military," which is already the largest and most powerful in human history by many factors, but also that "we will look for savings and spend our money wisely."
He said that "the legacy of the Obama-Clinton interventions will be weakness, confusion, and disarray," but also that "America will continually play the role of peacemaker."
CNN commentator Fareed Zakaria, speaking with Wolf Blitzer on CNN shortly after the speech, said Trump was "rambling to the point of being incoherent."
Trump returned multiple times to his claims that international agreements like NATO and NAFTA had overextended and taken advantage of U.S. strength and generosity, saying at one point that America's allies must contribute to the "human costs of our tremendous security burden."
Trump also focused on the "humiliation" he says the United States has undergone during the Obama presidency, saying the president has "watched" and "allowed" nations like China, North Korea, and Iran to grow stronger over the past eight years.
"We've let our rivals and challengers think they can get away with anything," he said.
Meanwhile,Trump advocated for opening relations with Russia — he has expressed his respect for strongman Vladimir Putin in the past.
"Common sense says this cycle of hostility must end. Some say the Russians won't be reasonable," he said. "I intend to find out."
Good luck, Don.