Trump Says He And Kim Jong Un 'Fell In Love'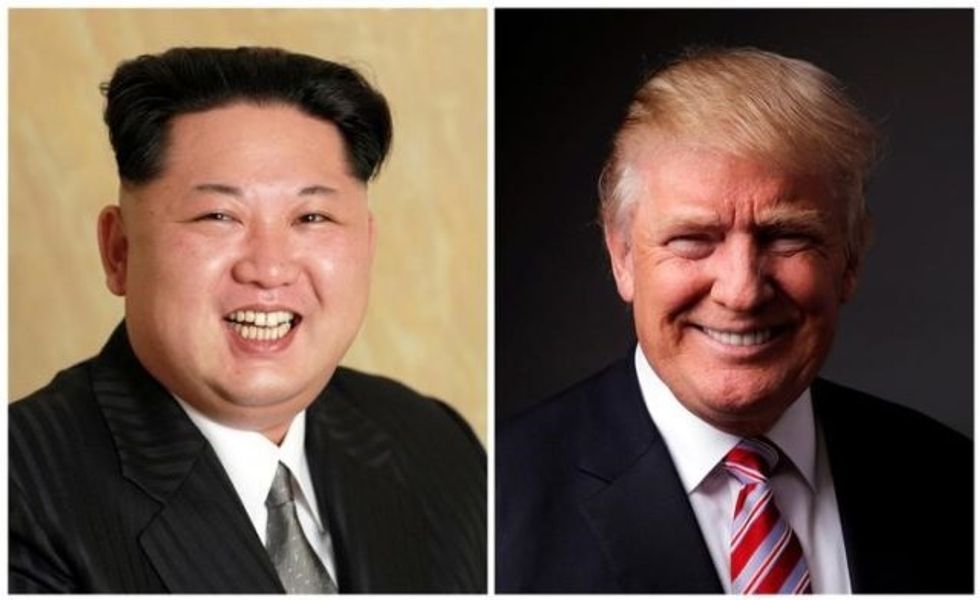 Reprinted with permission from Shareblue.
Trump's admiration for murderous dictators is well-known — but he took that to a shocking new level Saturday night when he told a rally crowd that he and North Korean dictator Kim Jong Un "fell in love" with each other.
At a so-called "Make America Great Again" rally in Wheeling, West Virginia, Trump devoted a portion of his speech to bragging about his diplomacy with North Korea.
Trump claimed that his casual threats of starting a nuclear war, and the dangerously escalating rhetoric between Trump and Kim that led up to their disastrous summit, were just examples of the two men being "tough."
"And then we fell in love, okay?" Trump told the crowd. "No, really. He wrote me beautiful letters, and they're great letters. We fell in love."
It is, of course, shocking and inflammatory for Trump to claim that he and a murderous dictator "fell in love."
But then Trump immediately revealed that he knows exactly how shocking and inflammatory this was — and that he says this kind of thing on purpose so that he can get bigger crowds at his rallies.
"Now they'll say, 'Donald Trump said they fell in love, how horrible — how horrible is that. So unpresidential!'" Trump said, mocking the way he expected his critics to react.
"It's so easy to be presidential," Trump added. "But instead of having 10,000 people outside trying to get into this packed arena, we'd have about 200 people standing right there."
Trump's declaration of love did indeed draw shocked reactions from many prominent Americans on Twitter.
Former National Security Adviser Susan Rice may have summed it up best when she wrote, "This is totally FUBAR!" (FUBAR is military slang for a situation that is "fucked up beyond all repair.")
Former United States Ambassador to Russia Michael McFaul pointed out that mocking others for taking offense at what you say doesn't make what you say any less offensive.
"Yes, Mr. President, it is horrible that you 'fell in love' with one of the most brutal dictators in the world today," McFaul wrote. "Its worse than horrible. It's sick. As a proud American, your words about 'falling in love' with any world leader, let alone KJU, embarrass me."
"IF Obama said he and Kim Jong Un fell in love, @seanhannity would call him a traitor," former Hillary Clinton staffer Jesse Ferguson pointed out. "As Trump says he and Kim Jong Un fell in love, I'm hearing @seanhannity wants to be best man."
And DNC official Khary Penebaker wondered "how Otto Warmbier's parents feel about" Trump's remarks — a reference to the U.S. hostage who died following his captivity in North Korea.
Trump has made a habit of praising authoritarian dictators. But his latest declaration of "love" for Kim Jong Un is shocking even by those standards.
And even if Trump is doing it on purpose just because he knows it's shocking, that doesn't make it better. Instead, it's yet another embarrassment of the United States in the eyes of the world.
Published with permission of The American Independent.