Trump Says He Mocked Dr. Ford To 'Even The Playing Field'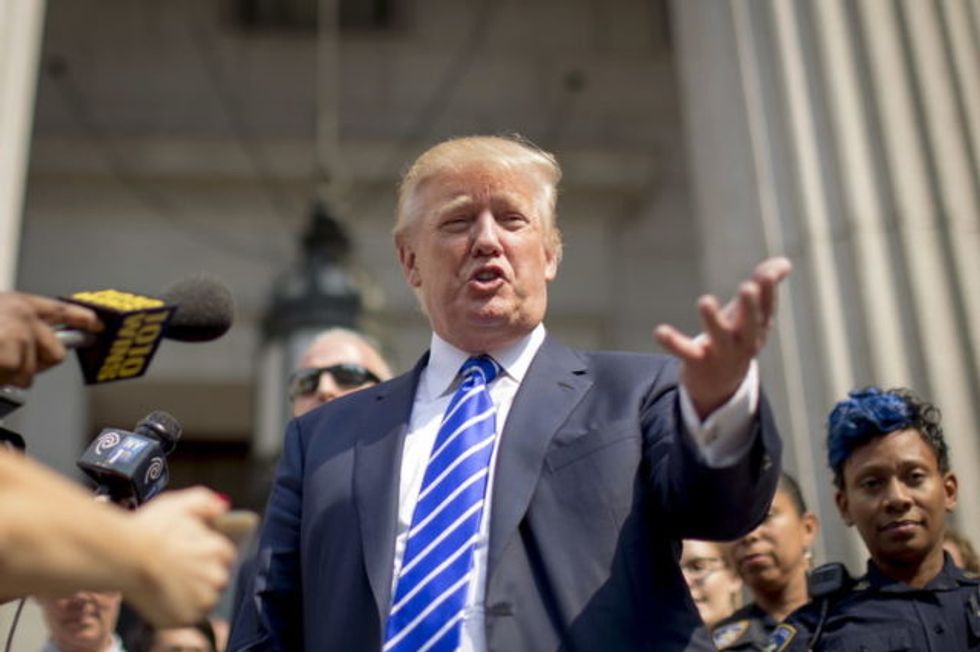 Reprinted with permission from Shareblue.
Trump called in to Fox News this weekend to gloat about accused sexual predator Brett Kavanaugh's confirmation to the Supreme Court — and claimed that he only mocked Dr. Christine Blasey Ford at a rally last week to "even the playing field" between her and Kavanaugh.
On Saturday night's edition of "Justice with Judge Jeanine," host Jeanine Pirro said that Trump "went off script" when he mimicked Ford, and lied about her testimony, during a rally in Mississippi Tuesday night.
"Some people said that you were extremely unkind to Christine Ford," Pirro said. "What was it that got you to pivot from your restraint about her, and to fight for Kavanaugh at that point?" Pirro asked.
"Well, there were a lot of things happening that weren't correct," Trump said. "And I thought I had to even the playing field, because it was very unfair" to Kavanaugh.
"It was a very unfair situation," Trump continued. "So I evened the playing field, and once I did that, it started to sail through."
Contrary to Trump's reprehensible claim, the "playing field" was always tilted badly against Christine Blasey Ford, and in favor of Kavanaugh.
Trump never did show any "restraint" regarding Ford. He attacked Ford repeatedly in the days after she came forward to tell her story to the Washington Post, and immediately blocked an FBI investigation into Kavanaugh's actions.
Then Republicans insisted on holding a sham hearing with only two witnesses, Ford and Kavanaugh, even though many others could have been called to corroborate Ford's testimony. The eleven white men on the Judiciary also hired a "female assistant" to question Ford, a prosecutor named Rachel Mitchell.
Republicans had every intention to "plow right through" Ford and her allegations, and quickly move to confirm Kavanaugh after the sham hearing as if nothing had happened.
But Ford's testimony, during which she said she was "100 percent sure" it was Kavanaugh who tried to rape her, was extremely compelling and credible.
Ford was so sincere and believable that Sen. Jeff Flake (R-AZ) was shamed into pretending he took her seriously by demanding a brief, one-week FBI background investigation into Kavanaugh.
But Republicans and Trump rigged that investigation too. The FBI was forbidden from questioning dozens of potential corroborating witnesses, and didn't even question Brett Kavanaugh.
Trump also called his mockery of Ford a "big turning point" in Kavanaugh's confirmation. He may end up being right about that; after all, he succeeded in dragging Kavanaugh onto the court, over the objections of a majority of Americans.
But in doing so, Trump also exposed the Republican Party as his accomplices in defending rape and sexual assault, and trying to crush the women who dare to speak up about it.
And Americans will remember that in November.
Published with permission of The American Independent.