Trump Says Meeting With U.S. Black Clergy Went 'Very Well'
@reuters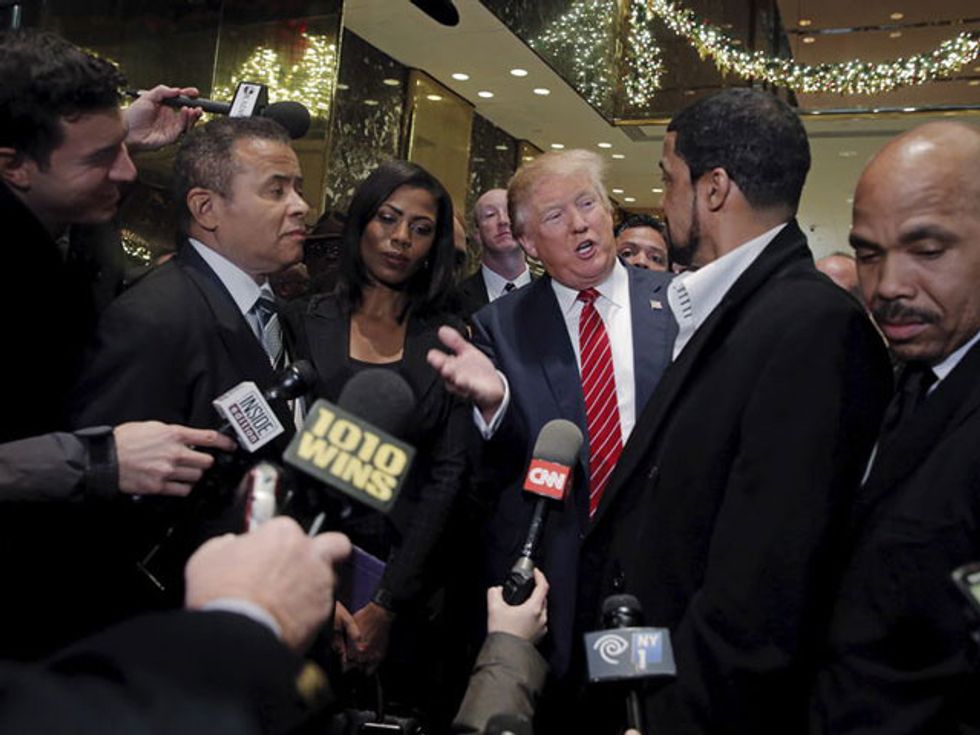 By Emily Flitter
NEW YORK (Reuters) — Republican presidential front-runner Donald Trump met a group of black pastors on Monday over the objection of other African-American clergy and academics who had assailed what they called the candidate's racially charged rhetoric.
Trump, the billionaire mogul, emerged from the more than two-hour meeting saying it went "very well." He said some of the attendees had agreed to endorse him, but the group did not present a formal list of new supporters.
The meeting was with a group of black religious leaders, the Coalition of African American Ministers, from across the country who are connected to each other through the South Carolina-based Christian broadcaster, the NOW Television Network.
Jordynn Parks, daughter of network co-founder Pastor Mark Burns, said clergy members in attendance regularly appear on the network. Trump and other attendees said there were around 100 participants.
"I've had many endorsements today," Trump told waiting journalists. Cleveland-based pastor Darrell Scott, who spoke on behalf of the group after the meeting, described it as "very constructive."
"We had meaningful dialogue with Donald Trump," Scott said, adding that many of the pastors planned to return to their homes and pray while deliberating whether to endorse Trump. He said some were meeting Trump for the first time.
Trump's campaign had initially described the meeting as a precursor to a public event set for Monday in which the group would formally endorse him. But over the weekend the campaign canceled that event and proceeded only with the private meeting.
Trump has come under fire for tweeting what critics assail as racially charged statistics about black murder rates and for saying a black protester at one of his political rallies deserved to be "roughed up."
In an open letter published on Friday, 114 black religious leaders and academics criticized the clergy members planning to meet Trump for failing, they said, to challenge him over his controversial statements.
A Reuters/Ipsos opinion poll on Friday showed a 12-point drop in support for Trump. He was the favorite of 31 percent of Republicans in a rolling poll in the five days ended on Nov. 27, down from a peak of 43 percent registered on Nov. 22.
(This version of the story corrects the name of pastor Mark Burns's daughter in paragraph 4 from Jordan Burns to Jordynn Parks.)
(Reporting by Emily Flitter; Editing by Howard Goller)
Photo: Presidential candidate Donald Trump speaks to the media after meeting with a group of black pastors at his office in the Manhattan borough of New York November 30, 2015. REUTERS/Lucas Jackson