Trump Spews Nonsense: 'They Can Call It Peaches'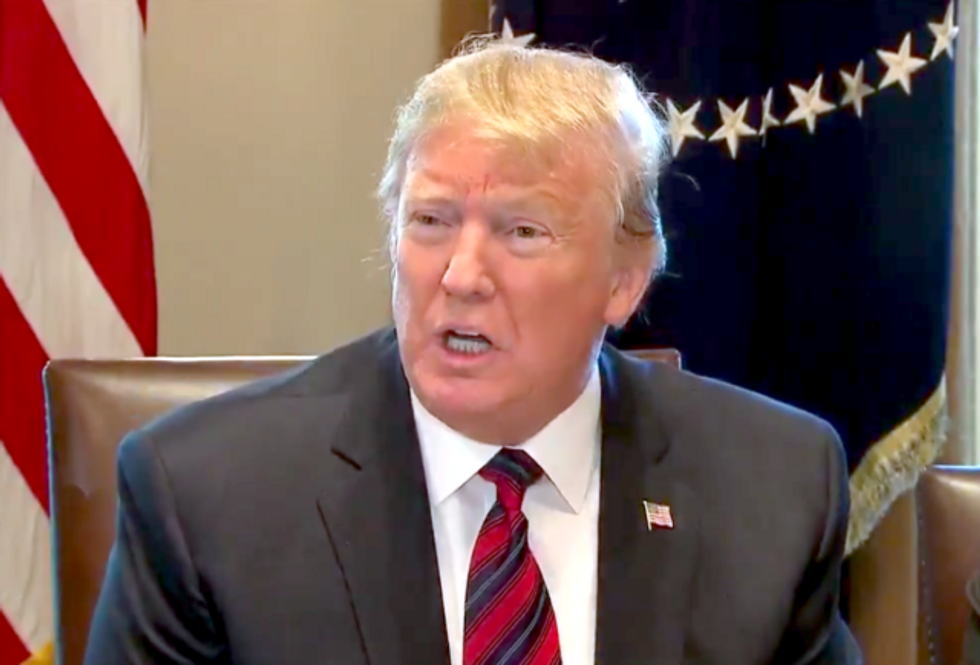 Reprinted with permission from AlterNet.
Federal government workers received checks on Friday for a total $0.00 — the latest tangible sign that President Donald Trump's drawn-out shutdown is having serious and lasting consequences for millions of Americans.
And during a question period with the press Friday afternoon at the White House, Trump made it clear that he still has no idea what he to do to resolve the mess that he's made. When a reporter brought up the fact that he had said the previous day that he would probably declare a national emergency in an effort to secure funds for a border wall, without congressional approval, he falsely claimed that he didn't.
"No," Trump replied, "I said I could do it."
What he actually on Thursday was, ""If this doesn't work out, I probably will do it, maybe definitely."
Trump seemed to be backtracking a bit Friday, demanding that Democrats come back to the U.S. Capitol to vote. He said declaring an emergency would be the "easy way out" — a callous claim when hundreds of thousands of federal workers are going with pay.
And after previously declaring that he had given up the demand for a concrete wall and will now be pushing for a steel barrier, which he tried to (falsely) claim was a concession to Democrats, he said Friday that he wants a wall built from both steel and concrete.
"In many cases, steel walls, it's steel that is, that has, concrete inside," he said. "It's pumped into the steel. It's hollow, and it's pumped into the steel. So it's sort of a combination of both."
Bizarrely, he even claimed he would let the Democrats not call the wall a "wall" — as long as they vote for it.
This is where I ask the Democrats to come back to Washington and vote for money for the all the barrier," he said. "I don't care what they name it. They can name it peaches."
This odd digression is commonplace in Trump's rhetoric. On Thursday during an interview on Fox News, Trump went on a bizarre tangent about the fact that the border agents' vehicles have wheels. It was a particularly weird comment because it came in response to Sean Hannity's question about what authorities he would use if he declared a national emergency.
On the idea of declaring emergency itself, Trump is hopelessly lost. His claim that an emergency exists, should it ever be declared, will certainly be challenged in court. But it is undermined by the fact that there seems to be no urgency to make the declaration. Trump has been talking about the wall since 2015, and he's been in the White House for two years — why declare an emergency now? The obvious answer is that it's a negotiating tactic designed to place pressure on the Democrats — but it's not working, and that's not actually grounds to declare an emergency. What's worse is that his party is deeply divided about the idea. While his ally Sen. Lindsey Graham (R-SC) has called on him to declare the emergency immediately, many other Republicans and conservative commentators are vehemently against the idea, worrying that it is unconstitutional and that it will backfire.
So Trump is left flailing, unable to put together a coherent argument, tossing out nonsense talking points, and unsure what to do next. And the pointless and reckless government shutdown carries on.