Trump Spoke With Ambassador During Five-Hour Gap In Ukraine Texts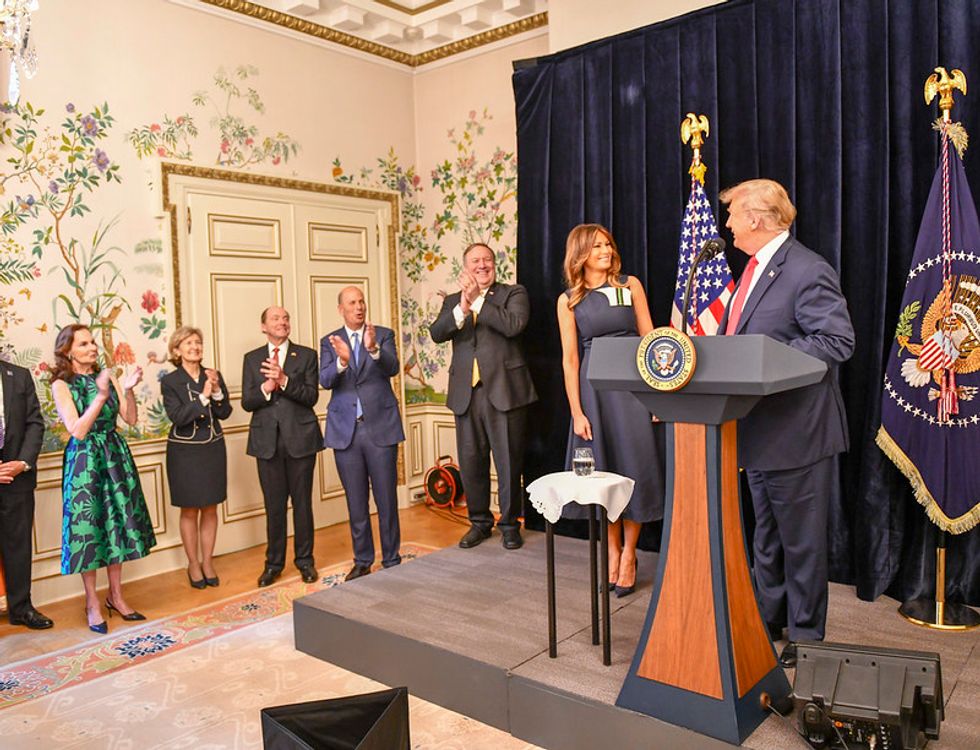 Before European Union Ambassador Gordon Sondland could reply to a text message from a colleague about the "crazy" plot to hold military aid to Ukraine hostage for political favors, he consulted with Donald Trump, according to a report from the Wall Street Journal.
In early September, Bill Taylor, America's top diplomat in Ukraine, texted Sondland about concerns related to withholding military aid from Ukraine.
"As I said on the phone, I think it's crazy to withhold security assistance for help with a political campaign," Taylor wrote to Sondland, according to texts released by the House of Representatives.
It took Sondland almost five hours to respond, during which time he talked with Trump on the phone. After consulting with Trump, Sondland finally replied, writing, "Bill, I believe you are incorrect about President Trump's intentions. The President has been crystal clear no quid pro quo's of any kind."
The texts between Sondland and Taylor are part of a larger congressional impeachment inquiry into Trump pressuring Ukrainian President Volodymyr Zelensky to investigate former Vice President Joe Biden. Taylor's text message appears to be evidence that Trump was withholding almost $400 million in military assistance to Ukraine in return for a Zelensky opening an investigation into a Biden, one of the leading contenders to be the 2020 Democratic presidential nominee.
Prior to Trump's July 25 call with Zelensky, Trump blocked the release of the military aid to Ukraine. On the call, Trump asked for "a favor," which included an investigation into Biden based on false allegations that Biden attempted to meddle in Ukrainian affairs to help his son, Hunter Biden.
Trump denies there was any sort of quid pro quo with regard to the aid but has subsequently asked both Ukraine and China to investigate Biden and Biden's family.
It is illegal to solicit or accept anything of value, including political dirt on an opponent, from foreign nationals.
The congressional impeachment probe, now supported by most Americans, is looking into Trump's actions and seeking to learn more about what Trump and his administration did with regards to Ukraine. Sondland was scheduled to speak to Congress on Tuesday, but the State Department refused to allow him to proceed.
Further, Rep. Adam Schiff (D-CA), chair of the House Intelligence Committee, alleges the State Department is withholding additional information from Congress.
Members of Congress are "aware that the ambassador [Sondland] has text messages or emails on a personal device, which had been provided to the State Department, although we have requested those from the ambassador, and the State Department is withholding those messages," Schiff told reporters on Tuesday morning. Schiff said such actions are "strong evidence of obstruction of the constitutional functions of Congress."
Trump's phone call with Zelensky was the foundation of a congressional impeachment inquiry. Now, another phone call could hold answers, but the Trump administration refuses to let Sondland speak to Congress about it.
Published with permission of The American Independent.