Trump Again Tries To Pass Off New Sprint Jobs As His Own Deal (It's Not)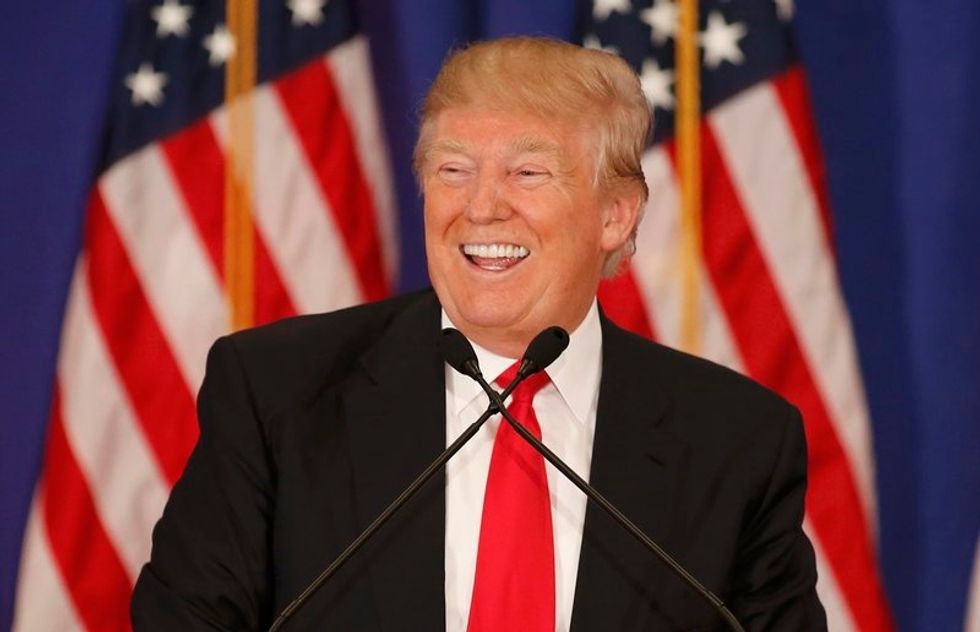 PALM BEACH, Fla. (Reuters) – U.S. President-elect Donald Trump on Wednesday said telecommunications group Sprint Corp and a U.S. satellite company OneWeb will bring 8,000 jobs to the United States, and the companies said the positions were part of a previously disclosed pledge by Japan's SoftBank Group Corp.
SoftBank holds stakes in both companies and its chief, billionaire businessman Masayoshi Son, earlier in December said he would invest $50 billion in the United States and create 50,000 jobs.
Sprint in January said it had cut 2,500 jobs as part of its plan to cut $2.5 billion in costs. On Wednesday it said it would create 5,000 jobs in areas including sales and customer care by the end of its fiscal year ending in March 2018.
Sprint spokesman Dave Tovar said the jobs were part of the pledge made by Son but would be funded by Sprint.
SoftBank and OneWeb had announced on Dec. 19 that the Japanese company was leading a $1.2 billion funding round.
OneWeb plans to use the funds to build a plant in Florida to produce low-cost satellites, creating almost 3,000 jobs at the company and its suppliers.
SoftBank described its $1 billion share of the funding as the first tranche of the $50 billion promised by Son in a meeting with Trump.
It is not clear whether the $50 billion SoftBank investment would be part of a $100 billion tech investment fund that the head of SoftBank and Saudi Arabia's sovereign wealth fund had announced earlier in the year.
"I was just called by the head people at Sprint and they are going to be bringing 5,000 jobs back to the United States, they are taking them from other countries," Trump told reporters outside his Mar-a-Lago estate in Florida.
"And also OneWeb, a new company, is going to be hiring 3,000 people. So that's very exciting," he added.
Shares of Sprint Corp, which is 82 percent owned by SoftBank, were barely changed in after-hours trading.
(Reporting by Richard Cowan; Additional reporting by Susan Heavey and Heather Somerville; Writing by Ayesha Rascoe and Peter Henderson; Editing by Lisa Shumaker)
IMAGE: Republican U.S. presidential candidate Donald Trump speaks during a news conference at his Trump National Golf Club in Jupiter, Florida, March 8, 2016.  REUTERS/Joe Skipper/File Photo