President Trump Has Already Been Sued Over 34 Times Since Election Day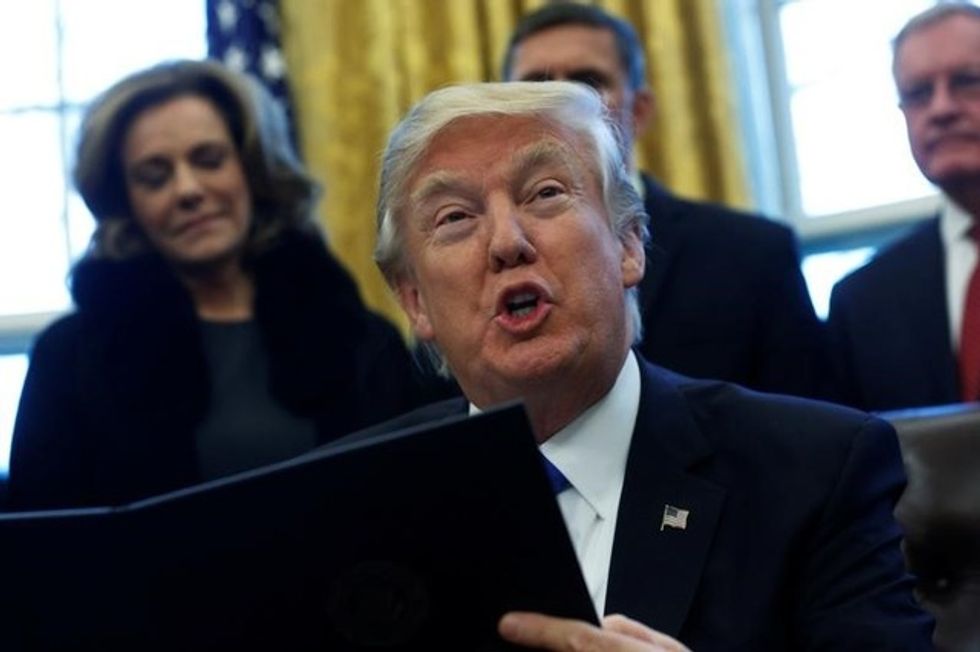 Reprinted with permission from AlterNet.
Earlier this month, former Apprentice contestant Summer Zervos announced she would be moving forward with a lawsuit against the man who allegedly sexually assaulted her, Donald Trump. Zervos is one of more than a dozen women who say they were sexually abused or assaulted by Trump, who was inaugurated U.S. president a little over a week ago.
Trump is no stranger to lawsuits charging him with being a sexual predator, though he has been involved in cases that run the gamut—nearly 3,500 legal filings going back to the 1990s. When you have reportedly made a career out of bilking contractors out of money, harassing women, and setting up fraudulent universities and other businesses, you can expect your name to end up in a lot of court papers.
In just under three months since he won the election, Trump has been sued more than 34 times. According to LawNewz, which analyzed court records, Trump is outpacing himself where lawsuits are concerned. According to the site, the tally doesn't include "possible suits that we were unable to track down in municipal and state courts." The pool is plenty diverse, in any case:
According to our research, among the cases, he's been sued for defamation stemming from sexual assault claims, for violating the U.S. Constitution, and for violations of civil rights laws. Also, sprinkled in the docket are numerous frivolous lawsuits, which have little chance of going anywhere but are amusing nonetheless. Many plaintiffs tried to stop Trump from taking office, others tried to stop him from being sworn in, and one even tried to enjoin Supreme Court Chief Justice John Roberts from administering the oath of office on Inauguration Day. An underlying theme of the lawsuits was concern that the 2016 election was influenced by the Russian government, and claims that President Trump's sprawling business ties could affect his leadership ability.
In wading through the heap of legal filings, LawNewz found a number of cases that deserved special citing. A woman named Sheila McCrea filed suit directly to the Supreme Court, "expressing great concern that the Russians were said to have influenced the 2016 election, and feared Trump could be vulnerable to further blackmail by the Russian government." Another case, Frederic Shultz v. Trump, involves a Clinton supporter who claims in court papers that, "Chief Justice Roberts swearing in Trump to be President of the United States, violates…the rights of all other citizens who voted for Clinton, under the Fifth Amendment and Fourteenth Amendment's guarantees of equal protection of the law."
LawNewz also points to Kelly Sennholz and Jerroll Sanders v. Trump, a dismissed suit that deserves an "A" for effort.
Kelly Sennholz and Jerroll Sanders, from Colorado, filed a pro se request for emergency order asking whether the "United States failed to protect the States from invasion during the 2016 election." The 22-page complaint, complete with a table of contents, asks the court to enjoin Congress from ratifying the 2016 federal election results, since the United States "failed to protect States' cyber territories from foreign invasion." The lawsuit claims "there exists clear and convincing evidence that some elected officials who prevailed in the 2016 election were 'selected' by a foreign power rather than elected."
Last year, USA Todaypulled together all the Trump-centered court filings it could find and created an infographic that sorts the suits by type. That investigation yielded an even greater number of suits, totaling just under 4,100.
Kali Holloway is a senior writer and the associate editor of media and culture at AlterNet.
IMAGE: U.S. President Donald Trump prepares to sign a memorandum to security services directing them to defeat the Islamic State in the Oval Office at the White House in Washington, U.S. January 28, 2017. REUTERS/Jonathan Ernst