Trump Takes On Undocumented Immigrants, Saves Some Barbs For Bush In Phoenix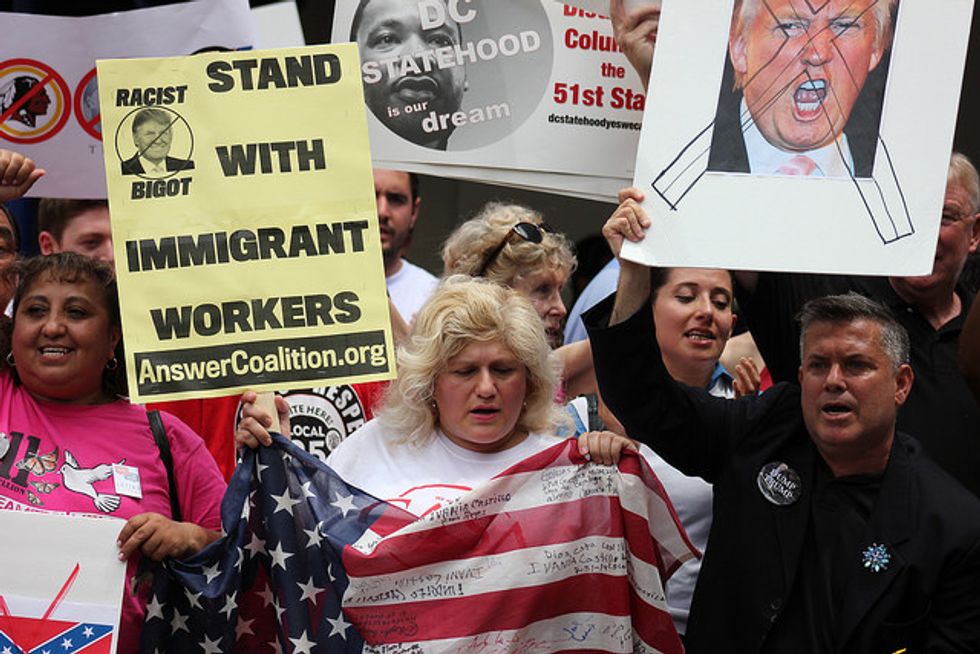 By Ros Krasny, Bloomberg News (TNS)
WASHINGTON — Republican presidential candidate Donald Trump said Mexicans flow into the United States "like water" and "are killing us at the border," making good on a vow that he won't moderate his attacks on U.S. immigration policy.
Trump, a billionaire real estate mogul and reality television host, saved some barbs for President Barack Obama's administration, fellow Republican candidate Jeb Bush, the media, and others during a rambling, hourlong speech at the Phoenix Convention Center.
"I love legal immigration," Trump said. "Maybe we should make it easier and faster." He added that Mexico is "pushing" people over the U.S. border and suggested charging the Mexican government $100,000 for every person who crosses.
When kicking off his campaign in June, Trump called Mexican immigrants "rapists" and said they're bringing drugs and crime, earning rebukes from some Republicans. Businesses, including Univision, NBC, and Macy's, have distanced themselves from him. Celebrity chefs have backed away from planned projects at Trump properties.
Still, Trump has ridden the notoriety to the top tier of a group of at least 14 Republicans vying to succeed Obama in the White House.
As he did earlier on Saturday during a speech in Las Vegas, Trump brought on stage Jamiel Shaw Sr., whose high school student son, Jamiel Jr., was killed in 2008 by an undocumented immigrant.
"I thought I would be the jobs candidate," said Trump, saying he would be stronger than Obama or other Republican contenders at negotiating trade deals that prevent the United States from being "ripped" by governments such as China, and building the economy, including manufacturing. "We have to take care of everyone," Trump added. "Get used to it, conservatives."
Trump rapped Bush as indecisive. "Jeb Bush, let's say he's president. Oy, oy, oy."
A Reuters-Ipsos poll published Saturday showed Trump and Bush in a near dead heat among Republicans.
Saturday's campaign event was moved to the cavernous convention center in downtown Phoenix from a local hotel because of high demand for tickets. Thousands of flag-waving supporters carried signs saying "Truth Trumps All" and "Make America Great Again."
Photo: People protest Donald Trump at a rally in Washington, D.C. on July 9, 2015. Elvert Barnes via Flickr