Trump Threatens To Reveal Classified Secrets In Partisan Fight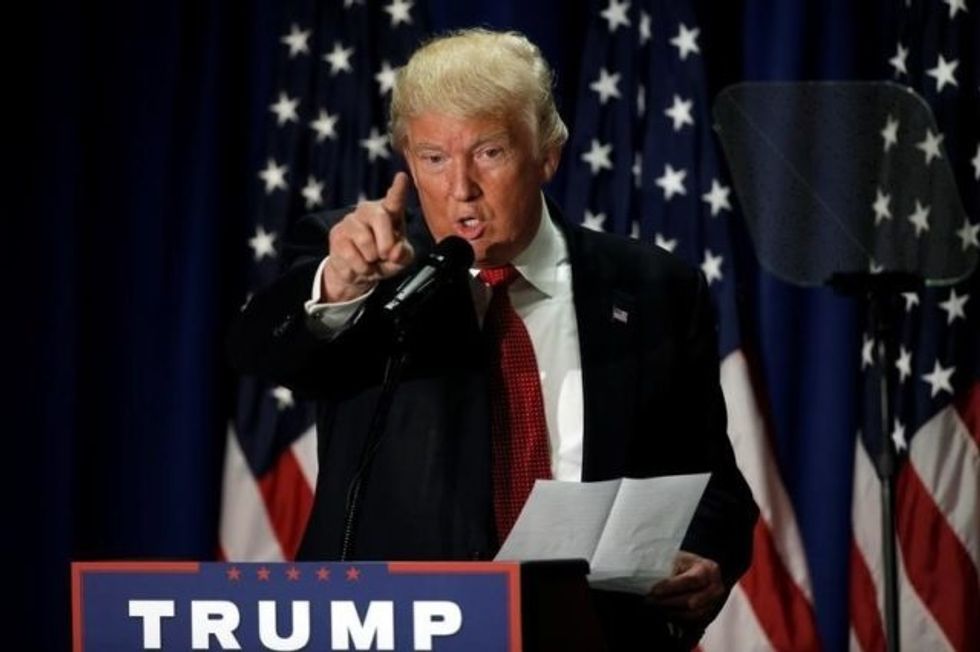 Reprinted with permission from Shareblue.
Trump threatened Wednesday to jeopardize national security to protect himself, saying that if Democrats "want to play tough" by investigating him, he will strike back by declassifying documents he claims will be "devastating" to them.
"If they want to play tough, I will do it," Trump told the New York Post. "They will see how devastating those pages are."
After winning a majority in the House of Representatives during the midterm elections, Democrats have made it clear they're planning to fulfill their constitutional oversight duty by launching a series of investigations into Trump and his scandal-plagued administration.
Trump quite obviously fears what these investigations may uncover — so he's threatening to declassify sensitive intelligence and wield it as a weapon against the new Democratic majority in a last-ditch effort to protect himself.
Speaking to the Post on Wednesday, Trump said he is waiting to declassify certain documents related to the Russia investigation so he can use them as leverage against Democrats at a time of his choosing.
"It's much more powerful if I do it then, because if we had done it already, it would already be yesterday's news," Trump said, referring to applications for surveillance warrants and other sensitive documents related to special counsel Robert Mueller's investigation.
"I'm a counter-puncher and I will hit them so hard they'd never been hit like that," Trump told the Post.
Earlier this year, Trump threatened to declassify documents and communications related to the Russia investigation and certain government officials he has targeted over the past many months. However, he appeared to back away from this threat temporarily, saying the Justice Department had asked for more time to review the national security concerns involved with declassifying such information.
But based on what he told the Post, it appears that he was also advised by White House lawyer Emmet Flood to hold off on declassifying the documents so they could be weaponized and used for political purposes.
"He didn't want me to do it yet, because I can save it," Trump said.
His comments to the Post come just weeks after he threatened to take a "warlike posture" if Democrats try to investigate him or his administration.
With control of the House committees, Democrats are expected to investigate a range of issues that Republicans have ignored for two years.
This includes issues related to Russian election interference and potential coordination with the Trump campaign, as well as Trump's shady finances and conflicts of interest, the corrupt Cabinet he assembled, and his self-dealing family members.
Democrats have also indicated that they will open up a probe to look at whether Trump's ongoing efforts to undermine the Russia investigation constitute obstruction of justice, and whether his financial ties to Saudi Arabia are guiding his administration's decision-making in the aftermath of the murder of Washington Post journalist Jamal Khashoggi at the behest of the Saudi crown prince.
Trump has so many scandals to investigate that that officials in his administration are reportedly worried that the White House doesn't have enough lawyers to deal with it all.
And now, he's threatening to create an entirely new scandal — one that threatens national security by compromising highly sensitive sources and methods — in a desperate attempt to hide from the inevitable fallout of his scandal-ridden presidency.
This wouldn't be the first time Trump has weaponized our nation's most sensitive secrets to save his own skin. With the help of his complicit Republican allies, Trump has overseen the selective declassification of a slew of intelligence and, as a result, endangered the lives of crucial informants and forced sources in Russia to go dark due to fears of being outed.
If Trump chooses to declassify intelligence from the Russia investigation for political purposes, the move could have severe repercussions for national security that may last years or even decades — but apparently that's a price he's willing to pay to protect himself.
Published with permission of The American Independent.