Trump Threatens To Sue Macy's Customer For $25 Million, Quickly Backtracks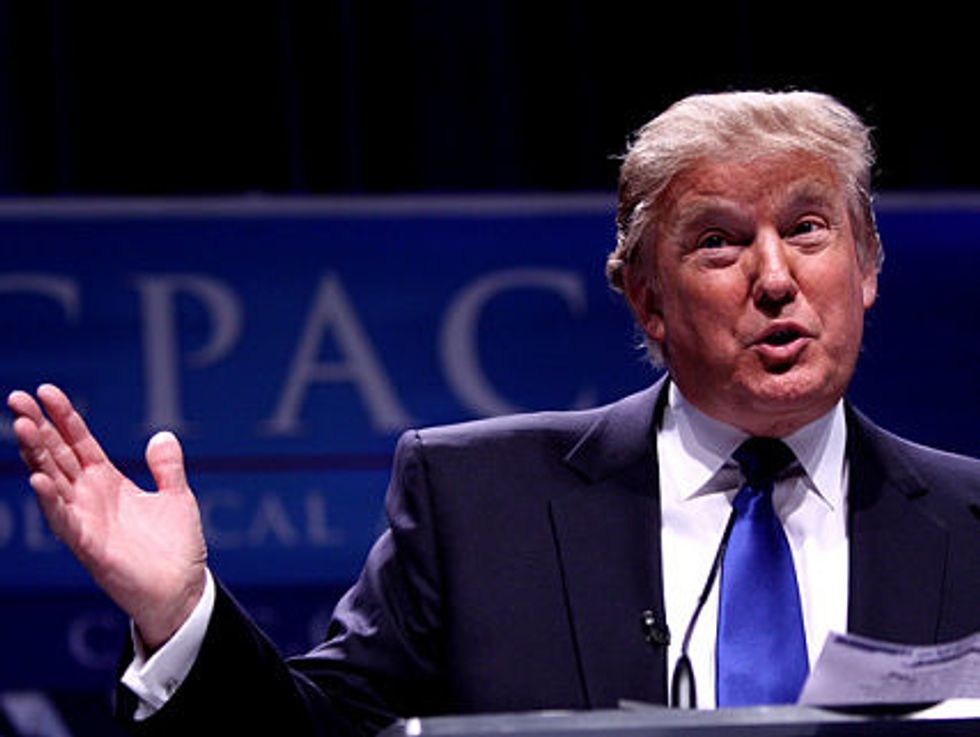 Donald Trump has threatened to sue Angelo Carusone — the creator of the DumpTrump campaign — for $25 million unless he stops urging retail giant Macy's to drop its partnership with the reality TV star and former Mitt Romney supporter.
The DumpTrump campaign highlights the department store's continued association with Trump's pattern of bigoted bullying, typified by his birtherism, which continued even after the president produced the so-called "long-form birth certificate" the real estate developer demanded.
Carusone, a Macy's customer, received a letter from Trump's attorney in late December and is now going public with the threat after his attempts to reach out to the venerable retailer privately failed.
"I informed [Macy's] that Trump's attorney told my attorney that Macy's was supportive of this litigation. I asked them if that was true and also asked them how they felt about one of their spokespeople attacking their customers like this," Carusone told TheNational Memo. "They didn't deny or confirm Trump's attorney's claim. All they said was that they are not a party to this litigation and some generic language about respecting my opinion, but declined my offers to work toward resolution."
Trump's legal threat seemed to be predicated on the campaign having a negative effect on his "brand." YouGov Brandindex Recommend, which measures brand perception, showed Macy's loyalty score with women diving last year during the peak of the petition drive.
Since Carusone made the threat public, The Donald has gone out of his way to assert that his products are still doing well at Macy's.
"The brand is doing spectacular business. The ties are one of the top selling in the country," Trump told Women's Wear Daily.
Wednesday he tweeted that Carusone's effort was actually helping him sell his products:
Looks like a lawsuit against GoAngelo won't work—my ties & shirts doing too well at Macy's–he's actually helping. I have no damages!

— Donald J. Trump (@realDonaldTrump) February 20, 2013
Then the handsome and well-coiffed billionaire went on to tweet a list of the "10 Ugliest Female Celebrities", which is exactly Carusone's point. Does Macy's really want to be associated with that kind of bile?
Trump also recently threatened to sue Bill Maher because the comic did not pay up on a "bet" that challenged Trump to prove he isn't half orangutan. That seemed like a typical Trump publicity stunt.
But Carusone believes that the intention of Trump's threat to him was to create a chilling effect that would make the DumpTrump campaign go away.
"I don't see this legal threat as an attempt to generate publicity, at least not the kind that would help Trump advance his objectives," Carusone said. "I believe this threat is a transparent attempt by a wealthy bully to silence me, stop the participants in the DumpTrump effort and intimidate others."
He also echoed Maher's assessment of Trump's willingness to use lawsuits to intimidate critics.
" I agree that the legal system is not a joke and should not be used as a toy for rich people to play with."
Continue reading for the letter Carusone's attorney sent to Trump's attorney.
Photo credit: Gage Skidmore via Flickr.com

Carusone Response To Trump Legal Threat by Angelo S. Carusone