Trump To Issue 'Emergency' Declaration As McConnell Folds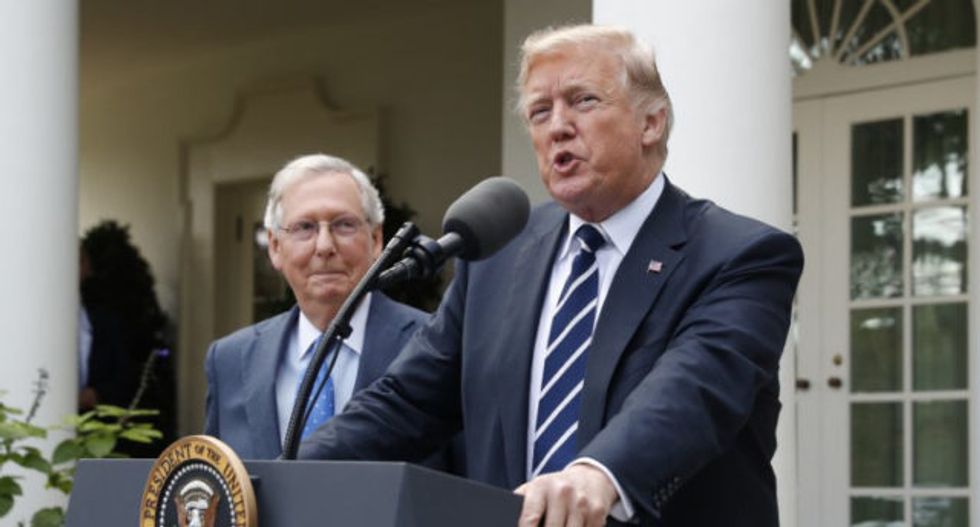 Reprinted with permission from Alternet.
Senate Majority Leader Mitch McConnell said Thursday that President Donald Trump will be declaring a national emergency at the U.S.-Mexico border in conjunction with signing a bill to keep the government open.
"He's indicated that he's prepared to sign the bill," McConnell said. "He will also be issuing a national emergency declaration at the same time."
The new government funding bill only allocated $1.3 billion to fund barriers at the border as part of a larger border security deal, far less than the $5.7 billion Trump had demanded. At the end of December 2018, Trump forced the government to shut down because Democrats would not agree to fund the border wall, a key promise of his 2016 campaign. But Trump lost the government shutdown fight and eventually agreed to reopen the government without any concessions from Democrats.
Throughout the fight, Trump dangled the possibility of declaring a national emergency at the border. He claims this will allow him to secure funds for the wall. However, many legal and constitutional experts argue this would be a breach of his official powers.
McConnell said he will not oppose the president's emergency declaration. Many Republicans, though, had previously signaled that they were opposed to the idea that the president might try to secure funding in such a constitutionally dubious manner. Some argued that doing so could set a precedent that would allow future Democratic presidents to use national emergency powers to find funding for priorities that they can't pass through Congress.
McConnell has reportedly warned Trump against using a national emergency to get his way. In a recent interview, though, he said that while the move would trigger a fight, the caucus would "hash it out," and he suspected Trump would win.
"Declaring a national emergency when there is no national emergency is not good for the president to do and, frankly, I don't think it's good for a precedent," said Democratic House Majority Leader Steny Hoyer. "A lot of Republicans share that view."
The emergency declaration is almost certain to end up in cour
"The declaration of a 'national emergency' will not get Trump a wall, and could trigger a vote that could force him to issue his first veto," said legal analyst Renato Mariotti. "But it may allow him to use the courts as a scapegoat for his inability to secure funding for his wall."