Trump Didn't Commit Treason—But That Press Conference Was Dangerous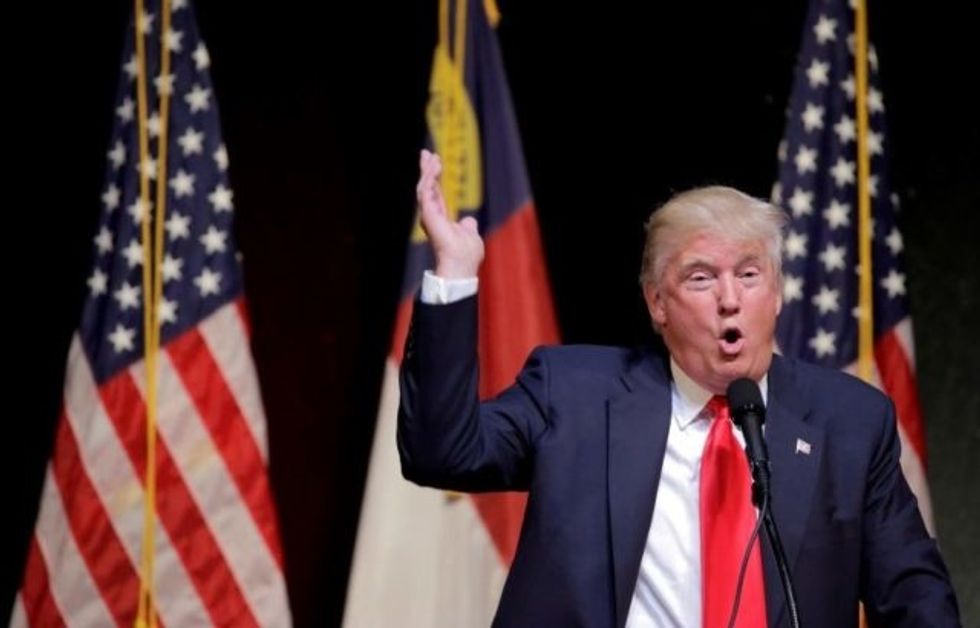 After Donald Trump called on Russian hackers release Hillary Clinton's deleted emails, the next question was obvious: Did the GOP candidate for president just commit treason?
The answer is no—but that doesn't mean that his comments aren't dangerous.
Legal experts told The National Memo that Trump's comments don't meet the legal definition of treason.
Harvard Law professor Mark Tushnet said in an interview that because the United States is not engaged in a war with the Kremlin, Russia cannot be considered an enemy—and thus, giving "aid and comfort" to Putin remains in line with the Constitution.
"As a legal term, it [treason] means that there's actually something like a state of war," Tushnet said. "There isn't between us and Russia. It can't be done."
Even during the Cold War, for instance, the Soviet Union was not considered a legal enemy—and Julius and Ethel Rosenberg were convicted under charges of espionage, not treason. (Coincidentally, the McCarthyite lawyer who prosecuted them, Roy Cohn, was a longtime adviser to Trump until his death in 1986.)
It's also not the first time that Donald Trump has called on hackers to investigate a major Democratic politician: He encouraged them to find President Barack Obama's college records just last fall, on Twitter.
Attention all hackers: You are hacking everything else so please hack Obama's college records (destroyed?) and check "place of birth"

— Donald J. Trump (@realDonaldTrump) September 6, 2014
While some have speculated that either one of Trump's challenges to hackers could count as solicitation of a crime—in this case, disclosing private information—such a charge would be a shaky one, because current legal language on disclosure of private information does not account for the internet.
In a Vox article, journalist Dylan Matthews compared Trump's dare to Russian hackers to Nixon's role in encouraging wire-tapping at the DNC headquarters as part of the Watergate scandal. But Tushnet said it's not so simple.
"It's not obvious that hacking a private email server is a crime," Tushnet said.
And regardless of the crime, Tushnet said that the Republican nominee would be able to defend his statements under free-speech law.
"Almost certainly, for any crime that he might thought to be charged with, he would have a defense under the First Amendment," Tushnet said, adding that a Supreme Court case, Watts v. United States, distinguishes between "genuine threat" and "political hyperbole."
Just as the statement considered in Watts—"If they ever make me carry a rifle the first man I want to get in my sights is L.B.J."—was considered to be hyperbolic, Trump's challenge to Russian hackers would be ruled as a similar sort of political exaggeration, Tushnet said.
Still, Kimberley Marten, a political science professor at Barnard College of Columbia University, says that Trump's "shocking" comments have publicly aligned himself with the two major Russian state intelligence agencies.
"It is particularly shocking because as the official candidate of the Republican Party, he will soon be getting classified briefings," Marten, who specializes in Russian affairs and cyberwarfare, said in an interview with The National Memo.  "The logical conclusion is that Trump is expressing hope that Russian intelligence can even undercut the serving president of the United States," she said.
Marten added that to her knowledge, no other American politician has called upon a foreign government to spy on or undermine a political campaign, noting that Russia would technically be hacking Clinton as former secretary of state and not as a presidential candidate.
A hack of Clinton's emails wouldn't be new for Russia, though: Marten said that the Kremlin has been known to influence radical nationalist campaigns that oppose NATO in countries such as France and Finland, as well as encourage bombers to intentionally attack a U.S. base in Syria.
Photo: Republican U.S. presidential candidate Donald Trump speaks at a campaign rally in Raleigh, North Carolina, U.S., July 5, 2016.      REUTERS/Joshua Roberts