Trump Uses Hurricane To Promote New Campaign Hat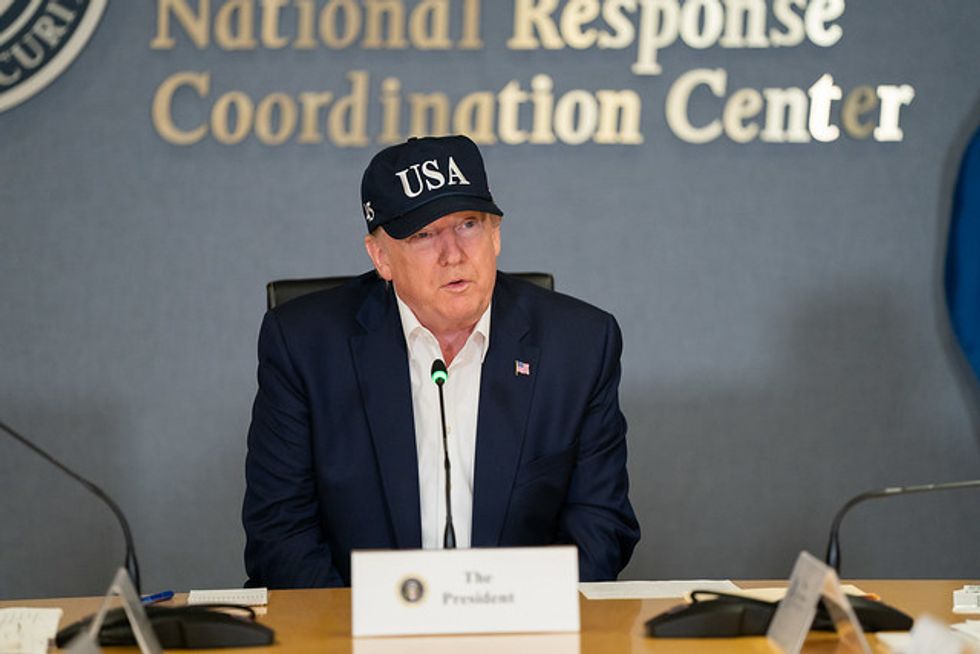 Trump wore a new hat while being briefed on Hurricane Dorian in photos distributed by the White House over the weekend.
By Wednesday, the hat was on sale on Trump's official campaign website for $40.00, labeled "Official USA 45th Presidential Hat – Navy."
"Did President Trump use Hurricane Dorian and the White House press office to launch a new product on his campaign website? It sure looks that way," Citizens for Responsibility and Ethics in Washington, a corruption watchdog, wrote in a statement.
Trump's campaign site touted itself as "the only place online to purchase the Official USA rope hat worn by 45th President-Elect Donald J. Trump, himself." And proceeds from the hat will go to Trump's reelection campaign.
There is also a very good chance that Trump himself will see some of the money from the hat sales. The two committees tasked with his reelection have thus far spent at least $379,383 at Trump properties.
Because Trump has not divested from his holdings, money spent at his properties means that Trump profits personally.
Trump has previously used the intense international exposure he gets from the presidency to model hats that have then been put up for sale by his campaign.
In August of 2017, the White House released photos of Trump wearing branded hats as part of the response to Hurricane Harvey. The hats were simultaneously on sale in Trump's online store.
Last November, Trump went to the scene of wildfires in California sporting a campaign hat.
"The fact that the president has yet again showed up to a natural disaster wearing a hat sold exclusively by his campaign for $40 shows that he can't tell the difference between a tragedy and a campaign rally–or a money making opportunity," CREW noted at the time.
The incidents show Trump using all the trappings of the presidency to showcase his campaign merchandise, which leads to sales and personal profits. The cycle continues.
Published with permission of The American Independent.