Trump Vows To 'Open Up' Libel Laws If Elected
@reuters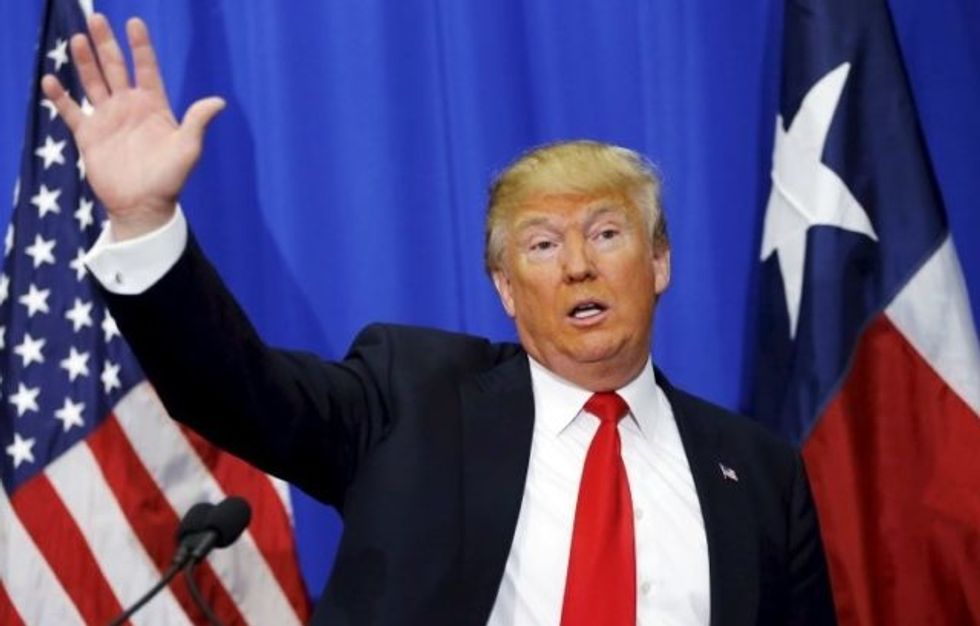 (Reuters) – Republican presidential front-runner Donald Trump said on Friday that if elected he would "open up" libel laws to make suing the media easier.
Speaking at a rally in Fort Worth, Texas, Trump said the change was necessary to combat what he described as the "dishonesty" of major American newspapers.
Trump routinely criticizes the press during campaign appearances, complaining about coverage he says is unfair and at times singling out people or news outlets for special insults. He often invites audiences at his rallies to boo the journalists gathered in a special fenced-off part of the room. At a Dec. 23 appearance in Grand Rapids, Michigan, he joked about killing journalists as the crowd thundered applause.
"One of the things I'm going to do if I win," he said on Friday, "I'm going to open up our libel law so when they write purposely negative and horrible and false articles, we can sue them and win lots of money."
Trump mentioned the New York Times and the Washington Post specifically and added: "With me they're not protected. We're going to have people sue like you've never been sued before."
The New York businessman is leading in national polls and in most statewide polls of likely Republican voters ahead of a dozen primary contests taking place on Tuesday, a day dubbed "Super Tuesday" for its importance to the U.S. presidential primary process.
Trump has sued journalists in the past and his representatives have not infrequently threatened to sue reporters seeking comment. In January, the Post published a story about Trump's management of the Trump Taj Mahal, a casino in Atlantic City, New Jersey, that went bankrupt. In an interview published in the story on Jan. 18, Trump told the Post reporter: "If you write this one, I'm suing you."
(Reporting by Emily Stephenson and Susan Heavey, writing by Emily Flitter; Editing by Richard Chang and Steve Orlofsky)
Photo: U.S. Republican presidential candidate Donald Trump speaks at a campaign rally where his former rival for the Republican presidential nomination, New Jersey Governor Chris Christie, announced his endorsement for Trump's candidacy for president, in Fort Worth, Texas February 26, 2016. REUTERS/Mike Stone