Trump Widens Lead Over U.S. Republican Presidential Field: Reuters Poll
@reuters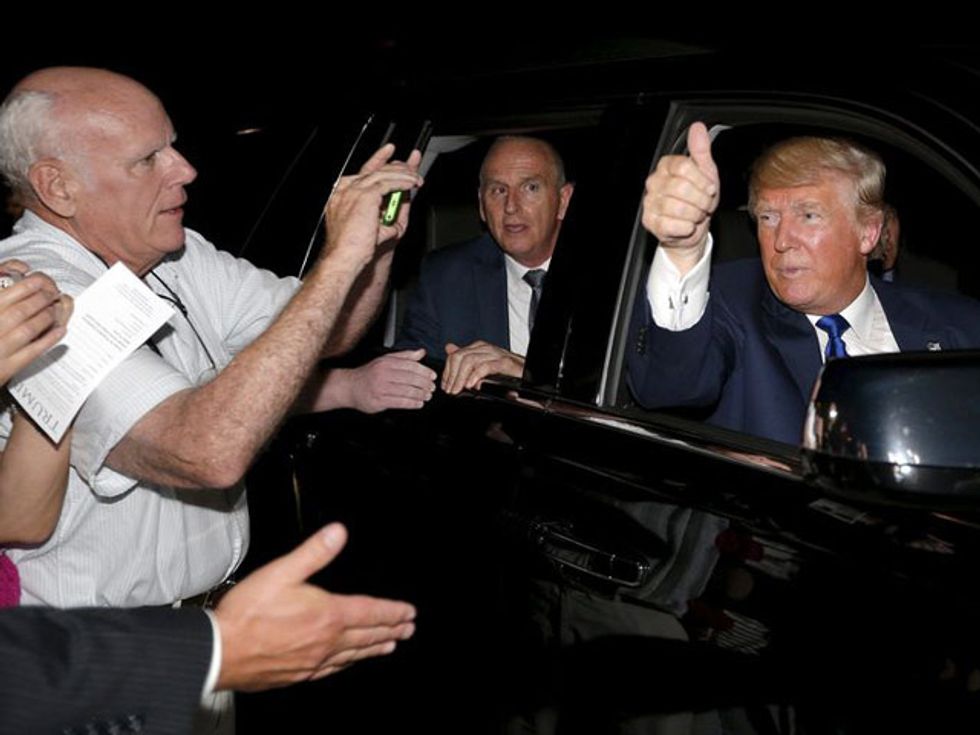 By Emily Stephenson
WASHINGTON (Reuters) — Republican Donald Trump is pulling away from the pack in the race for the party's U.S. presidential nomination, widening his lead over his closest rivals in the past week, a Reuters/Ipsos poll showed on Friday.
Republican voters show no signs they are growing weary of the brash real estate mogul, who has dominated political headlines and the 17-strong Republican presidential field with his tough talk about immigration and insults directed at his political rivals. The candidates are vying to be nominated to represent their party in the November 2016 general election.
Nearly 32 percent of Republicans surveyed online said they backed Trump, up from 24 percent a week earlier, the opinion poll found. Trump had nearly double the support of his closest competitor, former Florida Governor Jeb Bush, who got 16 percent. Retired neurosurgeon Ben Carson was third at 8 percent.
Even when Trump was pitted directly in the poll against just his top two competitors, 44 percent backed him. Bush won about 29 percent of respondents, and Carson 25 percent.
"He's not taking any guff from anybody," Dewey Stedman, 70, a Republican from East Wenatchee, Washington, said of the publicity-loving billionaire. "If you don't have something in your brains, you're not going to have billions of dollars."
Trump has driven the debate on the campaign trail with a hard-line immigration plan that calls for the deportation of undocumented immigrants, amendment of the Constitution to end automatic citizenship for all people born in the United States, and construction of a wall along the border with Mexico.
He also has feuded with Bush and other rivals while boasting he could easily beat Democratic front-runner Hillary Clinton.
Trump's campaign momentum has paid off with bigger crowds on the campaign trail. On Friday night, he moved a planned rally in Mobile, Alabama, to a football stadium seating more than 40,000.
"It is an appeal to people that are just aggravated about what's going on," Republican strategist Rich Galen said, adding that Trump is a "novelty act" that voters will tire of.
Friday's results in the online rolling opinion poll are based on a survey of 501 Republicans and have a credibility interval of plus or minus 5 percent.
Separate results found Clinton leading among Democrats, though support for her dipped below 50 percent to 48.5 percent.
U.S. Senator Bernie Sanders of Vermont came in second in the poll of 625 Democrats, followed by Vice President Joe Biden, who has not entered the race. That survey had a credibility interval of plus or minus 4.5 percent.
(Reporting by Emily Stephenson; Editing by John Whitesides and Ken Wills)
Photo: U.S. Republican presidential candidate Donald Trump gives a thumbs up to supporters as he is driven away following a campaign town hall meeting in Derry, New Hampshire August 19, 2015. REUTERS/Brian Snyder>