#EndorseThis: Trump Yells At Journalists For An Hour, Previews Presidential Press Conferences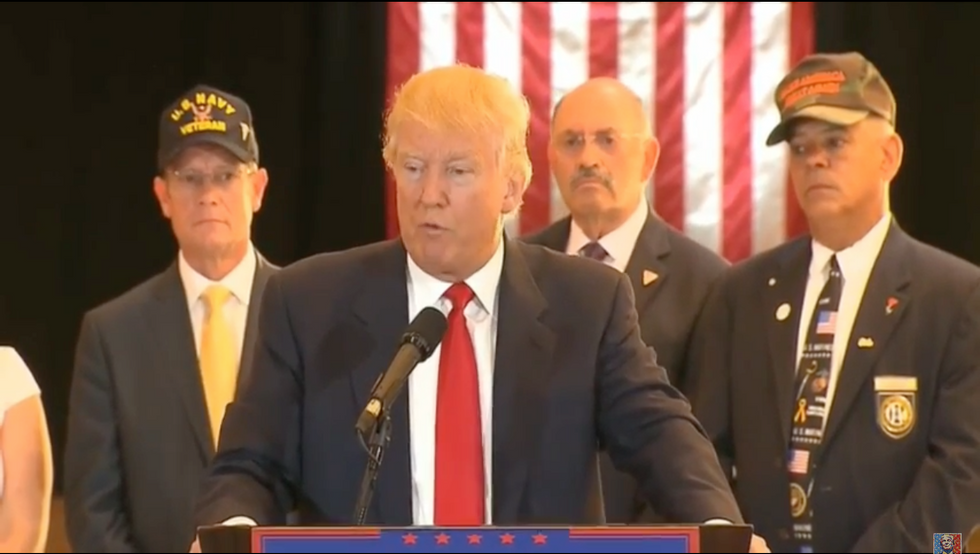 When Donald Trump announced that he would be giving a press conference today to discuss his misdealings with veterans' groups, members of the media covering his remarks should have known they were in for a wild ride. Trump had lied about his donations to veterans' groups for months: After skipping a Fox News debate because he was afraid of Megyn Kelly because, apparently, the network had treated him unfairly, Trump put together his own Celebrate-The-Troops fundraising spectacular, after which he claimed to have raised $6 million for various veterans' groups, through an account maintained by his campaign.
Weeks later, many of the veterans' groups he had claimed would receive money from him hadn't even heard from Donald Trump at all. Investigations by various outlets into how much money Trump had cumulatively given to the groups all came up with figures in the $3-4 million range, nothing close to what Trump promised. There was also no evidence — until only a week ago — that Trump had given the $1 million he had promised to veterans' groups.
All of that to say: The relentless investigations of the news media forced Trump to give the $1 million he promised, and they forced him to call up his rich friend who he had claimed donated a cumulative $6 million… to actually raise $6 million.
Donald Trump rarely holds press conferences to "clear the air" about anything, and to do so about millions of missing dollars that were supposedly donated to veterans' groups cut especially deep, as Trump has painted himself as a champion of veterans causes.
I've included the entire press conference below to highlight to consistency and relentlessness of Donald Trump's demonization of the press — the same press that exposed widespread problems with the Department of Veterans Affairs. The same press that dutifully reported Trump's claims of having donated — to Trump's great benefit — $6 million to veterans' groups, including $1 million of his own money. The same press that, doing their job, badgered Trump for proof that such donations had been made, and the same press that, ultimately, pressured Trump into doing the right thing.
After Donald Trump lists some of the groups he's given money to — the exact thing the press has asked for and failed to receive for months — he takes questions from journalists in attendance, starting at 13:54.
Photo and video: MSNBC.