Trump's Accusers Offer New Revelations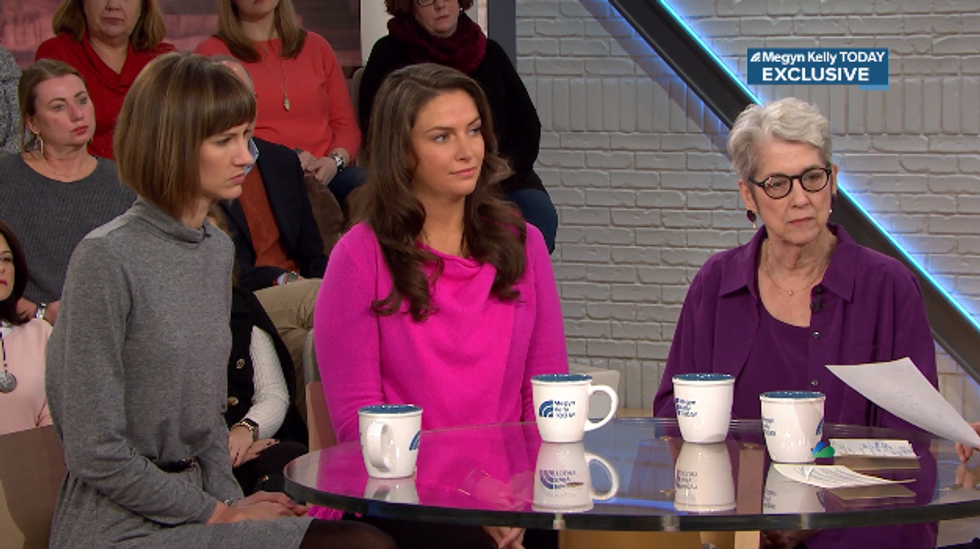 Reprinted with permission from AlterNet.
On Monday morning, three women who have accused Donald Trump of sexual abuse appeared on Megyn Kelly's NBC Morning Show and took part in a press conference led by Brave New Films to demand a congressional investigation into the charges against the president.
Jessica Leeds says Trump groped her repeatedly on a plane three decades ago. Rachel Crooks, a former receptionist for a real estate development company with an office in Trump Tower, has alleged that Trump tried to kiss her several times in 2005. Samantha Holvey, who represented the state of North Carolina in the 2006 Miss USA pageant, says Trump would appear backstage to leer at her and other contestants. At least 16 other women have accused Trump of sexually inappropriate behavior.
Here are seven of the most disturbing allegations to emerge from their interviews.
1. Trump verbally insulted one of the women years later.
Leeds says that three years after he assaulted her on a plane, she ran into Trump at a gala.
"I recognized him, immediately," she said. "He's the guy on the airplane. But he stands there, as I'm handing him this table assignment, and he says, 'I remember you. You were that…woman from the airplane. He called me the worst name ever."
"You don't want to say it out loud. Does it begin with a C?" Kelly asked.
"Yes," Leeds responded.
2. They were disappointed by the majority of white women voting for Trump.
Kelly asked what the women made of the fact that 53 percent of white women voted for Trump, despite at least a dozen women having accused him of sexual assault and/or harassment, and the emergence of a 2005 video in which Trump boasted about grabbing women by the genitals.
"That's what hurt the most," Holvey responded. "That women, who have lived through this—everybody has their own story of a man touching them inappropriately…This is not an incident that only happens once in a blue moon. This is a daily thing for women. And for [white women who voted for Trump] not to say, 'You know what? That's wrong. I don't support that. I'm not voting for that. I don't want that person to be leading my country.' And that was so painful."

Read the full article here.