Trump's America: Surveillance Of Muslims, McCarthyite Trials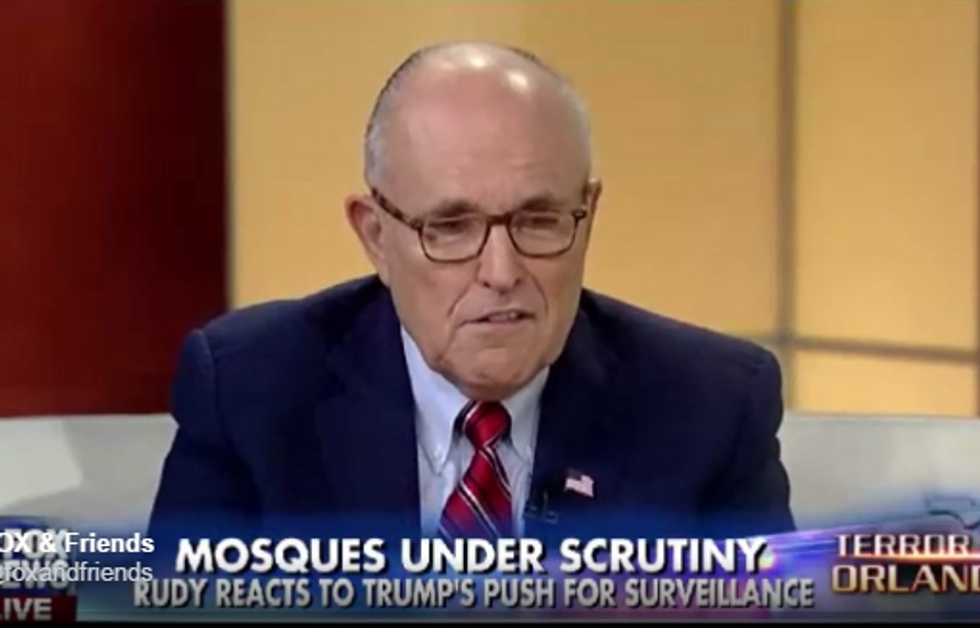 While Donald Trump has dominated the airwaves with vitriolic hate against Muslims and immigrants this elections season, he isn't the only Republican pushing an Islamophobic agenda.
Former New York mayor and Trump fan Rudy Giuliani appeared on Fox & Friends on Tuesday morning to imply that any mosques opposing government surveillance are potentially harboring terrorist sympathizers.
"If you've got nothing going on there but a beautiful religious service, why in his name would you not want to have police officers there?" Giuliani said.
GIULIANI: If houses of worship have nothing to hide, they should embrace surveillancehttps://t.co/KOc1uN7lJY

— FOX & friends (@foxandfriends) June 14, 2016
Never mind that surveillance is typically a tactic used only on criminal organizations — not religious institutions where lawful individuals gather and pray.
Giuliani even went so far as to say that while only some imams are open to a police presence at their houses of worship, all of New York's rabbis and ministers are perfectly fine working under government watch.
"In fact, they want them there, they want them to learn the message," Giuliani said. "It's enlightening for them."
Former House Speaker Newt Gingrich, meanwhile, responded to the mass shooting at a gay Orlando nightclub — the worst in the country's history — by proposing a revival of the infamous House Un-American Activities Committee, evoking none other than Trump himself.
"We originally created the House Un-American Activities Committee to go after Nazis," Gingrich said on Fox & Friends on Monday. "We passed several laws in 1938 and 1939 to go after Nazis and we made it illegal to help the Nazis. We're going to presently have to go take the similar steps here."
What Gingrich seems to forget, though, is that HUAC was later used by Sen. Joseph McCarthy to advance an agenda of McCarthyism, which accused innocent people of conspiring as Communist agents bent on destroying the United States. The committee, history judged, was much more "un-American" that the subjects of its investigations.
Gingrich has also appeared to have forgotten about the United States' immigration rules, as he later proposed that the federal government should revoke citizenship — something it cannot do for natural-born Americans — as a way to fight terrorism.
"We're going to ultimately declare a war on Islamic supremacists and we're going to say, if you pledge allegiance to ISIS, you are a traitor and you have lost your citizenship," he said.
Photo via Twitter