Trump's July Fourth Event Builds Profits For His Washington Hotel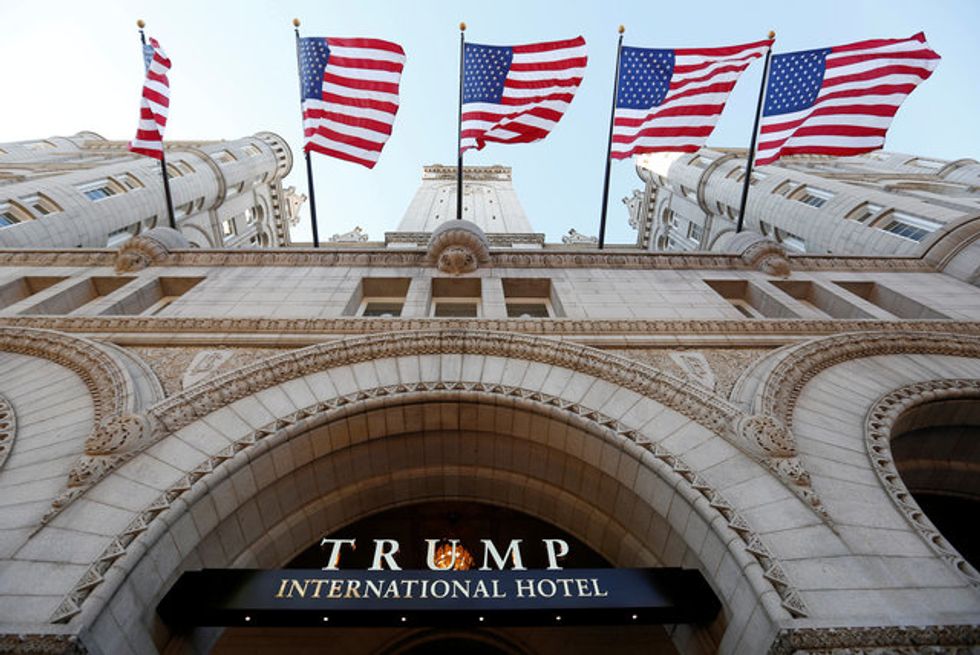 Trump will line his own pockets while he wrecks the previously nonpartisan Fourth of July celebration in Washington, D.C., according to a Friday report from HuffPost.
The Trump International Hotel is already sold out on July 3 and 4, and prices on July 5 are more than twice what the hotel normally charges, according to the watchdog group Citizens for Responsibility and Ethics in Washington (CREW).
As HuffPost reported, Trump never cut financial ties with his business empire, so he profits every time someone stays at his hotels. Last year, he made $41 million from the Trump hotel in Washington, D.C., while his daughter Ivanka, an unpaid White House senior adviser, made $4 million from her stake in the property.
"This July 4th presents a unique opportunity for the President to both promote himself politically, and to increase his bottom line," CREW says, adding that "no modern president has so blatantly profited from his political position before, or centered the 4th of July celebration so squarely around himself."
The White House is calling the event a "Salute to America," but it turns a celebration of America into a spectacle where Trump is the center of attention. And he is forcing himself on an unwilling city to do it, giving a speech from the steps of the Lincoln Memorial a few hours before fireworks go off above the nation's capital.
Trump's decision to make a nonpartisan event into a self-aggrandizing spectacle worries some senators.
"We are deeply troubled that the president's involvement at the event will turn the longstanding, non-partisan celebration into a de facto campaign rally conducted at taxpayer expense that will serve to further divide rather than unify the nation," Sens. Tom Udall (D-NM), Patrick Leahy (D-VT) and Chris Van Hollen (D-MD) wrote in a letter to the Interior Department. The senators also expressed concerns about the added expense Trump is forcing the city to absorb to compensate for his stunt.
CREW slammed Trump's "blatant self-promotion on a federal holiday," disappointed that he "plans to hijack and politicize the Washington D.C. 4th of July celebration this year."
Published with permission of The American Independent.