Trump's Nightmarish First 100 Days Gets The 'Simpsons' Spoof It Richly Deserves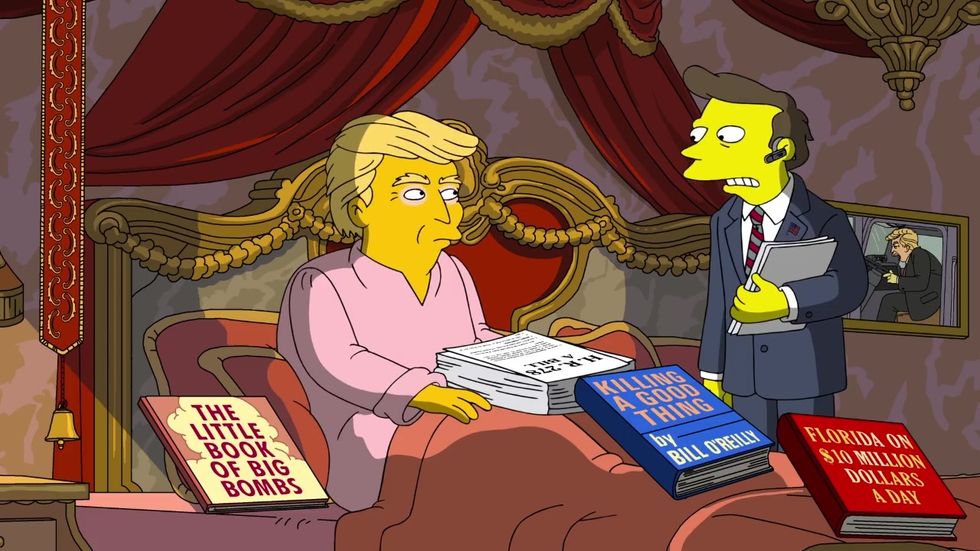 Reprinted with permission from Alternet.
President Trump's tumultuous first 100 days in office are the subject of this week's episode of "The Simpsons," according to a Facebook teaser released on Wednesday. Kellyanne Conway, press secretary Sean Spicer and first daughter Ivanka Trump, as well as advisers Steve Bannon and Reince Priebus, all make cameos in the much-anticipated half-hour episode. The storyline intertwines a wide variety of controversies, from Russia's interference in the election to Scalia's SCOTUS replacement to Ivanka's clothing business.
The teaser opens with Trump reviewing his many "accomplishments" in his bedroom.
"One hundred days in office," he boasts. "So many accomplishments. Lowered my golf handicap. My Twitter following increased by 700. And finally, we can shoot hibernating bears; my boys will love that."
The president is then presented with a new bill that "lowers taxes for only Republicans"—a clear nod to his tax plan.
But when asked to examine it, Trump refuses.
"Can't Fox News read it and I'll watch what they say?" he asks, picking up the remote. Trump's TV program of choice features his favorite daughter, now a Supreme Court justice, taking Ruth Bader Ginsburg's seat on the bench.
"You can buy Ivanka's robe with gavel earrings for only 1,000 rubles," adds a male voice-over.
"You said you'd replace me with Garland!" Ginsburg exclaims.
Miles away, Marge Simpson watches from home, horrified, as Homer attempts to calm her down.
"Give the president of the United States some time," he deadpans. "He's only 70 years old."
Watch:
 

Donald Trump reviews his first 100 days in office. Watch an all-new episode of The Simpsons this Sunday at 8/7c on FOX.

Posted by The Simpsons on Wednesday, April 26, 2017
 
This article was made possible by the readers and supporters of AlterNet.