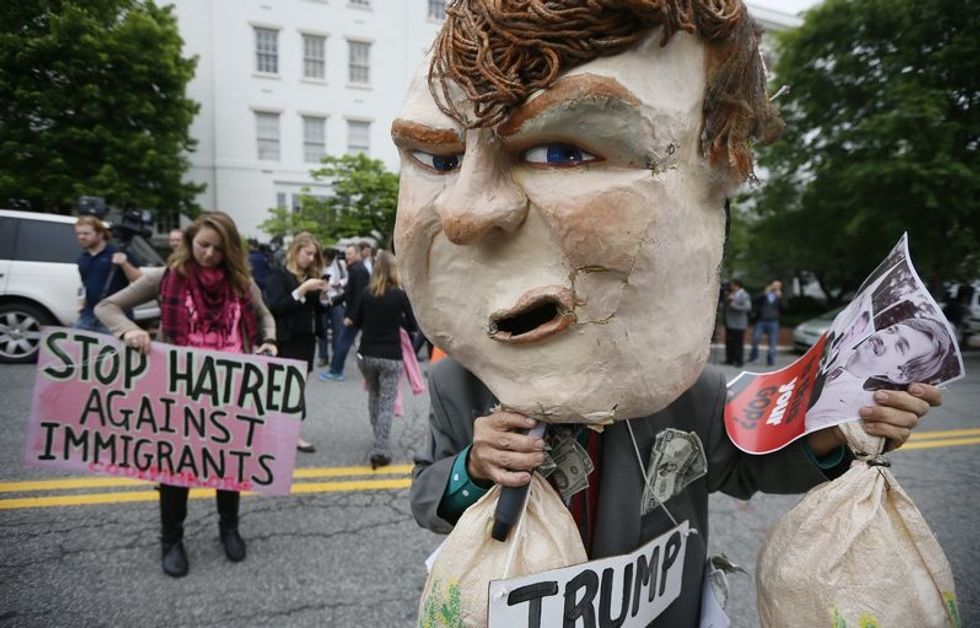 On Thursday, pesumptive Republican Presidential nominee Donald J. Trump met with Speaker of the House Paul Ryan, apparently to try to reach an understanding of some kind with regard to Ryan's "not being ready" to endorse Trump.
While he claims to have been surprised by Ryan's non-endorsement, Trump otherwise expressed blaring indifference to the greatest threat to "party unity" he's faced so far in his blitzkrieg of the GOP. The vanilla joint statement the pair released after their hour-long meeting glossed over the truth of the matter: spineless politicians aside, the Republican Party is at an ideological crossroads.
There is a chasm dividing the GOP: Trump and his supporters stand on one side, and the #NeverTrump Republican establishment stands on the other. Even as party heavies like Texas Gov. Rick Perry and Arizona Sen. John McCain — and potentially Paul Ryan — trickle over to Trumpism, Trump hasn't ever seriously defined what being a Republican means to him. That's probably because he's reinvented what a being "Republican" means.
On one hand, aside from Trump's slightly progressive — and fleeting, now that he's the presumptive nominee — stances on things like trade and nonintervention, he recites mostly conservative talking points the rest of the time.
According to Bing's Political Index – generated with data from OnTheIssues.org, a not-for-profit that provides information on Presidential candidates – Trump's positions are staggeringly more conservative than public opinion on abortion, education, environmental issues, gun control, healthcare and immigration reform, and he is slightly more conservative on Social Security and LGBT rights. At first glance, one would be shocked to discover any rift between him and the party. After all, the guy wants to dismantle the Department of Education, do away with the EPA, and defund Planned Parenthood — a conservative staple.
And yet the fracture makes perfect sense. Trump's campaign has been such a shitstorm of chauvinism, xenophobia, misogyny, and violence that perhaps Ryan would rather protect House Republicans from the guilt-by-association that an outright endorsement from him would have brought with it. The GOP started this election cycle with an opportunity to redefine itself in a way that would allow Republicans to attract minorities and young people; instead, like the Mexicans and Muslims Trump plans to banish and ban, respectively, these voters have practically been shut out of the conversation — and that simply doesn't fly in many places around the country, even among Republicans, in the same ways it has for Trump nationally.
This alienation accounts for establishment Republicans like Arizona Sen. John McCain's seeming reluctance to support Trump despite his success in the primaries.
In an interview aired Sunday on CNN's "State of the Union," the Arizona senator –- who Trump ruthlessly ridiculed last year — made a point of noting he was always going to back the Party's nominee, regardless of who it was, because he believes "a Hillary Clinton presidency will continue to cause the economy to stumble along and put us in the economic malaise that we've had for 8-years."
When asked about the relationship between the Trump movement and the GOP establishment, McCain said, "there is some distance, if not a disconnect, between party leadership and members of congress, and many of the voters who have selected Donald trump to be the nominee of the Party."
McCain noted that much of Trump's support is coming from "older, white, blue collar workers who see no prospect of a job ever again," and "dissatisfied young people who are carrying student debts into their first job for many, many years."
These are the people who have historically baffled the left by casting votes against the government programs and tax increases designed to help them. These are the folks to whom Trump promises to Make America Great Again. When he says he's going to bring back jobs and domestic manufacturing, they say 'hell yes,' and they don't ask how. They listen to the man who's had his finger on a pulse the establishment failed to check.
"You have to listen to the people that have chosen the nominee of our Republican Party," McCain said, adding that he thinks it would be foolish to ignore them.
If Trump really has no policy convictions and is flip-flopping to the tide of his electorate, then it might be more useful to consider his constituency's opinions than his own.
According to a Pew report published Wednesday, the difference between Trump supporters and other GOP voters is marked by views on immigration, government scrutiny of Muslims in the U.S., and global affairs such as free trade and interventionism.
84 percent of Trump supporters want to build the wall along the U.S.-Mexico border, with 69 percent saying that "immigrants today are a burden on the U.S. because 'they take our jobs, housing and health care.'" 52 percent of Trump supporters oppose allowing undocumented immigrants who "meet certain requirements" to stay in the country, with 42 percent wanting a "national effort to deport" illegal residents.
67 percent believe free trade agreements have been bad for America, and 60 percent of those said such agreements harmed their personal finances.
65 percent said U.S. engagement in the global economy is a bad thing, with 54 percent saying the U.S. plays too big of a role in solving the world's problems.
64 percent said U.S. Muslims, as part of government anti-terrorism efforts, should be subject to more scrutiny than people of other faiths.
The numbers for other GOP voters — non-Trump supporters — who favor these positions is significantly lower. It's as if Trump supporters have hijacked the Republican Party and turned it into something new; a paranoid, hateful, isolated, selfish organization. Donald casually supervises its construction.
Trump's people and the rest of the party are in agreement on two policies: how to deal with ISIS, and their support of Israel. 77 percent of Trump supporters and 68 percent of non-Trump Republicans "favor the use of overwhelming force against global terrorism," while 18- and 25-percent, respectively, said "relying too much on force creates hatred, leading to more terrorism." 77 percent of both groups sympathize with Israel over Palestine.
During his claim-staking CNN interview, Ryan said that he could not back Trump until the billionaire "advances the principles of [the Republican] party and appeals to a wide, vast majority of Americans." While Ryan showed some signs of softening on Trump after Thursday's meeting, the same could be said for Trump, who claimed that his ban on Muslims was suddenly simply a "proposal." Soon we'll hear that the wall on the Mexican border was one big metaphor.
Until then, the party will stay divided, perhaps permanently so. If nothing else, the Republican Party as it existed before Donald Trump came around is dead: too many policy positions have been adopted contrary to the stated values of the GOP — regardless of whether it ever lived up to them.