Democrats: Trump's Racist Tirades Endanger Omar, Ocasio-Cortez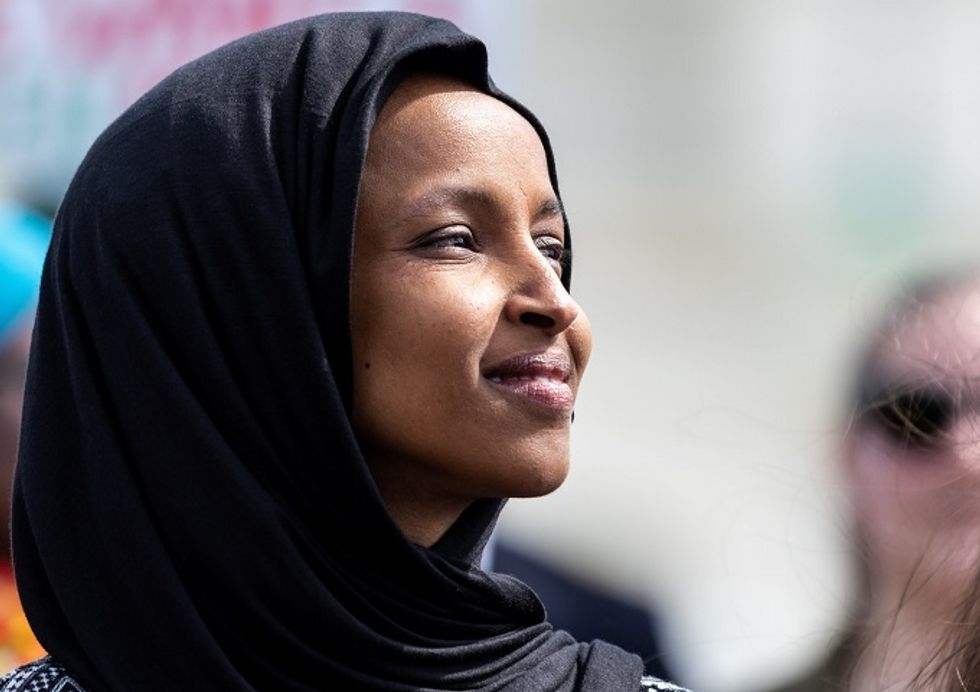 "It's bad enough that the president didn't stop the chant last night," Rep. Ben Ray Lujan (D-NM) said. "But he started it. It's instilling fear, it's going to instill violence."
Lujan was referring to the racist chant from the Wednesday Trump campaign rally, where the audience chanted "Send her back!" after Trump recited his familiar smears of Rep. Ilhan Omar (D-MN), a Somali-born U.S. citizen.
"It's crystal clear to me that her life is in imminent danger," Rep. Bobby Rush (D-IL), a senior member of the Congressional Black Caucus, told Politico. "He has threatened the safety of a member of Congress."
Trump's racist tirades have focused on Omar and three other women of color: Reps. Alexandria Ocasio-Cortez (D-NY), Ayanna Pressley (D-MA), and Rashida Tlaib (D-MI). Trump kicked off his attacks on the congresswomen on Sunday, declaring they should "go back and help fix the totally broken and crime-infested places from which they came."
Trump employs, and his supporters embraced, a long-used racist trope of telling people of color to "go back" to another country to falsely imply that some Americans, based on the color of their skin, are somehow less American than white citizens.
"The president's comments are extremely dangerous to any person that looks like me," Rep. Norma Torres (D-CA) said. She added that Trump's actions show "that he frankly doesn't give a damn about the safety of Americans."
When asked on Thursday about safety concerns, Ocasio-Cortez told a Politico reporter that "of course" she is worried.
"I think part of the point is to target us. This president is evolving, as predicted, deeper into the rhetoric of racism which evolves into violence," she said.
Along with Ocasio-Cortez and the other targets of Trump's hateful rhetoric, Omar refuses to back down. "I am where I belong, at the people's house and you're just gonna have to deal!" Omar said on Twitter Wednesday night, along with a photo of herself presiding over the House of Representatives.
👋🏽 I am where I belong, at the people's house and you're just gonna have to deal! pic.twitter.com/W0OvDXGxQX

— Ilhan Omar (@IlhanMN) July 18, 2019
As Omar refuses to back down, other members expressed disgust at Trump's attacks.
Rep. Barbara Lee (D-CA) described Trump's tirade as "dangerous, obscene, racist, disgusting, quite frankly un-American."
Hate crimes have increased during Trump's tenure in office, and Democrats targeted by Trump's attacks have also been threatened. In April, for example, a 55-year-old man was arrested and charged with threatening to murder Omar. Trump's increasingly heated and racist rhetoric could further embolden his supporters and endanger the subjects of Trump's verbal assaults.
Published with permission of The American Independent.