Trump's Revealing 'Joke' Stunned Diplomats Into Silence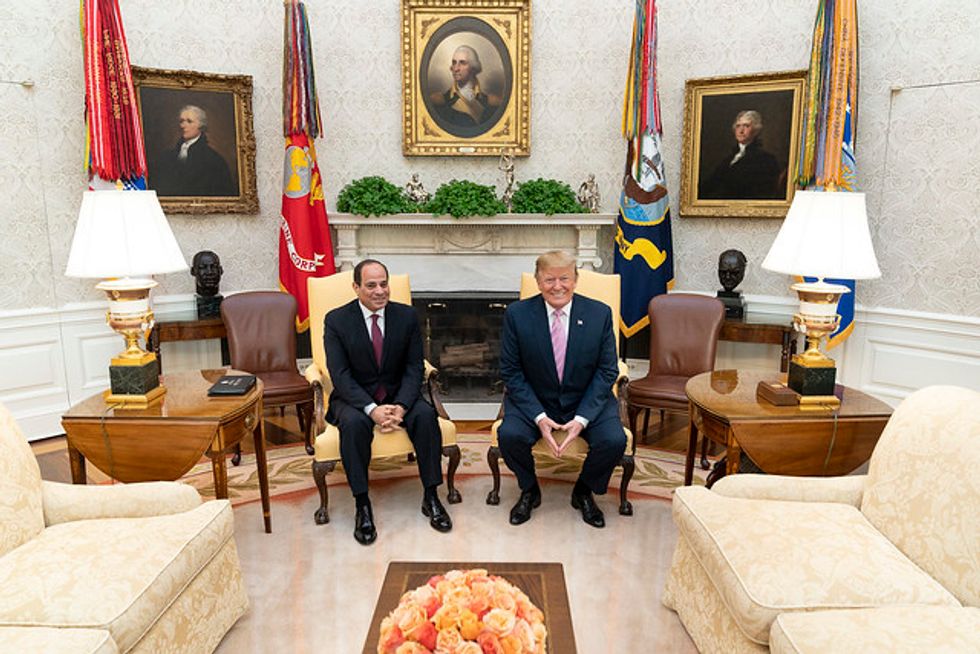 Reprinted with permission from Alternet
A new report from the Wall Street Journal revealed Friday that President Donald Trump is just as indifferent to democracy and tactless behind closed doors as he seems in public.
Reporters Nancy Youssef, Vivian Salama, and Michael Bender found that ahead of a meeting last month in France with Egyptian President Abdel Fattah El-Sisi, Trump loudly boomed: "Where's my favorite dictator?"
The Journal explained:
The witnesses said they believed the president made the comment jokingly, but said his question was met by a stunned silence.

It couldn't be determined whether Mr. Sisi was present or heard the remark.

The White House declined to comment. Egyptian officials couldn't be reached for comment.

Even if lighthearted, Mr. Trump's quip drew attention to an uncomfortable facet of the U.S.-Egypt relationship.
The report's reference to the witnesses thinking the comment was a "joke" is a bit odd. Of course, it was a joke. It's not clear what it would otherwise be.
It also seems to suggest that the main issue with the remark is that it could have offended Sisi or created tensions in the relationship. But foreign leaders know who Trump is as much as anyone else, and they're not going to be thrown off by an offhand quip. Sisi values Egypt's relationship with the U.S. because of its strategic advantages, not because of Trump's fine mastery of etiquette.
But what's truly disturbing about the remark is that it reveals just how cavalierly the American president regards the values of democracy and the violation of human rights. As the Journal noted, Sisi's rule in Egypt has been widely criticized for his authoritarian use of power and imprisoning of political opponents. Trump, though, doesn't actually care about any of that. If he felt any inclination to push Sisi or other strongman rulers toward more democratic governance, he wouldn't be joking about them being dictators, among whom he has a "favorite."
Of course, this facet of Trump's personality and approach to international affairs has been readily apparent since 2015. Most notably, of course, his ample praise for Russian President Vladimir Putin has been disturbing to many Americans for years. But his florid boasting of his relationships with other leaders with varying levels of authoritarian tendencies — Kim Jong-un, Jair Bolsonaro, Rodrigo Duterte, Xi Jinping — has made clear that Trump has no interest in promoting liberal principles on the global stage.
The president's defenders deny this, though, and they say that he genuinely cares about human rights and democracy. But as the new report from the Journal shows, Trump is in some ways quite transparent. His apparent disdain for democracy isn't masking any deep commitment; he thinks human rights are a joke.