Don't Fall For Trump's Shameless Act Regarding Failed Yemen Raid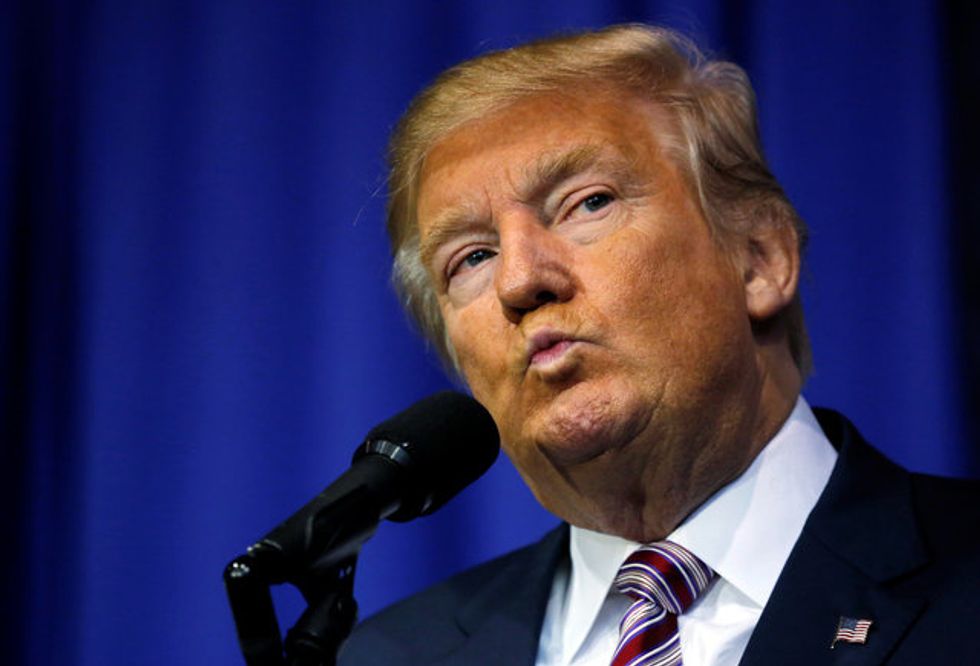 Reprinted with permission from Media Matters for America.
President Donald Trump shamelessly and publicly deceived the widow of a fallen U.S. serviceman about her husband's death in order to diffuse widespread concerns about the raid that resulted in his death, and journalists are rewarding him by praising his actions as "presidential."
During his February 28 speech to a joint session of Congress, Trump recognized the sacrifice of William "Ryan" Owens, a Navy SEAL who was killed during a botched January 29 raid on a terrorist camp in Yemen. Trump said that according to Secretary of Defense James Mattis, Owens participated in a "highly successful raid that generated large amounts of vital intelligence that will lead to many more victories in the future against our enemy." Trump's praise of Owens, with the SEAL's wife in the audience, drew a nearly two-minute long standing ovation from the crowd.
It was an incredibly moving moment, and a triumph for political optics. It was also a deeply deceptive political ploy aimed at pushing back against numerous criticisms of the Trump administration's handling of the raid — the first covert counterterrorism operation of Trump's presidency. These include:
Due to insufficient intelligence and preparation, "the attacking SEAL team found itself dropping onto a reinforced al Qaeda base defended by land mines, snipers, and a larger than expected contingent of heavily armed Islamist extremists." This led to U.S. casualties and civilian deaths.
Trump was not in the White House situation room for the raid — his Twitter account tweeted and deleted a promotion for an upcoming interview while the attack was ongoing. He approved the action over dinner at a meeting that included political staffers.
Contrary to Trump's claim that the raid was a successful intelligence gathering mission, reports suggest part of its purpose was actually to kill a top leader of al Qaeda in the Arabian Peninsula, who "either slipped away or was not at the location." The raid reportedly produced "no significant intelligence" according to U.S. officials who contradicted Pentagon statements in comments to NBC News. The only intelligence from the raid the Pentagon has produced is a 10-year-old video.
As these questions have mounted, Democrats on the Hill and Owens' father have called for an investigation into the raid. And this morning, Trump drew new controversy when he passed the buck, claiming that it "was a mission that started before I got here" and blaming the military for Owens' death, saying, "They explained what they wanted to do, the generals, who are very respected. My generals are the most respected we've had in many decades, I believe. And they lost Ryan."
All of that context has vanished for some journalists, who have instead rushed to praise Trump for his comments during his address to Congress.
CNN's panel was full of accolades for Trump following his speech.
Anderson Cooper kicked things off by praising the "extraordinary moment." Van Jones declared that Trump "became president of the United States in that moment. Period." Gloria Borger credulously highlighted Trump's claims that the raid had been successful. And of course, pro-Trump pundits Rick Santorum and Jeffrey Lord gushed over Trump's "healing moment" and "soaring… inspirational" speech.
CNN's journalists weren't alone in failing to put the moment in context.
As Erick Erickson pointed out, this is the response Trump is looking for — he is deliberately trying to use this speech to neutralize potential criticism of the raid.
The President just totally neutralized a building Democrat attack against him over Ryan Owens' death.

— Erick Erickson (@EWErickson) March 1, 2017
Democrats were headed towards trying a Khizr Khan moment on the President over Ryan Owens. Owens' wife's presence hinders that effort.

— Erick Erickson (@EWErickson) March 1, 2017
Reporters don't need to fall into this trap. They can recognize the emotional moment in the Capitol, while still giving their audiences the facts.
IMAGE: U.S. Republican presidential nominee Donald Trump holds a campaign rally in Delaware, Ohio, U.S. October 20, 2016. REUTERS/Jonathan Ernst