Why Trump's Success With Vets In Polls Is Misleading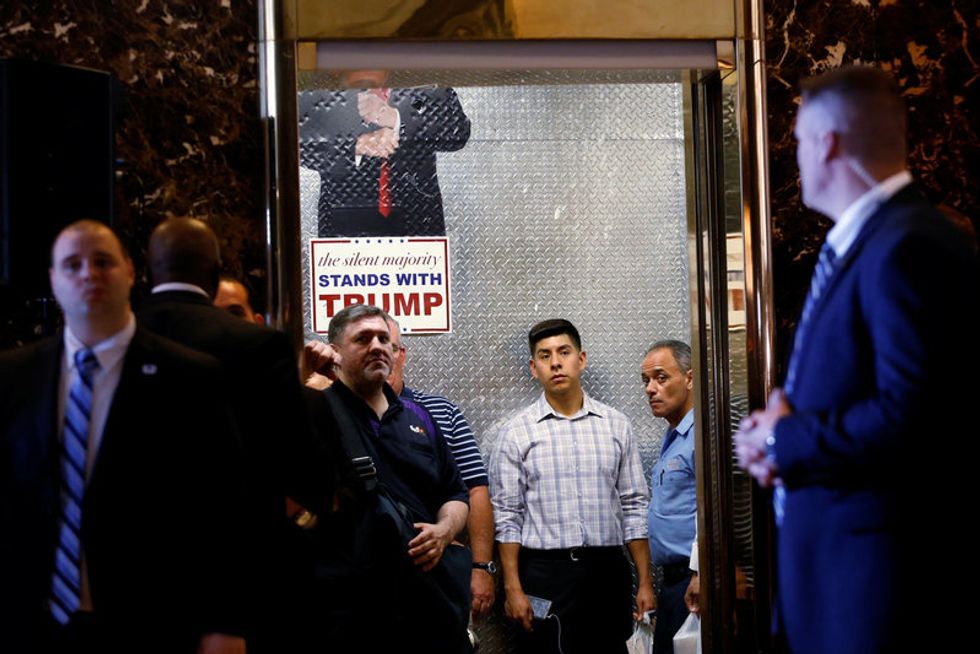 Donald Trump is polling better than Hillary Clinton among voters who have served in the military, according to a survey conducted between May 13-24 by Morning Consult. Sixty-eight percent of respondents — like most voters, generally speaking — say the country is on the wrong track.
Neither candidate is exceptionally popular with veterans, but 2016 has been a year for politicizing armed service — perhaps driven by Donald Trump's militarism, or perhaps by the swelling ranks of veterans in the United States: There were 22 million veterans in the U.S. in 2014, according to the Census Bureau, and millions more eligible voters currently serving in the military.
Campaign trail promises have left their mark on this group. It's been over two years since the V.A. scandal broke, and vets still face long waits for government care — with some never getting the help they deserve and need — while veteran homelessness and suicide rates rise, the war against ISIS escalates, and a large population of servicemen and women have returned home to life in a jobless purgatory.
Despite the unique set of issues that affect this group, veterans' support for political candidates seems largely divided along party lines.
When asked about a two-way race between the presumptive GOP nominee and Hillary Clinton, 51 percent of veterans said they planned on voting for Trump, 36 percent said the former Secretary of State. Although Vermont Sen. Bernie Sanders lost to Hillary Clinton in a hypothetical Democratic primary, he did better than her when pinned against Trump.
The billionaire also beat the former First Lady in a survey from Military Times, which determined that among active-duty troops, reservists and National Guardsmen, Trump wins 54 percent to 25 percent.
Dan Caldwell, vice president for Concerned Veterans for America, a conservative group linked to the Koch brothers, told Stars and Stripes that veterans "are frustrated just like a lot of other people."
Though his group has not endorsed the presumptive GOP nominee, Caldwell said that many voters are looking for a new kind of candidate, and that Trump and Sanders are probably polling better than Clinton among veterans because they reflect a drastic shift from the Obama administration, which he said mismanaged the Department of Defense while grappling with the V.A. scandal.
Trump's particular popularity with veterans is, historically speaking, lower than it should be. Compared to polls of previous GOP presidential candidates in the summer months preceding an election, the Morning Consult survey shows that Trump's candidacy has split the usual Republican advantage in half.
According to Gallup, in August 2008, Sen. John McCain led then-Sen. Barack Obama by over twenty points, 56 percent to 34 percent, among veteran voters, and in 2012 former Massachusetts Gov. Mitt Romney also beat Obama by 22 percent. 
Jon Soltz, who served as an Army officer before leading the group VoteVets, told Stars and Stripes it's "absolutely good news."
"I don't think there has been a time in modern history where a GOP candidate had such a gap in support among veterans," he said.
Trump's shortfall could be due to his complete inability to discuss military issues in any sort of coherent way, but it could also be his shameless politicization of the group, which has led to an outcry from veterans outraged by his use of their service as a campaign prop.
In an email to The National Memo, Rick Hegdahl, a veteran of the Navy and director of outreach for VoteVets, said, "Veterans are always used to politicians talking about us," but "Donald Trump has taken things to a new low."
Hegdahl cited Trump's duplicitous handling of his own pro-troop fundraising efforts: As reported by the Washington Post in January, Trump claimed to have raised $6 million for veterans' groups when he had only raised $4.5 million. Trump also claimed to have given $1 million of his own money, but didn't actually donate any of it until pressed by various media outlets in late May.
"His event was a complete sham," said Hegdahl. "[Trump] hid behind us because he didn't want to face Megyn Kelly, and in the process tried to pretend he raised money that he hadn't raised. This after he smeared P.O.W.'s and tried to get disabled veterans kicked out from in front of Trump Tower."
Hegdahl thinks Trump's brash dialogue has dangerously influenced this election, and the platforms of other Republican politicians, and he said veterans in his network have expressed similar sentiments about the "complete horror at what they've heard out of most of the GOP campaigns, which have been built on anti-Islam, anti-immigrant, saber rattling."
"We haven't seen positions this extreme in a long, long time," he said.
When asked what they'd like to hear from the candidates, Hegdahl said "first and foremost, a foreign policy that doesn't put our troops in harm's way, unless as a last resort."
"Second, support for policies that strengthen our relationships around the world, and help our military form the relationships of trust that they need, especially with Muslims, to effectively fight against extremism."
And "strengthening the V.A. — not privatizing it, as many Republicans suggested they would do, and as Donald Trump has hinted at."
"Privatization of the V.A. is the single biggest concern from veterans that we hear about," he added.
Concerned Veterans for America didn't respond to a similar request for comment.
Polls aren't the only way to gauge support, if this campaign finance-obsessed election has taught us anything: Here again, Trump falls behind, drastically out-fundraised by Sanders and Clinton.
According to OpenSecrets.org, a project of the nonpartisan nonprofit Center for Responsive Politics dedicated to tracking money in politics, people employed by the military or the U.S. Department of Defense and individuals who identified as retired service members have contributed $374,600 to the Sanders campaign and $247,649 to the Clinton campaign. As of Friday, Trump had only received $15,502.