Trump's Tabloid Pals At National Enquirer Attacking Michael Cohen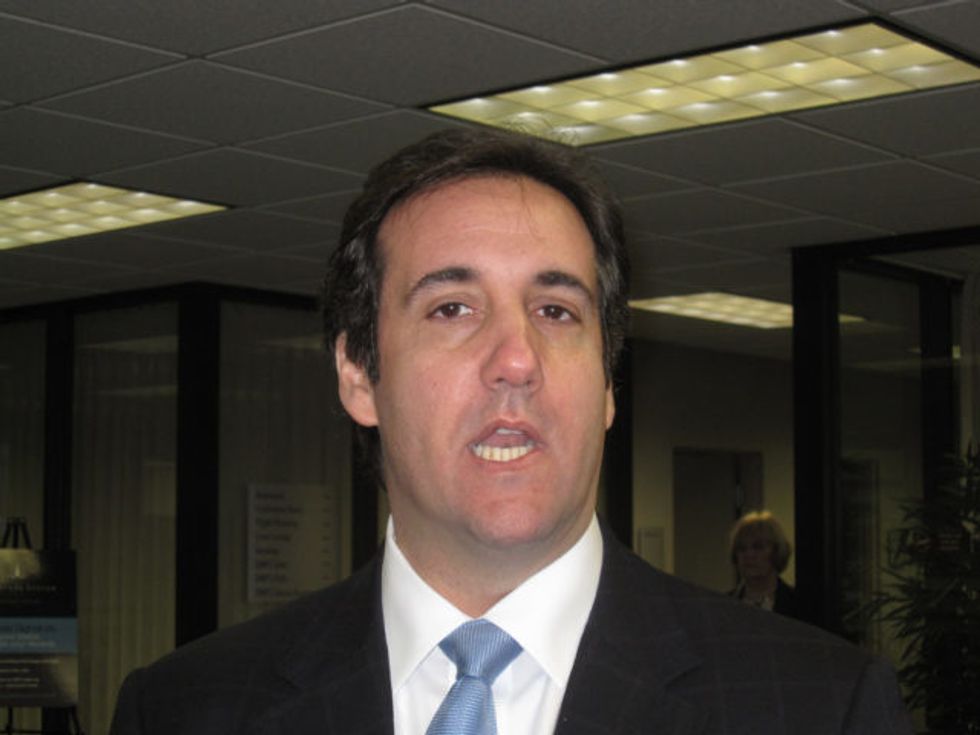 Trump's allies at the National Enquirer tabloid are now doing his dirty work for him. The publication has trained its sights on Michael Cohen, Trump's personal lawyer and fixer.
The latest issue of the Enquirer highlights Cohen under the heading "PAYOFFS & THREATS EXPOSED." The magazine promises readers that it will reveal "TRUMP FIXER'S SECRETS & LIES!"
The story comes as a federal judge indicated an indictment is likely in the cards for Cohen, resulting from the recent FBI raid on his home and office.
Cohen has spent years in service to Trump, most recently paying off porn star Stormy Daniels days before the 2016 election to hide her affair with Trump.
But now, Trump appears to be pushing him away.
Appearing on Fox, Trump said Cohen was only responsible for "a tiny, tiny little fraction" of his legal work.
That statement came days after Trump pardoned George W. Bush era criminal Scooter Libby. The legal move sent a signal to the Trump lieutenants currently under legal threats from special counsel Robert Mueller.
The owners of the Enquirer, American Media, Inc. (AMI), are close Trump friends, particularly CEO David Pecker. As the tabloid loses money, it has been one of the loudest media voices promoting Trump and attacking his enemies.
They even went after Malia Obama.
AMI is tied to Cohen, as well. Communications between Cohen and top AMI executives, including Pecker, were part of the subpoena used for the FBI raid on Cohen's properties.
While Cohen was paying off Daniels, AMI was reportedly buying the silence of others who had embarrassing stories about Trump.
Model Karen McDougal was paid $150,000 by the Enquirer for the rights to the story of her affair with Trump. The publication also paid former Trump World Tower doorman Dino Sajudin for a story about Trump's affair with a housekeeper.
Yet the magazine never published either story, as part of a practice called "catch and kill."
Now Trump's cheerleaders at the Enquirer are targeting another figure with information that could potentially damage him.
But the two men have such close ties that the campaign seems doomed to fail. Cohen has made dozens of Trump-related cable news appearances. Further, he helped lay the groundwork for his presidential run.
But it is notable that the Enquirer is giving it a try anyway. For Trump's sake.