Trump's Threats Show Him To Be A Hypocritical Bully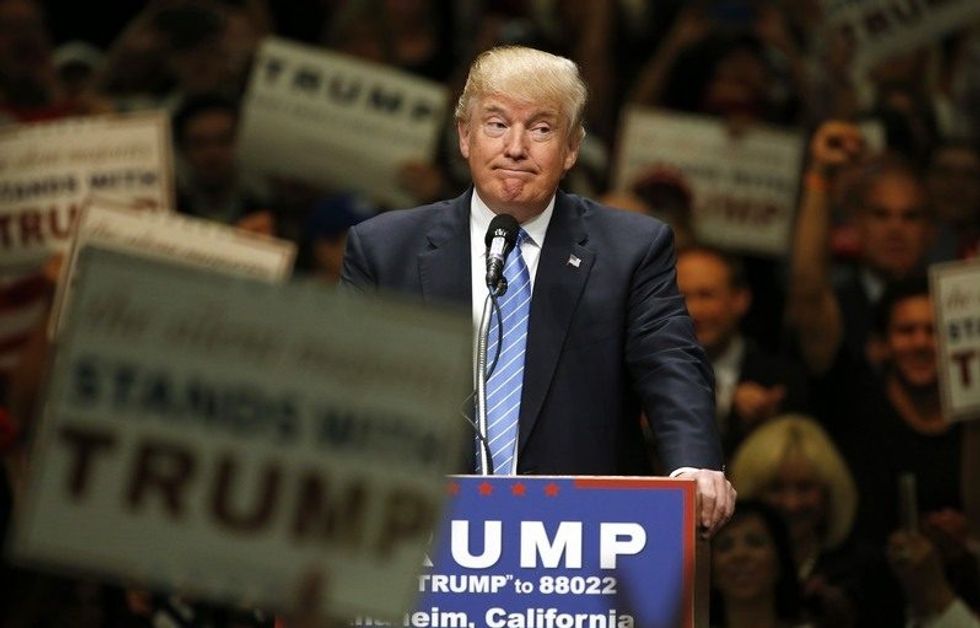 Down the rabbit hole we go, curiouser and curiouser.
Donald Trump followed his pathetic performance in the first one-on-one debate with Hillary Clinton with a series of abusive taunts of a former beauty queen, an insistence that polls show him "winning" the debate (none that I've seen) and a promise to pound Clinton with her husband's past marital infidelities. Once more lowering the bar for presidential nominees of a major political party — Trump is rolling the bar in sludge — his response to his unpopularity among women voters is to further alienate them with fat-shaming and schoolyard bullying.
Where else can this man take us?
Well, for the next meeting with his rival, Trump has pledged to take us into some tawdry and inappropriate spaces, peeking into bedrooms and under covers, looking into allegations, many now confirmed as fact, about former President Bill Clinton's extramarital dalliances. Trump congratulated himself for not raising that subject in the first debate but threatened that he may not show such restraint during their next meeting.
To call this line of attack absurd would be to elevate it. The GOP standard-bearer has a well-documented history as a womanizer, a past about which he is extremely proud.
As only a slightly unhinged narcissist might, he has bragged about sleeping with other men's wives. In "The Art of the Deal," he wrote, "If I told the real stories of my experiences with women, often seemingly very happily married and important women, this book would be a guaranteed best-seller."
Trump is in his third marriage. His first marriage ended when he started an affair with the woman who would become Mrs. Trump No. 2. Does he really want to open up his own scandalous past for public scrutiny?
By contrast, Bill Clinton's conduct as a husband has been thoroughly litigated over many years. He was impeached for behavior related to his involvement with Monica Lewinsky, but a broad swath of the public responded to revelations of his adultery with a big yawn. Indeed, the impeachment backfired on Republicans, who were seen as a bunch of hypocritical and overzealous prudes, seeking to discredit a president for private behavior that did not affect his public duties. President Clinton's favorability ratings went up, and the GOP's went down.
Is that what Trump has in mind?
Actually, what Trump has in mind reveals a misogyny deeply embedded in far-right thinking, an "it's all Eve's fault" line of logic that places all blame for sexual misconduct on women. For example, former New York Mayor Rudy Giuliani, a Trump surrogate, said that Hillary Clinton is "too stupid" to be president because she didn't know about her husband's affairs. (Please bear in mind that Giuliani let his second wife know he was leaving her for No. 3 by announcing it at a news conference.)
Now, the more rational among Trump's defenders insist that their candidate has a logical reason for discussing the long-ago sexual antics of his rival's husband. Hillary Clinton, they say, aided and abetted her husband's misbehavior by helping to undermine the women he "victimized." She plotted to destroy their credibility. She cannot claim to be a good feminist, they say.
Is that true?
This much is: Hillary Clinton's marriage has long mystified many feminists, who cannot see why a bright, confident and accomplished woman — who can very ably take care of herself in the world — would stay with a man like Bill.
But there is an explanation many a woman — and man — would recognize: Hillary Clinton loves her husband, despite his many flaws, and wanted to save her marriage. She chose to believe him (the triumph of hope over experience) rather than his accusers. She realized that at least some of those accusers were, in fact, aided by a vast right-wing conspiracy that wanted to discredit her husband's presidency.
That explanation is messy, emotionally draining and full of inherent contradictions (much like life). It also makes Clinton seem human — loving, emotional, forgiving — and not the shrill automaton that her detractors like to portray.
So let Trump spend the next debate trolling around in the Clintons' married life. He's already made the campaign for the presidency into a cheap circus act. Send in the clown. Oh. He's already here.
Photo: Republican U.S. presidential candidate Donald Trump holds a rally with supporters in Anaheim, California, U.S., May 25, 2016. REUTERS/Jonathan Ernst