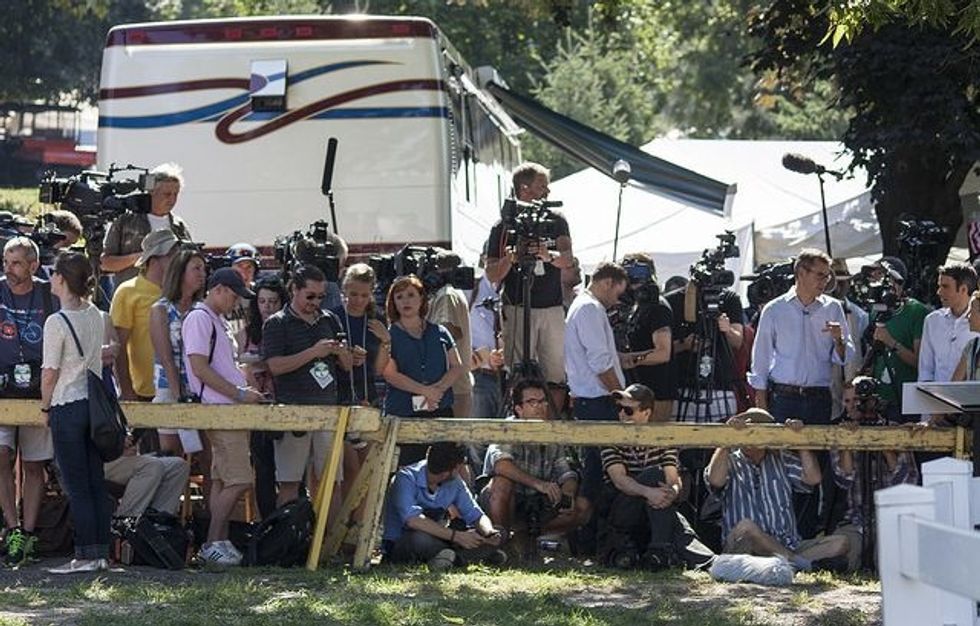 The day before the March presidential primary in Ohio, one of my journalism students at Kent State told me she was going to cover Donald Trump's rally that evening in Youngstown.
She was excited.
I was immediately concerned.
Trump had already established a habit of working up crowds of supporters by mocking the journalists among them. Sounding like the mother hen I have repeatedly insisted to my students I am not, I rattled off a list of precautions to ensure my student's safety.
"Don't stand alone," I told her. "Stay around other journalists. Introduce yourself to a bunch of them. If someone in the crowd starts to shove or otherwise manhandle you, yell for help. Make sure your credentials are visible so that other journalists know to look out for you."
She nodded, her eyes wide.
Driving home from the campus that day, I couldn't stop thinking about our exchange. I didn't relax until later that night, when I read her story online and knew that she was safe.
In more than three decades in this profession, I have never before worried about the safety of journalists at a presidential campaign rally. How much longer can this go on at Trump events before journalists are injured? Trump seems eager to find out.
Earlier this week, he initiated yet another attack on journalists, this time for having the audacity to report that he had failed to make good on a promise in January to donate $1 million to a veterans charity. Insisting that the donation had now been made, he resorted to calling one male reporter "a sleaze" and said to another, "I've seen you on TV. You're a real beauty."
More from the presumptive Republican nominee for president of the United States:
"I sent people checks of a lot of money. … And instead of being like 'Thank you very much, Mr. Trump' or 'Trump did a good job,' everyone's saying, 'Who got it, who got it, who got it?' And you make me look very bad. I have never received such bad publicity for doing such a good job."
More about the checks, from those pesky AP reporters:
"The Associated Press spoke or left messages with each of the organizations Trump named. Of the 30 groups that responded by Tuesday, about half said they had received checks from Trump just last week."
"Several said the checks were dated on or about May 24 and shipped out overnight — the same date as a Trump interview with The Washington Post, which for weeks had been pressing his campaign to disclose the recipients of the millions raised during the splashy telethon-style fundraiser in Iowa."
Trump, however, insisted on continuing to cast himself as a victim.
"I've been dealing with the press a long time," he whined Tuesday. "I think the political press is among the most dishonest people that I've ever met. I have to tell you that, OK? … I'm going to continue to attack the press. Look, I find the press to be extremely dishonest. I find the political press to be unbelievably dishonest. I will say that. OK, thank you all very much. Thank you."
In response, Ari Fleischer, a press secretary during the George W. Bush administration, tweeted these words of wisdom:
"My advice to the press: Stop interviewing yourselves about Trump's attack on the press. Don't worry about it. Just do your jobs and be fair."
Aw, so Fleischer does love us — not one bit.
From New York Times critic Michiko Kakutani's 2005 review of Fleischer's book, "Taking Heat: The President, the Press and My Years in the White House":
"Although this book's dedication says 'a free press helps keep our nation free,' Mr. Fleischer often sounds aggrieved by reporters doing their job — asking questions, probing issues, holding government officials accountable to the people."
Complaining about the media has long been a hobby of many politicos. With Trump, however, it's becoming something far more sinister — and potentially dangerous.
"These cameras back here right now, they will never show this crowd," Trump said at a rally in January. "Turn it!" Trump yelled at a cameraman, to the crowd's glee. "Turn it. Turn it. Spin it. Spin the camera. Spin the camera. Ah, look at the guy in the middle. Look at the guy in the middle. Why aren't you turning that camera? Why aren't you turning the camera? Terrible. It's so terrible. Look at him. He doesn't turn the camera. He doesn't turn the camera. It's a disgusting — I'll tell you, it's disgusting."
This, from the man who wants to be our president.
Connie Schultz is a Pulitzer Prize-winning columnist and professional in residence at Kent State University's school of journalism. She is the author of two books, including "…and His Lovely Wife," which chronicled the successful race of her husband, Sherrod Brown, for the U.S. Senate. To find out more about Connie Schultz (con.schultz@yahoo.com) and read her past columns, please visit the Creators Syndicate Web page at www.creators.com.