Turing CEO Martin Shkreli Arrested For Securities Fraud
@reuters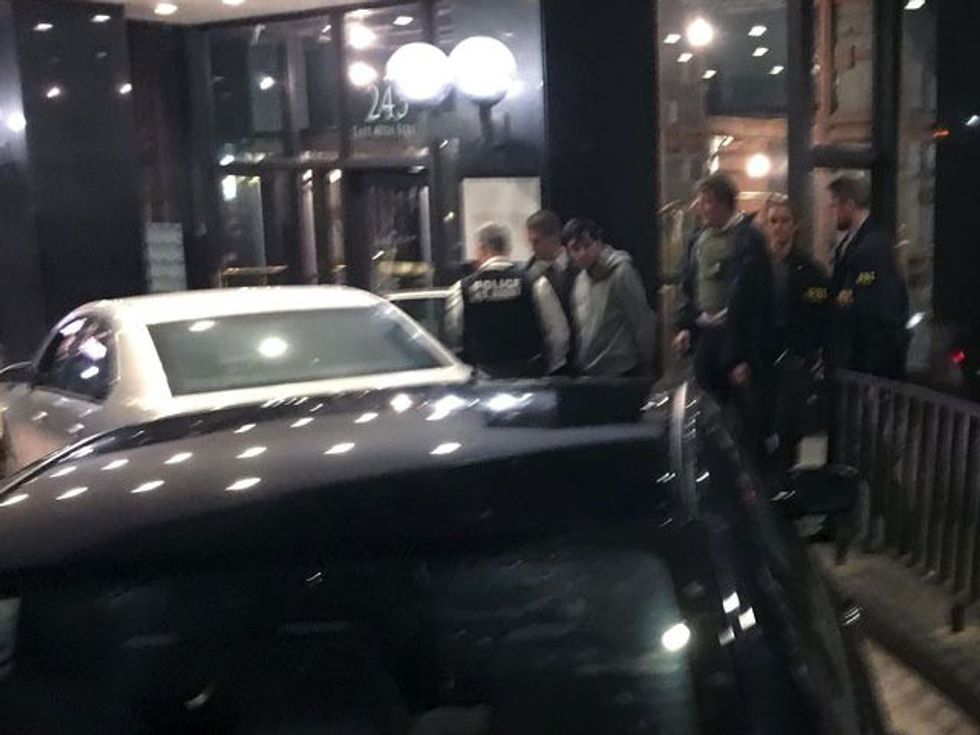 By Nate Raymond and David Ingram
NEW YORK (Reuters) — Martin Shkreli, who caused public outrage after raising the price of a prescription drug by more than 5,000 percent, was arrested on Thursday for engaging in what U.S. prosecutors said was a Ponzi-like scheme at his former hedge fund and a pharmaceutical company he previously headed.
Reuters witnessed Shkreli's predawn arrest at the Murray Hill Tower Apartments in midtown Manhattan. Law enforcement, including FBI agents, could be seen escorting the hoodie-clad 32-year-old into a car.
Many on social media said Shkreli was getting what he deserved. On Twitter, the top hashtag and keyword related to his arrest was #Karma.
Shkreli, who is now chief executive officer of Turing Pharmaceuticals and KaloBios Pharmaceuticals Inc , was charged in a federal indictment filed in Brooklyn relating to his management of hedge fund MSMB Capital Management and biopharmaceutical company Retrophin Inc .
Brooklyn U.S. Attorney Robert Capers said at a news conference that Shkreli "essentially ran his companies like a Ponzi scheme, where he used each subsequent company to pay off defrauded investors in the prior company."
Shkreli's efforts to conceal the fraud led him to use the assets of Retrophin to pay off debts from his hedge funds, Capers said.
Shkreli was charged with securities fraud, securities fraud conspiracy and wire fraud conspiracy. The maximum sentence for the top count is 20 years in prison.
The indictment, the result of an ongoing investigation, also charged Evan Greebel, a former partner at law firm Katten Muchin Rosenmann who was Retrophin's outside counsel.
Both were also sued in a related lawsuit by the U.S. Securities and Exchange Commission, which also named MSMB Capital as a defendant.
Andrew Ceresney, director of the SEC's enforcement division, said Shkreli should be barred from the finance industry and from serving as an officer of a publicly traded company.
The securities fraud investigation predated the controversy surrounding Shkreli since September, when reports surfaced that his privately held Turing had raised the price of Daraprim, a 62-year-old treatment for a dangerous parasitic infection, to $750 a tablet from $13.50 after acquiring it.
Asked if Shkreli raised drug prices to pay back investors, Capers said that was not part of the investigation. "I wouldn't want to speculate on his reasoning for trying to increase the price on those drugs," he added.
Both Shkreli and Greebel, who was also arrested, are expected to appear later on Thursday in federal court.
Shares of KaloBios fell 53 percent at $11.03 in the premarket before trading in them was halted. Retrophin, which said in a statement that it had fully cooperated with the government investigations of Shkreli, was down 1.2 percent at $21.10 in the early afternoon.
Turing and KaloBios declined to comment. Lawyers for Shkreli had no comment.
A lawyer for Greebel did not immediately respond to requests for comment. Greebel, 42, in July had joined the law firm Kaye Scholer, which in a statement noted the "transactions in question predated his arrival to the firm."
INTERNET PARIAH
The outcry over Daraprim turned Shkreli, a boyish drug company entrepreneur, into a pariah on the Internet, where he persistently provoked his critics on Twitter.
In recent days, he has said that journalists do not "matter" and asked about a Democratic presidential candidate, "If @BernieSanders was a parasite what would he be?"
Sanders, who advocates a single payer healthcare system to control drug prices, has refused to accept a donation from Shkreli, instead giving the money to a health clinic in Washington, D.C.
Shkreli also called himself "the world's most eligible bachelor" and boasted about buying the only copy of a Wu-Tang Clan album for $2 million. Robert Diggs, the rap group's producer, later gave away most of the proceeds in protest of Shkreli's business practices.
Capers said on Thursday that authorities were "not aware of where he got the funds that he raised for the Wu Tang Clan album." While he declined to say if it was seized, an FBI spokeswoman said no seizure warrant had been issued.
The charges relate to Shkreli's management of New York-based hedge fund MSMB Capital Management, whose closure he announced in 2012, and his time as CEO of Retrophin from 2012 to 2014.
The indictment said Shkreli made false representations to MSMB investors to draw in $3 million in investments.
After MSMB suffered devastating trading losses in 2011 and ceased trading, Shkreli for months sent fabricated updates to investors touting profits of as high as 40 percent since inception, the indictment said.
He also solicited $5 million from investors for another fund, MSMB Healthcare Management LP, while concealing his performance managing MSMB Capital and a prior fund and providing investors an inflated valuation of his then-private firm Retrophin, the indictment said.
To pay back the MSMB funds' investors, Shkreli and Greebel misappropriated $11 million in Retrophin assets through settlement agreements and sham consulting deals, according to the indictment.
The case mirrors a lawsuit Retrophin filed in August against Shkreli in federal court in Manhattan for $65 million, claiming he had used his control over the company to enrich himself and pay off MSMB investors' claims.
Shkreli has denied the allegations.
It is unclear how the case and other continuing investigations could affect Turing or KaloBios.
At least two separate Congressional probes have been launched since September on the pricing issues of Daraprim, which had long been available as a generic drug used to treat toxoplasmosis in AIDS patients.
Turing is also under investigation by the New York state attorney general for antitrust concerns.
At a Senate hearing on drug pricing last week, a doctor who treats babies with life-threatening toxoplasmosis testified that a course of treatment with Daraprim went from about $1,200 to no less than $69,000.
(Reporting by Nate Raymond and David Ingram; additional reporting by Caroline Humer and Melissa Fares; Editing by Ted Kerr, Lisa Von Ahn and Noeleen Walder)
Photo: Turing Pharmaceuticals CEO Martin Shkreli is led to a waiting police car by federal agents following his arrest in the Manhattan borough of New York December 17, 2015. REUTERS/Nate Raymond