Turkey PM Seeks Cleric's Extradition From U.S.
@AFP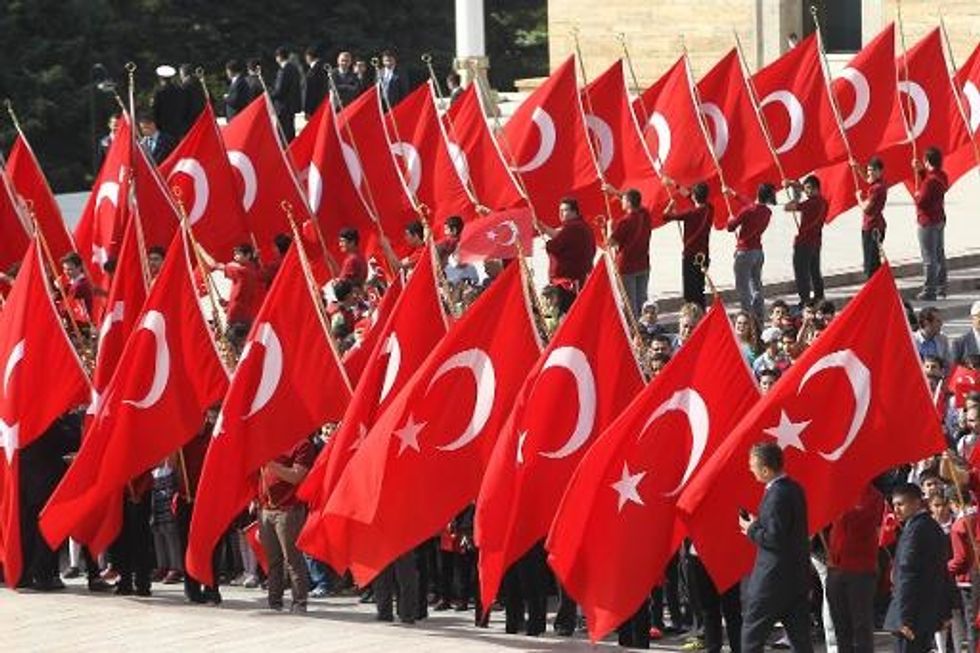 Ankara (AFP) – Turkish Prime Minister Recep Tayyip Erdogan said Tuesday he will seek the extradition of an exiled cleric he accuses of orchestrating a major corruption scandal against his government from his base in the United States.
Erdogan told reporters that a legal procedure "will begin" for the extradition of Fethullah Gulen, a former ally he says is running a "parallel state" that reaches into the top echelons of the Turkish police and judiciary.
The prime minister's comments came a day after he told U.S. broadcaster PBS that he wants President Barack Obama to deport Gulen and send him back to Turkey.
Erdogan said he hoped Washington would deliver on the issue as a "model partner."
"At least they should deport him," he said.
But a legal expert at Ankara's Bilkent University said Erdogan's plan was a "non-starter."
"A crime that requires extradition must be recognized in both countries. In this case, there's no such thing," Yuksel Inan, a professor of international law, told AFP.
"It is a non-starter in terms of international law. Erdogan is just showing off," he said.
Turkey and the United States signed an extradition treaty in 1979. The U.S. embassy in Ankara said it could neither confirm nor deny whether an extradition request had been made.
"As a matter of long-standing policy, the Department of State does not comment on pending extradition requests," an embassy official told AFP.
Gulen, 73, was once a close ally of the prime minister, helping him to challenge the military's traditional stranglehold on Turkish politics and install his Islamic-rooted Justice and Development Party (AKP) in power in 2002.
Followers of Gulen's Hizmet movement are said to number in the millions and own a variety of businesses, media outlets, cultural centers and a network of schools both in Turkey and abroad.
The moderate cleric was forced to flee the country in 1999 after he was accused of plotting against the secular government of the time.
But his alliance with the AKP has faltered in recent years, and was decisively shattered in December when police detained dozens of Erdogan's key business and political allies over bribery allegations.
Erdogan has repeatedly accused Gulen's followers of engineering the corruption scandal as well as a string of damaging leaks in the media. The prime minister retaliated by sacking thousands of police and prosecutors.
Gulen has denied any involvement in the corruption probe.
After the AKP scored a crushing victory in last month's local polls, an emboldened Erdogan hinted he would take steps against Gulen's movement.
"We will enter their caves and… they will pay the price," he warned in a victory speech from the balcony of the party's Ankara headquarters last month.
"There won't be a state within a state," he said.
The AKP has already pushed through a law to close private preparatory schools, a key part of Gulen's network.
In the PBS interview, Erdogan said his only contact with Gulen since becoming prime minister had been a few phone conversations, and that they had initially maintained "good relations."
"The real problem began after 2011," he said. That was when Erdogan's government accused Gulen followers of leaking information from secret talks between the Turkish spy agency and Kurdish rebels.
Erdogan told PBS that the police raids in December were "almost a coup, a civilian coup" by the Gulen movement.
"We were aware they were trying to infiltrate various organisations, but we were not aware of their ultimate bad intentions. We realised this after a while and started to take measures," he said.
Gulen said in a comment piece published in the Financial Times last month that a new democratic constitution, drafted by civilians, was needed to restore trust at home and abroad.
Having exhausted his party's limit of three terms as premier, 60-year-old Erdogan is thought to be planning a run for the presidency in August, the first time voters will directly elect the head of state.
Adem Altan AFP