Turkish Leader Offers Condolences To Armenians Over Massacre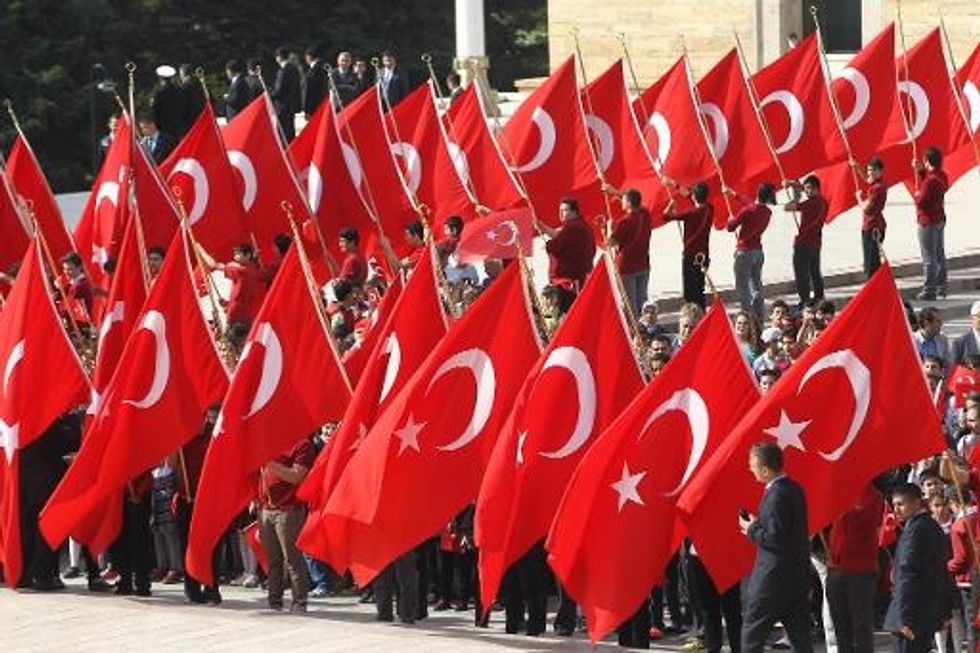 By Carol J. Williams, Los Angeles Times
Turkish Prime Minister Recep Tayyip Erdogan offered condolences to Armenian descendants of massacre victims in a message ahead of the 99th anniversary of the atrocity that Turkey still refuses to describe as a genocide.
The statement issued in seven languages and published widely in Turkish media laments the "shared pain" inflicted on those of all religions and ethnicities whose forebears were killed during the expulsions and brutalities that occurred as the Ottoman Empire collapsed during World War I.
"The 24th of April carries a particular significance for our Armenian citizens and for all Armenians around the world, and provides a valuable opportunity to share opinions freely on a historical matter," the statement said of the start of the years-long atrocity. "It is indisputable that the last years of the Ottoman Empire were a difficult period, full of suffering for Turkish, Kurdish, Arab, Armenian and millions of other Ottoman citizens, regardless of their religion or ethnic origin."
Erdogan called for an end to disputes over "hierarchies of pain," a reference to Armenian criticism of Turkey's equation of other peoples' suffering with their own in the atrocities committed by Ottoman soldiers that some claim took 1.5 million Armenian lives.
The prime minister's statement was hailed by Turkish scholars as historic for its more conciliatory tone but derided by Armenian social leaders as little changed from nearly a century of genocide denial by modern Turkey.
"Ending a 100-year-long denial gives hope to everyone. Following a strict denial policy by Turkey, it is hopeful to get a message of condolences from the prime minister himself. It is the start of healing," Turkish lawyer and human rights activist Orhan Kemal Cengiz told Today's Zaman newspaper. "It is a very important step that for the first time a prime minister has extended condolences without adding a 'but' on April 24. From now on, the Armenian issue will be discussed in Turkey more freely."
The head of the Armenian National Committee of America, however, dismissed Erdogan's statement as a "cold-hearted and cynical ploy" to diminish the suffering inflicted on Armenians in what many countries consider the first genocide of the 20th century.
"Increasingly isolated internationally, Ankara is repackaging its genocide denials," Aram Hamparian, the Armenian group's executive director, said in a statement posted on the committee's website.
Erdogan reiterated in his statement Ankara's call for a joint historical commission to study what happened a century ago "in a scholarly manner."
"Having experienced events which had inhumane consequences — such as relocation — during the First World War should not prevent Turks and Armenians from establishing compassion and mutually humane attitudes toward one another," Erdogan said. "In today's world, deriving enmity from history and creating new antagonisms are neither acceptable nor useful for building a common future."
AFP Photo/Adem Altan