Twelve Remain Standing For Finals Of National Spelling Bee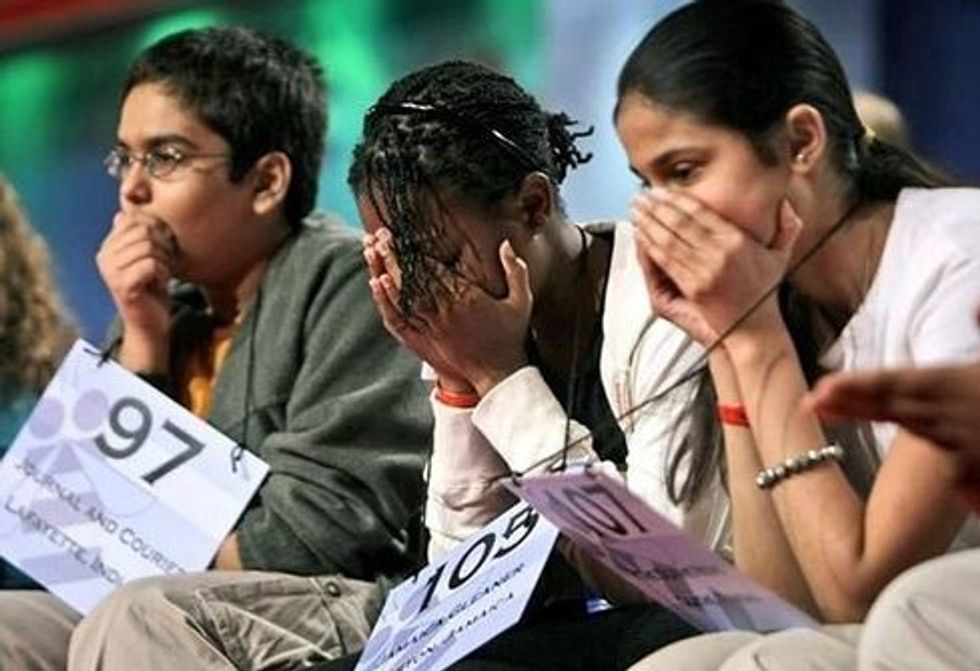 By Bartholomew Sullivan, Scripps News
NATIONAL HARBOR, MD — "I know that!" Jacob Williamson, 15, of Cape Coral, FL, said when he got his first word, euripus, Thursday morning. And he knew his second, harlequinade, too, and pounded the stage with his fists when he was named one of Thursday night's 12 finalists.
The semifinal on-stage rounds of the Scripps National Spelling Bee Thursday morning knocked 15 contenders out from the 46 who began the day. After written tests administered overnight, a further 19 were winnowed for Thursday night's primetime contest on ESPN.
The contest began with a test Tuesday taken by all 281 regional champions.
Five-time national contestant Sriram Hathwar, 14, of Painted Post, NY, is certainly an odds-on favorite after nailing flavus, a hexagonal tile, and quatrefoil, meaning four-leafed. He placed third in last year's national bee.
But some previous contenders faltered. Syamantak Payra, 13, who place seventh last year, was knocked out with circumforaneous, a term for going market to market, and got a standing ovation from the crowd. Similarly, Jae Canetti, 12, who was in 22nd place in 2012, fell to parseval, the word of a hot-air balloon.
Others didn't get serictery, a silk-producing part of a caterpillar; siriasis, or sunstroke; and induciae, a term for a truce or armistice.
But spellers made it look easy as the crowd held its breath for correct spellings of diaphoresis (perspiration), salicetum (a plantation of willows), brachypterous (having small wings), and ormolu (brass used to imitate gold in decoration).
There was the usual give-and-take with pronouncer Jacques Bailly. Lucas Urbanski, 14, of Crystal Lake, Il, asked Bailly, "Can you make me cachinnate (laugh) with a sentence?" referring to an earlier word in Thursday's second on-stage round. He then spelled epixylous, a word for things that grow on wood.
Other winning words included hermeneutics, phocine, colloque, cadelle, and vigneron.
Some spellers looked astonished that they remembered such complex terms as xerophthalmia, an eye condition caused by Vitamin A deficiency, and exsiccosis, meaning dehydration.
On stage after the 12 finalists were given their new medals, Sriram explained to a scrum of reporters that he visualized not just his given word but where it is — "like GPS" on the page of his dictionaries.
Jacob, asked if he could hold himself together in the finals rounds, said simply, "No." He plans to jump up and down with every successful turn on stage, and he said he had known every word he had heard the past two days.
He said he kept waiting to hear his name called and nearly despaired until it was.
"I didn't think I was going to get in," he said.
Photo: Doug via Flickr