On Twitter, Flynn Follows Racists, Conspiracists, And Islamophobes
@EliClifton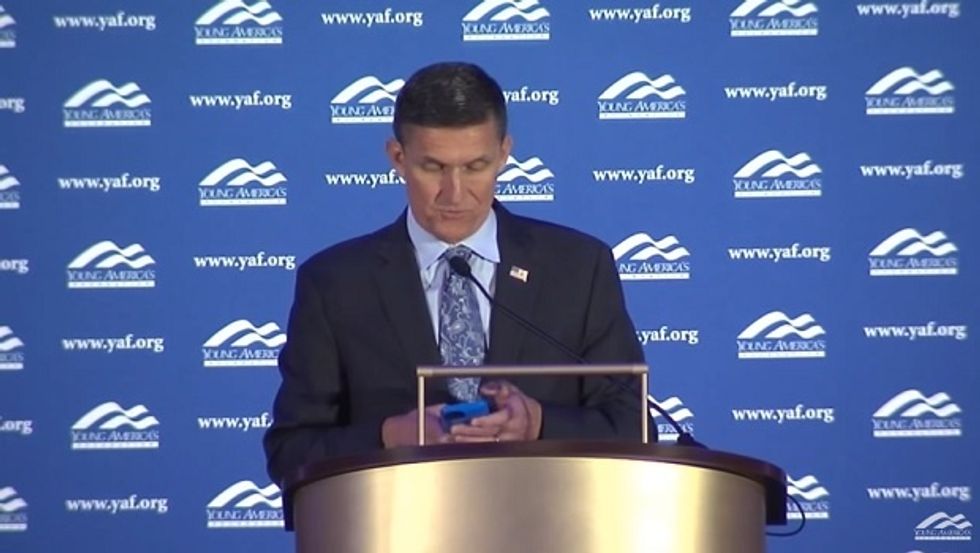 Reprinted with permission from LobeLog. 
National Security Adviser-designate Michael T. Flynn has come under increasing fire. The retired general's personal Twitter account and his son's promotion of Twitter-based conspiracy theories about the Washington, D.C. pizzeria Comet Ping Pong are prompting renewed scrutiny of President-elect Trump's pick for the top national security position in the White House.
A LobeLog review reveals that the former director of the Defense Intelligence Agency follows Twitter accounts with profiles promoting white supremacy, anti-Muslim conspiracies, unsubstantiated claims about President Obama's birthplace, and conspiracies about Comet, a fake news story. The latter ultimately led to the dismissal of Flynn's son from the Trump transition team due to his promotion of unsubstantiated claims that the Washington pizzeria was the site of a child sex slave ring.
Retired General Barry McCaffrey spoke out on Thursday, drawing close to rescinding his support of Flynn's expected appointment as national security adviser, saying that Flynn's activities on Twitter "border on being demented" and "deserve further scrutiny."
Flynn has spoken openly about his high regard for the news he gets from Twitter and his preference for social media-based news sources over the mainstream media. At a Young America's Foundation event at the Trump International Hotel in Washington, D.C. on November 14, Flynn said [emphasis added]:
Now the media isn't reporting this but this is being reported on social media, so I'm gonna spend a little bit of time talking about social media because there's so much power in social media for your generation. For your generation. So it's being reported now and it's flying around on social media that [Trump] also won the popular vote in a big way. Probably somewhere close to, we're looking at 70 maybe to 90 thousand overall. But it could even go higher.
Watch him:
As of the latest count, Clinton leads Trump by nearly 2.7 million votes.
But Flynn's choice of what he follows on Twitter reveals raises serious questions about where the next national security adviser gets news about current events.
Flynn follows 2,212 other Twitter accounts, people whose Tweets presumably show up on his Twitter feed when he wants to catch up on social media-based news and analysis.
A search of the profiles of the accounts followed by Flynn reveals:
Over a dozen accounts with profiles containing anti-Muslim statements or urging a ban on the Islamic religion.
Five accounts with profiles containing anti-Sharia statements.
Four accounts with profiles containing "#PizzaGate."
Four accounts with profiles referencing Counter-Jihad.
Three accounts with profiles containing "rapefugees."
Two accounts with profiles containing "#WhiteGenocide."
Flynn also follows an account with a profile containing language suspiciously close to that used by white supremacists.
@Not2White's profile reads:
Far Right, white vet and proud of it. I refuse to apologize for being white. Veteran. BLM is a racist terrorist group! #AllLivesMatter #BlueLivesMatter
And another account, @jackiejankwh, whose profile reads:
Barack Obama is an Islamic Terrorist. He was not born in America. He will kill many Americans in Sacramento, CA in 2017. BE VIGILANT/AWARE IN SACRAMENTO! ARM UP
Flynn follows Pamela Geller, a prominent anti-Muslim activist and conspiracy theorist who tried to block the construction of an Islamic community center in lower Manhattan and claimed that Obama is working to "appease his Islamic overlords." The Anti-Defamation League denounced her in a 2013 report.
"Geller routinely attacks organizations that oppose her agenda and views, often employing inappropriate Holocaust terminology and imagery to deride mainstream Jewish civil rights organizations," ADL said. "Geller, who is herself Jewish, frequently uses the terms 'Nazi,' 'Jewicidal' and 'neo-kapo' to demonize these organizations."
Flynn also follows notorious anti-Muslim advocate Frank Gaffney, whose research Donald Trump cited to justify a proposal to ban immigration from Muslim countries. In 2008, Gaffney questioned whether Obama "is a natural born citizen of the United States, a prerequisite pursuant to the U.S. constitution," asserting that "there is evidence Mr. Obama was born in Kenya rather than, as he claims, Hawaii."
He also repeatedly promoted the theory that Hillary Clinton's aide, Huma Abedin, was a Muslim Brotherhood operative, and, in a 2010 column for Breitbart.com, claimed that the Missile Defense Agency logo "appears ominously to reflect a morphing of the Islamic crescent star with the Obama campaign logo." He attributed the new logo to a "worrying pattern of official U.S. submission to Islam."
The Missile Defense Agency logo was, in fact not new, having been developed prior to Obama's election to the presidency.
Eli Clifton reports on money in politics and US foreign policy. He previously reported for the American Independent News Network, ThinkProgress, and Inter Press Service.
IMAGE: Retired General Michael Flynn speaking at Young America's Foundation conference at Trump International Hotel in Washington, D.C. on November 12, 2016.