Two Americans, Freetown Resident Latest Ebola Victims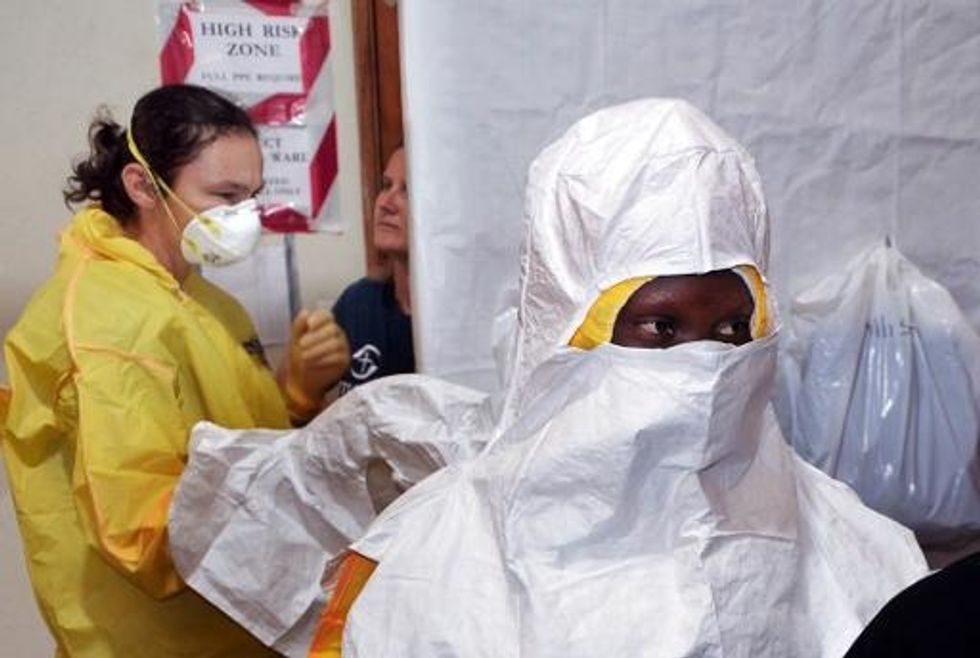 By Coumba SYLLA
Freetown (AFP) — Alarm soared in west Africa Monday over the deadliest Ebola virus outbreak yet, with an American doctor and a missionary contracting the disease in Liberia and the death of the first victim from Sierra Leone's capital Freetown.
Samaritan's Purse, a Christian charity, said that its physician Kent Brantly was in stable condition and had been isolated at the group's Ebola treatment center at the ELWA hospital in the Liberian capital Monrovia.
His symptoms included intermittent fever and body aches.
Nancy Writebol, a missionary with the SIM Christian charity that runs the hospital, was also in stable condition as of Sunday morning, according to Samaritan's Purse.
"They're both receiving intensive early treatment, but certainly it's a dangerous situation and a frightening situation," spokeswoman Melissa Strickland told AFP.
Early treatment is one key to recovery from the potentially deadly disease, she added.
"We remain optimistic for his recovery, but certainly he is not out of the woods," Strickland had said of Dr Brantly earlier.
"Samaritan's Purse is committed to doing everything possible to help Dr Brantly during this time of crisis. We ask everyone to please pray for him and his family," it added.
Writebol had been working as a hygienist responsible for detoxifying protective suits worn by those entering and exiting an Ebola isolation center.
She has a husband and two children, Samaritan's Purse said, adding that Brantly, 33, was also married with two children.
Brantly is the medical director of the Samaritan's Purse Ebola case management center in Liberia, where the agency continues to work with Liberian and international health officials to contain the outbreak.
He began work with the group's Liberia team in October and had focused on Ebola patients since June.
The U.S. State Department said it was aware of an Ebola case but could not provide information about a private individual.
An Ebola epidemic has killed at least 660 people in four west African countries since the start of the year, according to statistics from the World Health Organization.
On Saturday, a woman suffering from the first confirmed case of Ebola in Sierra Leone's capital died after her parents forcibly took her from hospital, the health ministry in Freetown said.
Saudatu Koroma, a 32-year-old trainee hairdresser, was admitted to a clinic on July 23 and tested positive for the disease, which has already killed more than 200 people in the west African country.
"Her father and mother forcefully took her away from the hospital" two days later, health ministry spokesperson Sidi Yahya Tunis told AFP.
– 'Barely able to speak' –
Koroma's disappearance prompted Freetown authorities to broadcast a nationwide radio and television campaign, which eventually persuaded her to return for treatment, Tunis said.
Koroma died on Saturday while on her way to an Ebola treatment centre in the country's east.
"She was severely dehydrated and weak and could hardly speak," Tunis said. "Blood samples taken from both the father and mother are now being tested."
The house where the dead woman had lived in the east of Freetown has been quarantined with the other residents for 21 days.
Koroma was the first confirmed case of Ebola to reach Freetown in what has become the deadliest outbreak yet of the virus.
Sierra Leone's health ministry said an Ebola treatment centre has been established at Lakka Hospital and health staff have been trained to handle the disease. Surveillance has been increased and people have been asked to report all suspected cases to health authorities, it added.
An AFP journalist in Freetown said people were calm and going about their normal business on Sunday.
Freetown's first Ebola case comes after the incurable disease was confirmed to have reached Lagos in Nigeria, Africa's biggest city.
The health ministry said on Friday that a 40-year-old Liberian man died at a private hospital from the disease, after collapsing at Lagos international airport.
Nigerian carrier Arik said on Sunday it was halting direct flights to Liberia and Sierra Leone, which have seen close to 350 deaths from Ebola between them.
"As a result of the first Ebola virus death officially confirmed in Lagos … Arik Air will be suspending operations into Monrovia and Freetown effective July 28, 2014," an airline statement said. "This decision is a precautionary measure aimed at safeguarding the precious lives of Nigerians."
Ebola can fell victims within days, causing severe fever and muscle pain, vomiting, diarrhea and, in some cases, organ failure and unstoppable bleeding.
The highly contagious and often fatal disease spreads among humans via bodily fluids, including sweat, meaning one can get sick from touching an infected person.
With no vaccine, patients believed to have caught the virus must be isolated to prevent further contagion.
AFP Photo/Zoom Dosso
Interested in world news? Sign up for our daily email newsletter!</em>