Two Die In Police Raid Targeting Suspected Paris Attack Mastermind
@reuters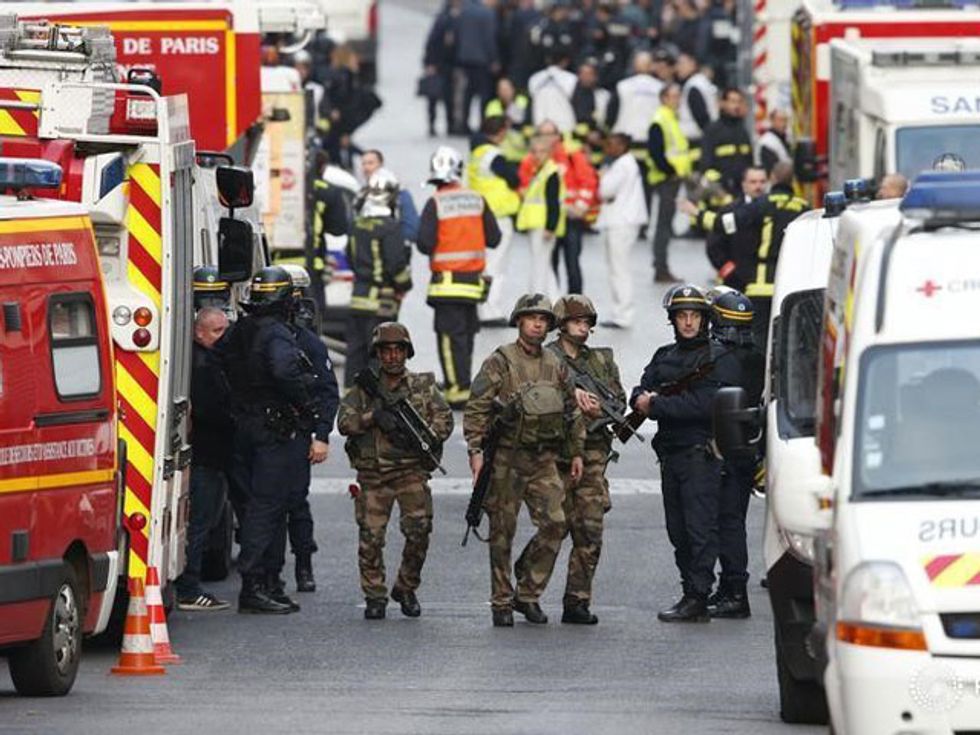 By Antony Paone and Emmanuel Jarry
SAINT DENIS, France (Reuters) — A woman suicide bomber blew herself up and another militant died on Wednesday when police raided an apartment in the Paris suburb of St. Denis seeking suspects in last week's attacks in the French capital.
Officials said police had been hunting Abdelhamid Abaaoud, a Belgian Islamist militant accused of masterminding the Nov. 13 carnage, but more than seven hours after the launch of the pre-dawn raid it was still unclear if they had found him.
Seven people were arrested in the operation, which started with a barrage of gunfire, including three people who were pulled from the apartment, officials said.
"It is impossible to tell you who was arrested. We are in the process of verifying that. Everything will be done to determine who is who," Paris prosecutor Francois Molins said at the end of the operation.
Molins said the assault was ordered after phone taps and surveillance operations led police to believe that Abaaoud might have been in St. Denis, near to the soccer stadium which was site of one of the attacks that hit Paris last week.
A total of 129 people died in the coordinated bombings and shootings. Investigators believe the worst atrocity in France since World War Two was set in motion from Syria, with Islamist cells in neighboring Belgium organizing the mayhem.
Two police sources say investigators believe the St. Denis group had been planning an attack on the French capital's La Defense business capital.
Local residents spoke of their fear and panic as the shooting started in St. Denis just before 4.30 a.m. (2330 Tuesday ET).
"We could see bullets flying and laser beams out of the window. There were explosions. You could feel the whole building shake," said Sabrine, a downstairs neighbor from the apartment that was raided.
She told Europe 1 radio that she heard the people above her talking to each other, running around and reloading their guns.
Another local, Sanoko Abdulai, said that as the operation gathered pace, a young woman detonated an explosion.
"She had a bomb, that's for sure. The police didn't kill her, she blew herself up…," he told Reuters, without giving details.
Three police officers and a passerby were injured in the assault. A police dog was killed.
FLEEING RAQQA
Islamic State, which controls swathes of territory in Syria and Iraq, has claimed responsibility for the Paris attacks, saying they were in retaliation for French air raids against their positions over the past year.
France has called for a global coalition to defeat the radicals and has launched three large air strikes on Raqqa — the de-facto Islamic State capital in northern Syria.
Russia has also targeted the city in retribution for the downing of a Russian airliner last month that killed 224 people.
The Syrian Observatory for Human Rights monitoring group said on Wednesday the bombardments have killed at least 33 Islamic State militants over the past three days.
Citing activists, the Observatory said Islamic State members and dozens of families of senior members had started fleeing Raqqa to relocate to Mosul in neighboring Iraq.
French prosecutors have identified five of the seven dead assailants from Friday – four Frenchmen and a man who was fingerprinted in Greece last month after arriving in the country via Turkey with a boatload of refugees fleeing the Syria war.
Police believe two men directly involved in the assault subsequently escaped, including Salah Abdeslam, 26, a Belgian-based Frenchman who is believed to have played a central role in both planning and executing the deadly mission.
Until Wednesday morning, officials had said Abaaoud was in Syria. He grew up in Brussels, but media said he moved to Syria in 2014 to fight with Islamic State. Since then he has traveled back to Europe at least once and was involved in a series of planned attacks in Belgium foiled by the police last January.
A man in St. Denis told reporters that he had rented out the besieged apartment to two people last week.
"Someone asked me a favor, I did them a favor. Someone asked me to put two people up for three days and I did them a favor, it's normal. I don't know where they came from I don't know anything," the man told Reuters Television.
He was later arrested by police.
FALSE ALERT
Late on Tuesday, the U.S. Federal Aviation Administration (FAA) said two Paris-bound Air France flights were diverted following anonymous bomb threats, and hundreds of passengers and crew were safely removed.
Authorities in the United States and Canada, where the planes landed, later said both aircraft had been searched and were safe.
Paris and Moscow are not coordinating their air strikes, but French President Francois Hollande is due to meet Russian President Vladimir Putin in Moscow on Nov. 26 to discuss how their countries' militaries might work together.
Hollande is due to meet U.S. President Barack Obama in Washington two days before that to push for a concerted drive against Islamic State, which controls large parts of Syria and Iraq.
Obama said in Manila on Wednesday he wanted Moscow to shift its focus from propping up Syria's government to fighting Islamic State and would discuss that with Putin.
Russia is allied to Syrian President Bashar al-Assad. The West says he must go if there is to be a political solution to Syria's prolonged civil war.
(Additional reporting by Andrew Callus, Matthias Blamont, Marine Pennetier, Emmanuel Jarry, Marie-Louise Gumuchian, Jean-Baptiste Vey, Chine Labbé, Svebor Kranjc, John Irish in Paris, Alastair Macdonald and Robert-Jan Bartunek in Brussels, and Matt Spetalnick in Manila, Victoria Cavaliere and Dan Whitcomb in Los Angeles, Amran Abocar in Toronto and Dan Wallis in Denver; Writing by Alex Richardson and Crispian Balmer; Editing by Andrew Callus and Sonya Hepinstall)
Photo: French riot police (CRS), soldiers, firefighters, French red cross members and staff of the emergency medical services in France (SAMU) stand at the scene in Saint-Denis, France, near Paris, November 18, 2015 during an operation to catch fugitives from Friday night's deadly attacks in the French capital. REUTERS/Benoit Tessier